Transformational Leaders Alumni Talk: Strengthen Indonesia Womenpreneur Business
Transformational Leaders Alumni Talk: Strengthen Indonesia Womenpreneur Business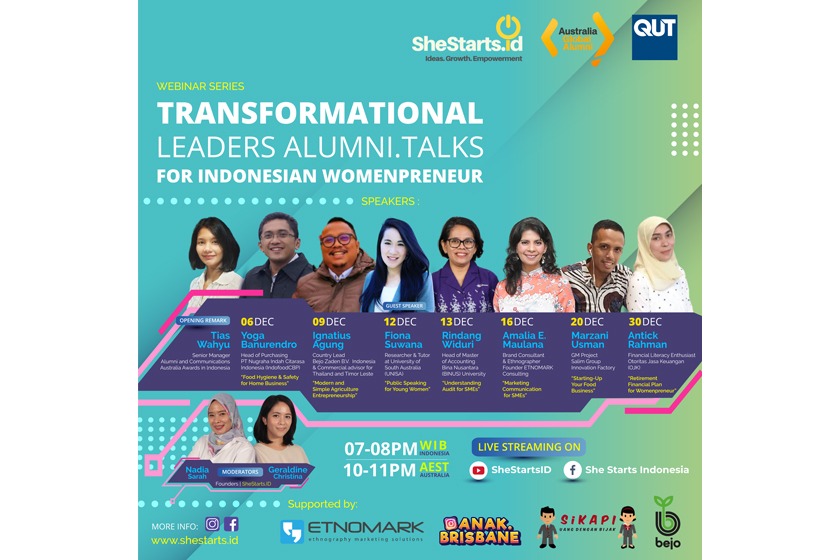 Australia Awards OzAlum together with SheStartsID will be presenting a webinar series on "Transformational Leaders Alumni Talk: Strengthen Indonesia Womenpreneur Business", from 6 to 30 December 2020 at 07.00 PM WIB – to increase Indonesian women's capacity and develop their sustainable businesses.
The number of Indonesian women entrepreneurs are increasing, many have been succeeded and reached the global market, but most are still struggling in building their businesses.
Below are the schedules of the webinar series:
6 Dec 2020, Yoga Banurendro, "Food Hygiene & Safety for Home Business".
9 Dec 2020, Ignatius Agung, "Modern & Simple Agriculture Entrepreneurship"
13 Dec 2020, Rindang Widuri, "Understanding Audit for SMEs"
16 Dec 2020, OzAlum Amalia E. Maulana, "Marketing Communication for SMEs"
20 Dec 2020, Marzani Usman, "Starting-Up Your Food Business"
30 Dec 2020, Antick Rahman, "Retirement Financial Plan for Womenpreneur
The webinars will be opened by Tias Wahyu, Australia Awards' Senior Manager for Alumni and Communications, and moderated by Nadia Sarah and Geraldine Christina, founders of SheStartsID.
Watch the webinars live on SheStartsID YouTube channel.