Recorded Webinar: Challenges of Female Researchers during the COVID-19 Pandemic by KSI
Recorded Webinar: Challenges of Female Researchers during the COVID-19 Pandemic by KSI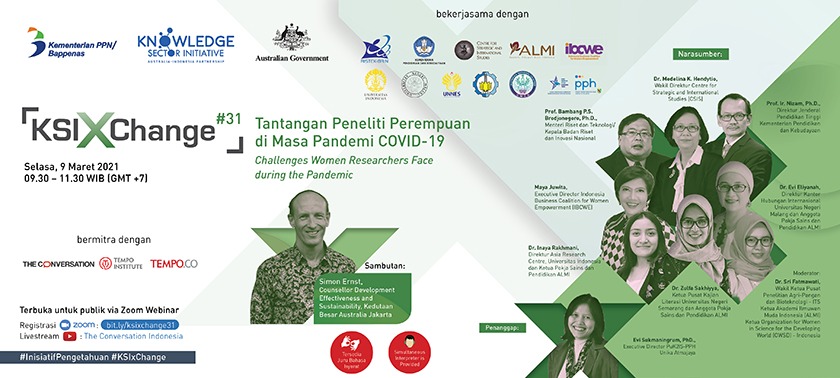 Did you join this webinar last month? If you missed it, or if you want to watch it again to gain insights on women in leadership – on achieving an equal future in a COVID-19 world, and discussing the challenges faced by women researchers during the pandemic and their recommendations on government policies and programs to ensure gender equality in education and research – you can now access the recorded version through the link below.
Held by KSI (Knowledge Sector Initiatives), this webinar was opened by Simon Ernst, Counselor for Development Effectiveness and Sustainability, Australian Embassy in Indonesia – and featured several speakers including:
Prof. Bambang P. S. Brodjonegoro, Ph.D., Minister of Research and Technology / Head of the National Research and Innovation Agency
Prof. Ir. Nizam, Ph.D., Director General of Higher Education, Ministry of Education and Culture
Dr. Inaya Rakhmani, Director of the Asia Research Center, University of Indonesia and Chair of the ALMI Science and Education Working Group
Dr. Evi Eliyanah, Director of the Office of International Relations, State University of Malang and Member of the ALMI Science and Education Working Group
Dr. Zulfa Sakhiyya, Chairperson of the Center for Literacy Studies at the State University of Semarang and Member of the ALMI Education and Science Working Group
Dr. Medelina K. Hendityo, Deputy Director of the Center for Strategic and International Studies (CSIS)
Maya Juwita, Executive Director of the Indonesia Business Coalition for Women Empowerment (IBCWE)
Watch the recorded webinar here.