28 Nov 2016
Bridging the Gap for Local Interpreters in Eastern Indonesia
The largest city in eastern Indonesia, Makassar, has been a hub of international trade dating back to the 17th century. Its use as a gateway to Indonesia continues to this day, with many foreign companies and organisations conducting their matters in Makassar. The need for qualified and trained interpreters to bridge the language barrier are immediate, but most of the time, these groups have trouble finding local interpreters and resort to outsourcing interpreters based in Jakarta.
Professional interpreters Marlisa Wahyuningsih Soepeno and Saifuddin Suaib proactively worked to shorten this gap by increasing the capacity of local interpreters. Marlisa is a diplomat at the Ministry of Foreign Affairs and the official interpreter for President Joko Widodo and the First Lady, Iriana Joko Widodo. Saifuddin, or Cipu, is a climate change specialist with extensive experience as a professional interpreter. Together, these Australia Awards alumni established the Makassar Interpreter Training Initiative, or MINT, in their hometown, creating a training module for 17 shortlisted interpreters.
MINT opened up the rare opportunity for participants to enhance their skills in consecutive and simultaneous interpreting, memory retention, note taking and the whispering method under the guidance of experienced professionals as well as the official interpreters from the Ministry of Foreign Affairs. The participants were ecstatic to have had the opportunity to practice with the simultaneous interpretation system.
MINT was funded under the Alumni Grants Scheme (AGS), which allows individuals or groups of alumni to access grant funding to boost Indonesia's development and build strong and positive relationships with Australia. It was supported by BaKTI (Bursa Pengetahuan Kawasan Timur Indonesia, or Eastern Indonesia Knowledge Exchange) and the Universitas Hasanuddin Language Center.
"MINT was able to boost the confidence of the local interpreters, some who went on to interpret at high-profile events such as the Makassar International Writers Festival and the Ubud International Writers Festival," said Marlisa, an Australian National University Masters of International Public Policy and Diplomacy graduate. She added that MINT has led to various other work opportunities for the interpreters.
The increased capacity of local interpreters not only benefits the interpreters themselves. BaKTI now has a pool of qualified local interpreters they can refer to when other organisations come to them seeking locally-based interpreters. And the local and international businesses and groups that utilise their services can cut the costs of flying interpreters from outside of eastern Indonesia.
"One MINT participant, a lecturer at the Universitas Islam Negeri Makassar (Islamic State University), also mentioned how MINT has helped shape the newly-formed interpreting class lectures at the institution," Marlisa continued.
MINT graduates continue to keep in touch and share their work experiences, as well as job opportunities, through a Facebook page. "We hope to sustain the efforts to bridge the gap of interpreters and enhance the quality of interpreters in the eastern part of Indonesia by conducting similar training in the region in the future," Marlisa concluded.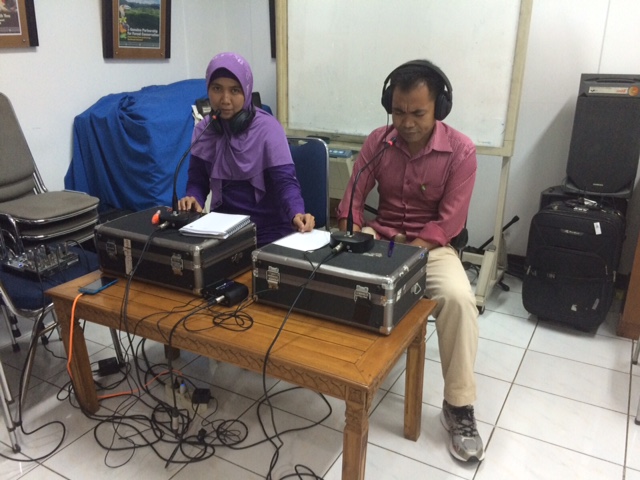 Share this article on:
Related Article

Back to Top