Australia-Indonesia in Conversation: Managing COVID-19 and 'Post'-Pandemic Challenges
Australia-Indonesia in Conversation: Managing COVID-19 and 'Post'-Pandemic Challenges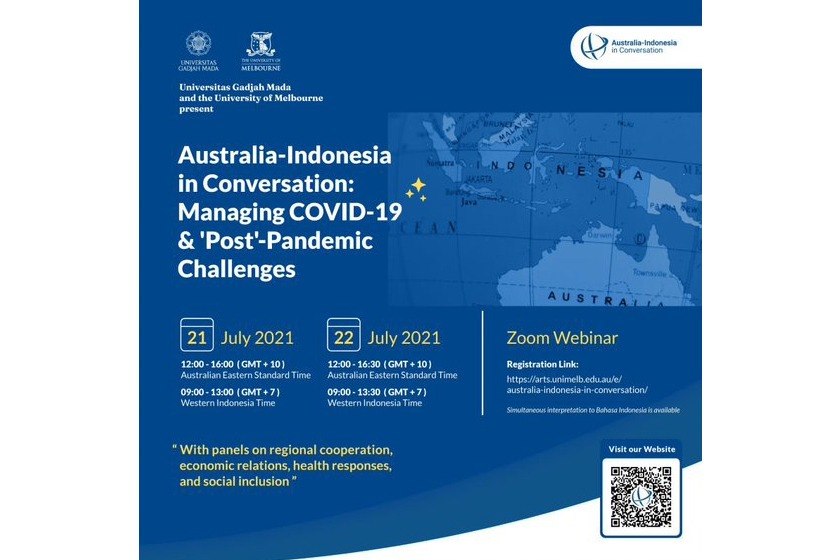 Join the Australia-Indonesia in Conversation: Managing COVID-19 and 'Post'-Pandemic Challenges on 21 – 22 July, organised by Universitas Gadjah Mada in partnership with the University of Melbourne.
This mini-conference consisting of a series of round table panel discussions held over two half-day sessions for Indonesian and Australian academic, policy maker and practitioner audiences.
Across four panels, senior representatives from both universities, the governments of both countries, and community workers will share insights into regional cooperation, how Australia and Indonesia have dealt with the COVID-19 pandemic, the social impacts of the pandemic and important issues on social inclusion and social justice emerging from the pandemic, as well as economic challenges and the future of economic relations after the Indonesia Australia Comprehensive Economic Partnership Agreement (IA-CEPA) takes effect.
For more information about the conference and to register, please visit this page. Each panel will also be live interpreted in Indonesian, which you can nominate as you register.