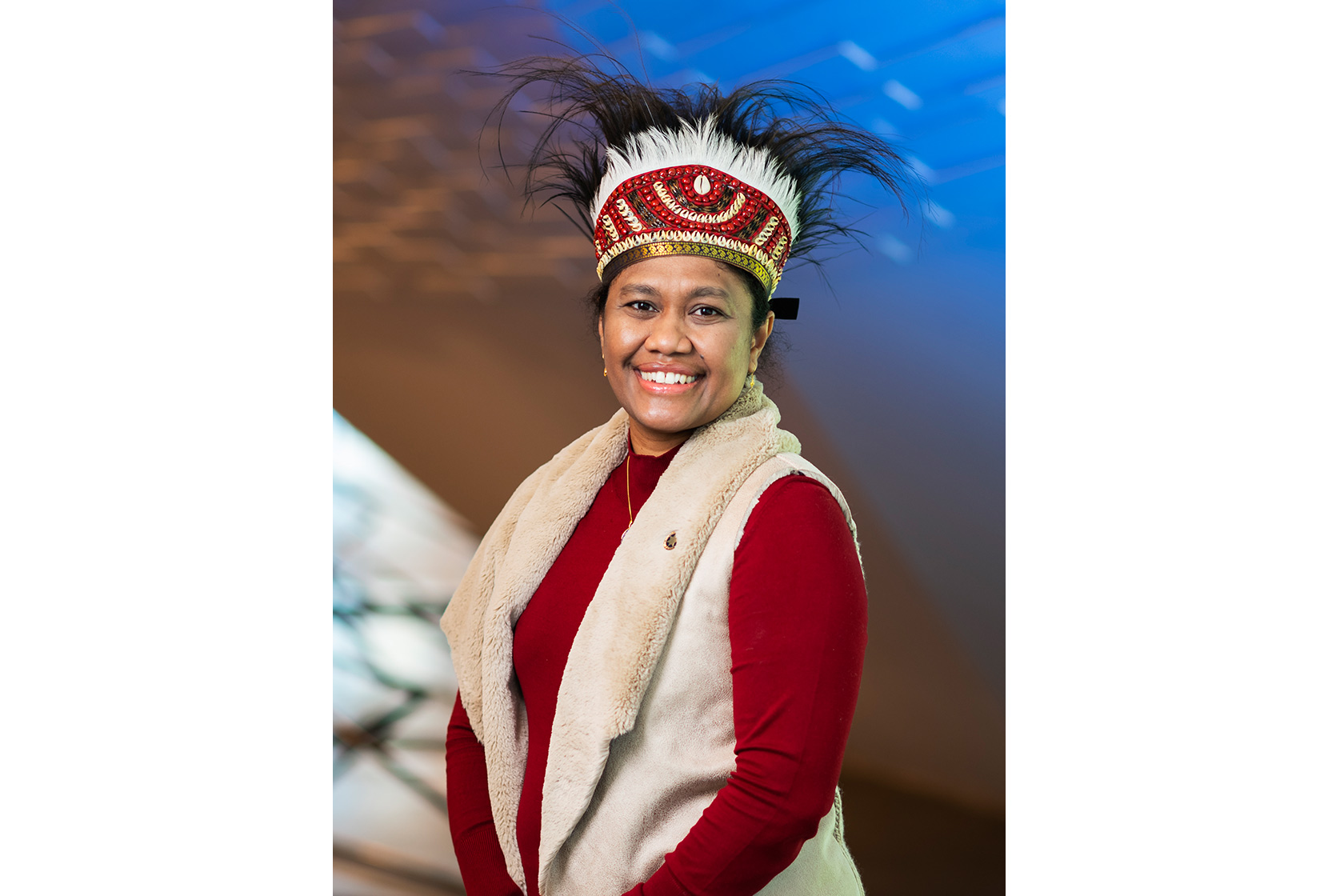 01 Mar 2023
Monita Wambrauw Leads the Way for Women in Transport Systems Engineering in Papua
International Women's Day falls on March 8th and is dedicated to celebrating women's exceptional accomplishments and promoting awareness about prejudice. The Australia Awards in Indonesia team recently interviewed Monita Yessy Wambrauw, an inspiring OzAlum from the University of South Australia who has defied gender bias in science, technology, engineering and mathematics (STEM) to attain her academic ambitions in the field of transport systems engineering.
Though gender inequality in STEM fields is present worldwide, the situation is even worrying in Indonesia. In 2018, only 12% of STEM graduates were women. The country's plans for Industri 4.0 and the quick pace of technological breakthroughs because of AI mean that those without the relevant skills, the majority of whom are women, will be left behind.
Monita, a lecturer at the Department of Urban Planning, Universitas Cendrawasih in Jayapura, Papua, and her sisters did not allow out-of-date mindsets regarding women in STEM hinder their dreams.
"I am the youngest of three sisters, and we all have doctorates in STEM disciplines. We are lecturers at our respective universities, too," she said.
"Our father passed away when I was in high school. My eldest sister Ludia told me that he had wanted us to succeed in our chosen field, and that we had to prove to the extended family that girls can also bring honour to our clan name."
Creating connectivity through a transportation system
Monita's first degree was in civil engineering, which she completed at Universitas Atmajaya in Yogyakarta. This was a practical choice: money was tight and her middle sister, Elisabeth, was already studying civil engineering in the same city. Monita could use her sister's textbooks and they shared a drafting table.
When it was time for her to pursue a masters degree, Monita chose a field she was passionate about: transportation.
"We followed my father on all his postings in Papua. I loved that we used different modes of transport to reach our destination. Plus, I wanted to study something other than structural engineering and water management, which are my sister Elisabeth's specialisations."
The infrastructure in Papua is some of the least developed in Indonesia. The province is mountainous and home to some of the highest peaks in the country, while its lowlands are dominated by rainforests, wetlands, savanna grasslands, and one of the largest mangrove forests in the world. Air transport has been the most effective means of transportation to date, albeit an expensive one. In the past few years, the central government has heavily invested in road infrastructure to connect regions in Papua.
"Areas that were previously isolated are becoming connected, but the focus has mostly been on moving logistics and less on supporting facilities such as public transportation," Monita explained. "Without public transportation, travelling from mountainous areas to the cities is still expensive for the general public.
"Connectivity is crucial. How can they imagine a city if they've never been there? Adequate and affordable transportation impacts access to education and health facilities, lower distribution costs and foodstuff at reasonable prices."
Advocating for road safety and using her knowledge to help others
However, transport systems engineering is still very much at the inception stage in Papua.
"My professional career would be different if I were living in Jakarta! I'd be able to fully apply what I studied and researched," Monita said. "I don't let that deter me. Urban planning is 60% city planning and 40% planning the road infrastructure. In addition to teaching transport systems, I also advocate for road safety."
During her stays in Adelaide for both her masters degree and doctorate, Monita observed the stark difference to Jayapura when it came to traffic.
"Traffic in Adelaide was so organised and regulated. There weren't many road accidents. In Papua, most don't think about their own safety let alone that of others. Teens drive trucks without getting adequate driving lessons or even their permits. Drunk driving exacerbates the problem and is a cause for premature deaths. Enforcement is still inadequate."

Monita not only talks about road safety with her students, but she has also enlisted them to volunteer their time to teach others.

"Since last year, my students and I talk about safe motorcycle riding as part of our community service. Inspired by what I saw in Adelaide, I'm also pushing for bars to offer shuttle bus rides for their patrons to lower drunk driving incidents."
Volunteerism and networking have always been part of Monita's life. When she was in Adelaide she was part of several local organisations linked to the university, the community, or her profession. She and Elisabeth are also active at the university's Climate Change Research Centre where Monita does research on carbon emissions caused by transport. Recently the sisters worked together to help the people of the Grime Nawa Valley in Papua calculate fair compensation for the use of their lands and the preservation of their forests for a hydropower project.

Women in STEM in Papua
Whilst many Papuan women work in healthcare and aviation, there are still not many female students in civil engineering, urban planning, and other STEM disciplines. This is slowly changing. In the mid-2000s, a mere handful of Monita's students were women, but they now make up 30% of her students, though not all of them are from Papua.
"Women are more detail oriented and have a better handle on the management of a project," she observed. "The way they approach the stakeholders is more congenial and amenable, and they can obtain more information from them."
Changing stereotypes requires the efforts of all, from parents to teachers and lecturers to the community itself. Having successful women in STEM professions to look up to is important.
Monita's own sisters have been her inspiration and support. Her eldest sister, Ludia Wambrauw, a lecturer in agribusiness at the University of Papua, has been her role model throughout her life. Elisabeth Wambrauw is the head of the Urban Planning Department, Faculty of Engineering, Cendrawasih University.
"I'm a triple OzAlum of sorts," Monita confessed. "During my first year at Atmajaya University in Yogyakarta, Ludia was studying for her masters degree through an Australian Development Scholarship. She would send me money for my living costs."
Lasting ties with Australia
When Monita went back to Adelaide for her doctorate at UniSA, both her husband and young daughter joined her. The family cherished their stay there and have happy memories. Adelaide became their second home, and her daughter dreams of studying veterinary sciences in Australia.
Monita stays in touch with colleagues and friends at UniSA, and still works closely with her professors. They are co-authoring a paper on connectivity and tourism transportation in Asmat. She is also a volunteer tutor for PhD students, teaching them to use the transportation software the university utilises.
"Development scholarships such as the Australia Awards in Indonesia are very important," she reflected. "Recipients come back with a higher degree and the capacity to contribute to their institution, their hometown and the extended region. Since I've come back, I've urged family and friends to apply for a scholarship and some have succeeded. They've seen what changes can happen with a higher degree."
In the meantime, Monita said, the Wambrauw sisters are working on their next goals.
"We've decided to become professors!"
Share this article on:
Related Article

Back to Top