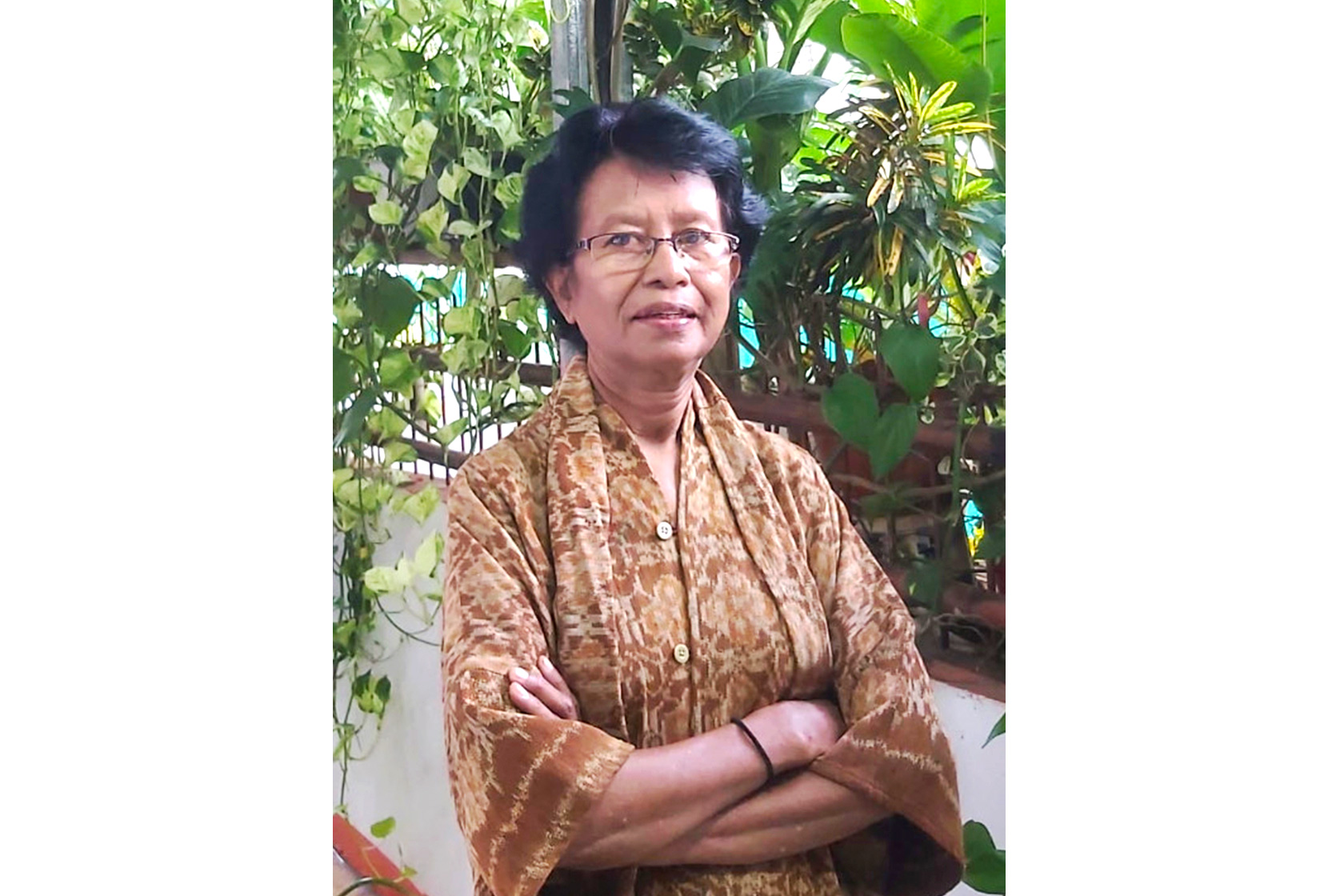 02 May 2023
Maria Mediatrix Mali: Malaria Control and Empowering Children
Maria Mediatrix Mali learned about the toll of malaria on children and young people soon after she moved to Maumere, East Nusa Tenggara, in 1999. Years later, she is still drawing on the enthusiasm of children to help control the disease.
Known as Trix, the teacher and graduate of IKIP Yogyakarta was working for Yayasan Sosial Pembangunan Masyarakat (Yaspem) when she met Pater Klaus Nauman SVD. The priest had been affected by the death of a talented student and started a program to feed children in his area to boost their immune systems and make them less susceptible to malaria.
Unfortunately, even with the program, the number of malaria patients remained high. Trix also noticed that many patients treated for malnutrition by Yaspem also had malaria.
Furthermore, many people who participated in the Yaspem life skills program lacked ambition or motivation, and drive for self-sufficiency.
According to Ministry of Health data from 2010, malaria cases in Indonesia's general population were 50 per 1,000 people. In East Nusa Tenggara, it was around 300 cases per 1,000 people.
"It was a life-threatening situation. The supplementary feeding program was insufficient. The main issue was the untreated malaria vector, the Anopheles mosquito," Trix explained.
According to a World Health Organization report, malaria can interfere with prenatal brain development, resulting in lower child intelligence. School dropout rates were high in East Nusa Tenggara during this time. This situation is consistent with the Human Development Index 2010 (Indeks Pembangunan Manusia) from Statistics Indonesia (Badan Pusat Statistik), which measures longevity, education and income. In East Nusa Tenggara, the average was 59.2, while the national average was 66.5.
"This was why I found it difficult to collaborate with my new colleagues. I believe that malaria had a significant impact on people in this area. It can't go on. Children must be saved for a better future," Trix said.
In 2007, she began the movement called Gerakan Anti-Malaria. The community was asked to monitor the mosquitoes surrounding their homes in an effort called 'Pantau Jentik' (Larva Watch). Her endeavour, however, did not go as planned. At that time, many people still considered malaria a mild disease, like a common cold. They were reluctant to monitor for mosquitoes, allowing the number of malaria cases to remain high.
Initially, the district head did not support her attempts to eradicate malaria in the region either. Trix showed the harmful impact of malaria to the district head with the help of Dr Asep Purnama, who served in Maumere, and the knowledge she gained from malaria experts Prof Norbert Becker and Dr Paul Schaedler. Malaria, she explained, could cause anaemia, jaundice, kidney failure, mental confusion, fetal brain disruption, and death if not treated promptly. The district head changed his mind. Trix's battle against malaria continued.
She went from village to village, educating and informing people about malaria. She also urged people from all walks of life to contribute ideas for the design of an integrated and comprehensive malaria program.
"It was important for them to understand first what malaria is. Then, they wanted to monitor the mosquitoes in their house and take blood samples to map the spread of malaria in one area and detect the symptoms," Trix explained. "We've discovered asymptomatic malaria infections in some cases. Despite having an acute malaria infection in their body, the kid still ran and played happily. But the condition could be detected by a blood test."
From 2007 to 2009, nearly 72,000 people donated blood for testing. Yaspem, where Trix was the director, also hired 14 analysts and 20 nurses to conduct mass blood tests to accurately identify malaria-positive patients and provide drug support to those who were infected. Patients with malaria were then given artemisinin-based combination therapy (ACT). Around 1,227 malaria-positive patients were treated.
Furthermore, Trix continued the fight against malaria in six districts in Sikka, Maumere: Kewapante, Kangae, Hewokloang, West Alok, Alok, and East Alok. The activities included disseminating malaria information and education to various locations, including markets, schools, villages, mosques and churches, and advertisements.
Moreover, people were also trained in healthy lifestyle habits, including the use of mosquito nets. Trix also used this opportunity to teach people to read to ensure they could learn about mosquito nets and other malaria-prevention tools.
The most important aspect of combating malaria was eliminating the mosquito strain in the lagoons that line the coastline of Sikka, Maumere. Yaspem enlisted 86 surveillance officers to destroy mosquito nests in lagoons, water pipes, and household water storage baths.
This program, funded by the German foundation Misereor, significantly reduced the number of clinical malaria cases in Sikka. Sikka's annual malaria incidence (AMI) fell from 300 people per 1,000 to 64 people per 1,000 in 2011.
The program continued. Trix empowered schoolchildren to become 'troops' of mosquito exterminators or 'Laskar Jentik' and mothers to monitor mosquitoes around the house. The number of malaria cases continued to fall until 2015.
For the greater good
For her efforts to eradicate malaria, Trix has received numerous awards from the district head of Sikka, the health minister, the NTT Academia Award, and the President of the Republic of Indonesia's development designation (Satya Lencana Pembangunan).
In 2016, the Ende-born woman travelled to Melbourne for the Australia Awards in Indonesia Short Term Awards on Malaria Prevention and Treatment for Infants, Children and Pregnant Women in Eastern Indonesia.
"I am very grateful for that opportunity. I could build a network and collaborate with other participants from this short-term award to fight malaria outside of East Nusa Tenggara. I could also see Australia's enormous support for malaria eradication," Trix said.
"The other participants wanted me to create 'Laskar Jentik' or troops of mosquito exterminators. So, we went to Sumba and Labuan Bajo. We also learned a valuable lesson: we should move and work hard without waiting for the government," Trix added.
Following her accomplishments in developing 'Laskar Jentik' (Larva Troops), 'Peta Jentik' (Larva Maps), and 'Jurnal Jentik' (Larva Journals) to monitor and suppress the spread of malaria and even dengue fever, the government began to notice. "I truly believe that success can influence the government to want to get involved," Trix said.
The Power of Children
In 2017, Trix left her position as director at Yaspem and decided to return to Depok, West Java. She returned to manage the school she founded, TK-SD-SMP Maria in Cimanggis, which she had left in 1999 due to her service in Maumere.
Once again, she empowered youngsters to monitor mosquitoes, this time due to rising cases of dengue fever in Depok. She found that children's awareness was much easier to nurture than adults'. Trix created campaign songs and dances to spread awareness of healthy life habits and malaria-dengue fever prevention, such as: 'Lagu Malaria' (Malaria Song), 'Lagu Demam Berdarah' (Dengue Fever Song), 'Lagu Kaum Muda Bangkit' (Song of the Rising Youth), 'Lagu Laskar Jentik' (Song of the Larva Troops), and many more.
While the pandemic has affected the work, Trix never gives up. Through the power of children, her efforts to protect young people from deadly diseases continue to thrive.
Share this article on:
Related Article

Back to Top