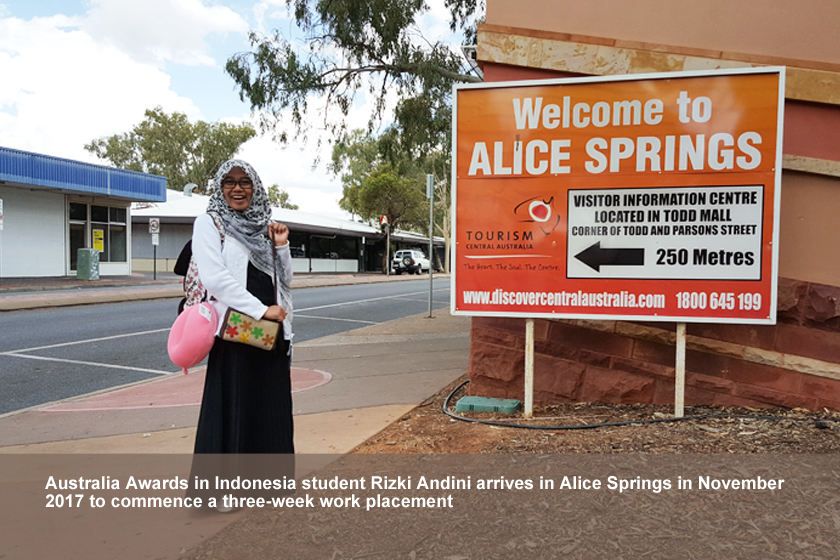 05 Dec 2017
Rizki's Insight into Indigenous Health and Disability Work in Remote Australia
Let me tell you first how I came to visit Alice Springs. During Pre-Departure Training in Jakarta I met a Flinders University representative and I told her about my ambition to have a work placement in remote Australia, following my experience as a health promotion officer in Papua. To cut a long story short, the representative helped me to find a course at Flinders University that suited my academic and professional background, as well as my study and post-study goals. Upon my arrival in Adelaide, I arranged my study plan with my supervisor and of course my placement in remote Australia. Arrangements went smoothly for a placement in Alice Springs but I had no idea about the remoteness of the town. I was over the moon just to think about the road journey I was going to take to Australia's centre and what a super-rare opportunity this represented for an Australia Awards student from Indonesia.
The journey in November 2017 took 19 hours from Adelaide, with the landscape observed through the bus window full of nothing but savanna and mountains of rocks. I have tried several times living in remote regions in Indonesia, but this was a whole different level of remoteness. Apart from the physical remoteness I was also to feel the remoteness of not meeting another Indonesian for three weeks.
Arriving in Alice Springs, I spent the first day of my placement attending a workshop on Aboriginal culture and context. Other students from Australia attended the workshop as well and I was quite amazed at how highly they respected the culture of their Indigenous people – a culture which is considered amongst the oldest in the world. First Nations people around the world suffer from comparatively high rates of diseases and disability. In Alice Springs, I learnt how health workers communicate through the Indigenous cultural context to find the best way to solve the health problems. One of the most important lessons I received from the workshop and from my placement was that it is not us (the health workers) who decide what is best for the Indigenous communities, we must work together with the communities to decide the best health solution.
A further lesson I learnt was the need to listen more and listen better. The first time I talked to Indigenous Australians with a disability I thought it would be like a normal conversation but I was completely wrong. I soon discovered that I was not in a position to give any comment or impression about the life stories I was hearing. The 'conversation' required me to show my skill as a listener (and note taker) and that was how it went day by day. The more stories I heard, the more grateful I felt about my life. I cried a lot during my time listening to such stories of hardship.
I look back to the Rizki Andini before this journey commenced and the ideas I had on making a contribution to health outcomes in remote Australia. I rehearsed how I was going to guide the conversation with the individuals I would meet during my time in Alice Springs and the advice that I could provide. What a humbling experience my three weeks there proved to be and what valuable life lessons I learnt. An overwhelming impression I was left with after this experience was that we should always take the time to listen to those communities we work with and to never stop learning from these opportunities.
Written by Rizki Andini
Australia Awards Scholarships recipient
Master of Health and International Development at Flinders University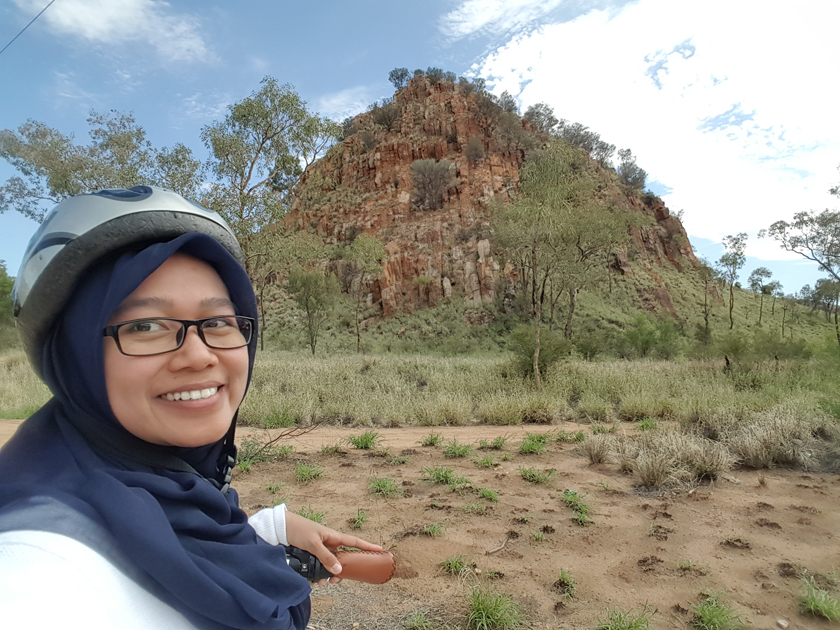 Share this article on:
Related Article

Back to Top