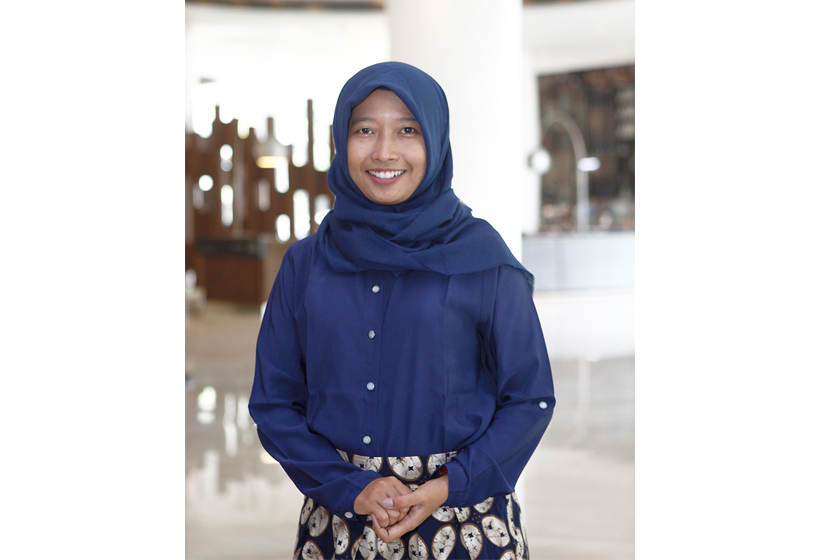 24 Jun 2019
Wheelchair service centres across Central Java: a service from and for the mobility impaired
More than 30 mobility impaired people and supporters are opening wheelchair service centres across five cities in Central Java, thanks to a program run by UCP Wheels for Humanity (UCP Roda Untuk Kemanusiaan, or UCPRUK) with funding from the Australian Government through the Alumni Grant Scheme.
Spearheaded by Dheni Fidiyahfika—Planning, Implementing and Monitoring Senor Officer at UCPRUK and Australia Awards Scholarship alumna—the program provides wheelchair repair and business management training for people with disabilities, and the staff and volunteers from the Indonesian Red Cross, disabled person's organisations and social work organisations.
"Not only did we want to make wheelchair repair more accessible for those who are mobility impaired, we also wanted to provide them with the opportunity to earn additional income," said Dheni, who obtained her Master's Degree in Public Health at the University of Western Australia.
"According to the Provincial Social Affairs Department, in 2016 there are an estimated 1.3 million people living with disability in Central Java, with 10% requiring wheelchairs as assistive mobility devices,"Dheni said.
In 2017, UCPRUK ran a capacity building workshop on wheelchair repair in Yogyakarta and Central Java. Dheni joined the UCPRUK team in 2018 and in December, 18 alumni—12 of them mobility impaired—from the original workshop participated in a refresher course.
To increase gender diversity, the UCPRUK team asked participants to refer a female person with disability to participate in the intensive wheelchair training course designed for new participants. In January 2019, four women were among 12 mobility impaired persons who participated in the course.
Katarina Dwi Putri Kristianti, an Asian Para Games 2018 volleyball athlete, was one of them. "The establishment of the Alumni Grant Scheme wheelchair repair workshop left a tremendous impression on me. I previously had no knowledge whatsoever on repairs or even tool names such as wrenches or bearings," said the member of the Boyolali House of Wheelchair repair team (Omah Kursi Roda Boyolali).
"Through this program, I came to realise that trainings like these are needed for women. In the future, we need more workshops like this for women," Katarina added.
Dwiyani, a member of the Magelang Wheelchair Repair Shop (Bengkel Kursi Roda Magelang, or BKRM), was just as excited. "I think it is incredibly exciting if a woman who uses a wheelchair can also do her own repairs," she said.
"Most people go to organisations that provide such service, like UCPRUK, or to individuals who have the skill to repair and maintain wheelchairs, but there were no service centres back then for easier access to that kind of service," Dheni explained.
Sumadi, member of the Semarang Wheelchair Service Centre (Griya Servis Kursi Roda Semarang) agreed that the establishment of service centres is benefiting the community. "With these wheelchair repair shops in Central Java, it is no longer difficult to find shops who can help with repairs should their wheelchair break down."
Dheni and the UCPRUK team realised that the participants needed more than mere technical know-how to ensure a successful business. At the end this year, the team conducted a business management workshop. There are now five wheelchair service centres across Magelang, Semarang, Klaten, Boyolali and Purworejo, run by 31 graduates of the workshops—25 of them mobility impaired.
The regional government of Yogyakarta provides a disability health insurance package for people with disability, covering assistive devices, which include wheelchair repairs. Other regional governments might not have such a comprehensive disability insurance package. "Aside from wanting to provide more accessible wheelchair repair, we also wanted to explore the feasibility of such a line of work for people with disabilities, should the clientele have to pay out-of-pocket," Dheni said.
To keep the pricing affordable, the service centres follow a standardised form. "Not only does this help the service centres keep track of parts and orders, it also helps keep the pricing stable," Dheni explained.
At first, there were some concerns on whether the need for wheelchair repair is too niche to provide a steady income for the service centres. The team had targeted five wheelchair repairs for each service centre, but then far surpassed their goal, with 54 wheelchairs repaired to date.
Still, the team is exploring other possibilities. "In the future, we want to also provide bicycle repair services to supplement the income," Dheni said.
Agus Budianto, member of the Purworejo Berirama Wheelchair Service Centre (Pusat Servis Kursi Roda Berirama Purworejo), echoes the sentiment. "With this service centre, I have a new business opportunity while also being able to assist others."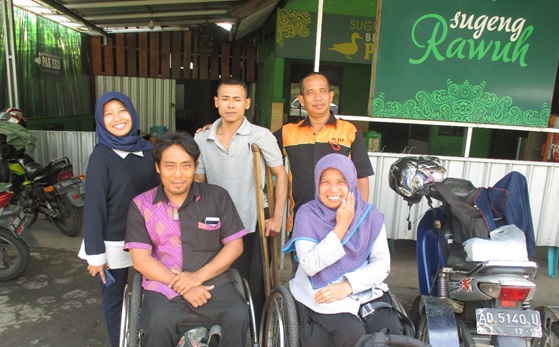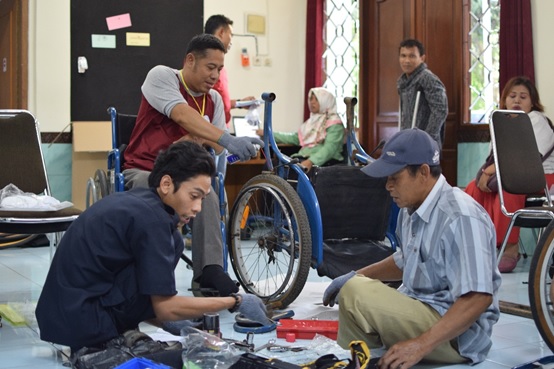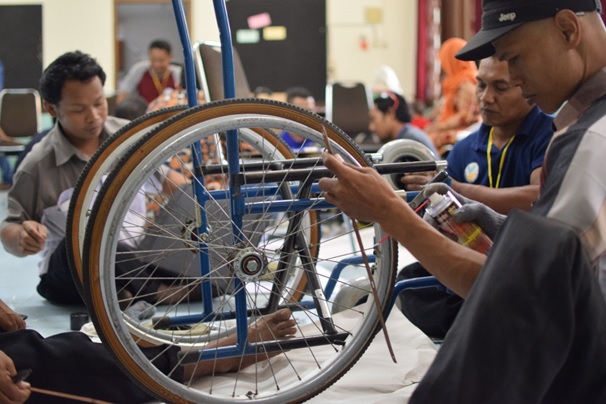 Share this article on:
Related Article

Back to Top