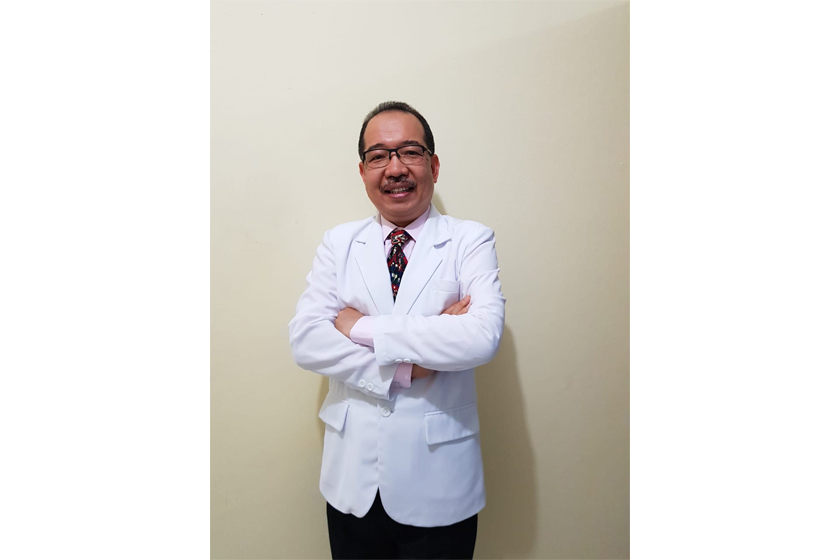 09 Mar 2021
Doctor Asep Purnama: Providing health care remotely in East Nusa Tengggara during COVID-19
With a population of around 300,000, residents of Sikka regency on the island of Flores in East Nusa Tenggara mostly work as farmers. Many still do not have mobile phones and internet access can be difficult. On the healthcare front, the main town of Maumere has no more than 10 doctors and there is only one intensive care unit.
Dr Asep Purnama is one of those doctors. A Short Term Award alumnus of the Malaria Prevention and Treatment for Infants, Children and Pregnant Women in Eastern Indonesia course, he is now head of the medical staff group of internal medicine at the TC Hillers Regional Hospital in Sikka. The hospital is a referral hospital for COVID-19. Dr Purnama also heads the regency's COVID-19 taskforce.
Graduating from the Faculty of Medical and Health Sciences at Udayana University in Bali in 1992, Dr Asep was first stationed at Seon community health centre in Belu, East Nusa Tenggara, until 1995. He then spent two years at Dili National Hospital (now the Guido Valadares National Hospital) in East Timor.
Dr Asep first started working at TC Hillers Regional Hospital in 2002, after graduating as an internist from Udayana University.
In April 2016, he enrolled in the malaria short course at The University of Melbourne, under an Australia Awards scholarship. Treating patients in one of Indonesia's five provinces with the highest numbers of malaria cases, Dr Asep acknowledged his experience in Australia has helped him in his daily activities. He credited Australia for the well-developed research on the disease.
When the coronavirus pandemic began, Dr Asep noted that at first, people in Flores did not take the situation seriously. There were only a few cases nationwide and no widespread public information campaign.
The first coronavirus case in Flores was reported in April 2020. Then came the worrying news that crew members of the ship KM Lambelu, which was scheduled to dock at Lorens Say Port in Sikka in early April, had tested positive for coronavirus.
As the health crisis began to spread further in Indonesia, Dr Asep and fellow doctors at the hospital, along with the Sikka branch of the Indonesian Doctors Association (IDI), sought ways to stop the transmission.
He knew the challenges they'd faced: wearing a mask was a strange concept, only a small number of residents practice proper handwashing, and social distancing was something entirely foreign in a community where togetherness was cherished.
In an effort to raise awareness, Dr Asep and his fellow health workers began a movement called "IDI Sikka Cares: Masks for Sikka". With donors mostly from Java and Bali, they raised funds to buy fabric and taught members of the local communities how to make cloth masks. Dr Asep said that in doing so, the locals were employed, and more masks were made available for the public.
"But when the masks were ready, we found another challenge," Dr Asep shared. "Residents resisted wearing the masks as they did not sufficiently understand about how COVID-19 was transmitted. So, we changed our strategy, and started with educating them about the disease, including how to wear and wash the masks properly."
Every week, Dr Asep and team visited sub-districts to donate cloth masks and raise public awareness on COVID-19. "We visited churches, schools and markets. It was challenging in terms of how to educate the people with health protocols that won't allow us to have a gathering," he said. "So, we found ways around this by utilising a spacious building and limiting the number of people present. To make our reach wider, we also collaborated with local radio and television stations."
The movement was covered by various news outlets in East Nusa Tenggara. Radio broadcasts were turned into podcasts by Maumere's MBC TV, with new episodes added every week. They also collaborated with Maumere TV.
Dr Asep and his team also made an educational video and wrote a song "Let's Wear Masks" in the local language. Over time, he found that there was no single right way to share information about COVID-19 in Maumere, as each community was unique.
"We reach those in the cities through the power of social media. While for those in isolated areas with no internet access, we provide education on the ground or through print and electronic media," Dr Asep said. "We also provide guidebooks on COVID-19 through churches and share information with the pastors."
Amid the challenging period, there is still the worrying state of the region's health facilities. Maumere's TC Hillers Regional Hospital is not equipped with the proper kits for PCR tests for COVID-19. Swab test samples must be sent to the provincial capital, Kupang, which is more than 400 kilometres away. The results can take more than two weeks. In all of East Nusa Tenggara, WZ Johannes Kupang Hospital is the only place that can analyse PCR test results.
Dr Asep also shared the challenges of treating COVID-19 patients at TC Hillers Regional Hospital. Many patients were asymptomatic university students who needed to attend online classes, yet the hospital had no WiFi connection.
To help keep the students' education on track, Dr Asep approached an internet provider, which agreed to install WiFi routers in the isolation room. Meanwhile, a mobile network provider agreed to give a IDR100,000 internet quota for each patient. "Most people consider internet as a trivial matter," he said. "But this small thing means a lot to the patients."
In facing the pandemic, Dr Asep is staying the course, he likened his journey like a battle.
"As humans, we also get scared of contracting the virus or even dying. But no matter how difficult it gets, we cannot surrender," he said. "Like it or not, we have to keep going forward."
Share this article on:
Related Article

Back to Top