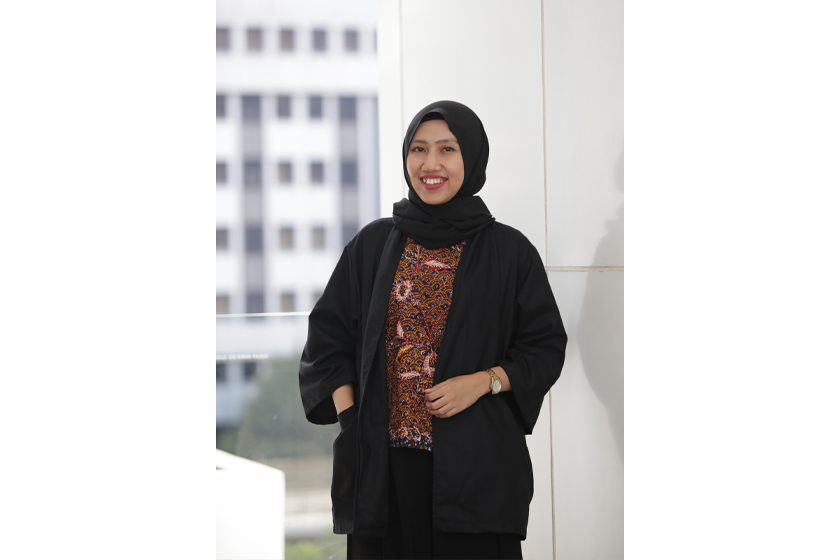 02 Dec 2021
Tune Map: a participatory mapping app assisting people with visual impairment and raising awareness about disability and accessibility in Bandung
A mobile application started by three friends from Bandung, West Java, is assisting people with visual impairments to navigate their city, while raising awareness of accessibility among non-disabled citizens and government officials.
Gita Nofieka Dwijayati, Pravitasari and Muhammad Malik Arrahiem used their different interests and knowledge to come up with Tune Map – an assistive technology app that can support people with visual impairments to walk safely and independently within their city.
The three founders majored in different fields. Gita trained as an architect and has a degree in hospitality and tourism management, Ita is a psychologist and Malik studied geology.
"Geologists like to map, so we combined our personal interests and came up with the idea of mapping for the visually impaired," Gita says.
"The three of us like to walk around the city and the pedestrian streets in Bandung are difficult to manage for the non-disabled but especially for those who are visually impaired."
Tune Map, short for Tuna Netra Map ('tuna netra' means 'visually impaired' in Bahasa Indonesia) won second place in the UNDP Big Ideas Competition in 2016 and in 2018, a grant allowed the trio to hire a team of developers to create the first version of the app.
In 2019, Tune Map was awarded seed funding from the Australian Government through the Alumni Grant Scheme, which helped them develop a second app.
Tune Map comprises of two apps, one for the sighted and another for the visually impaired. The first app enables sighted users to report impassable footpaths, roads and facilities by uploading photos of the obstacles and their locations, effectively using crowdsourcing to identify problems. The second app lets visually impaired users know what hindrances to expect on their route: incorrectly laid guiding blocks, uneven footpaths, electricity poles in the middle of the pavement, holes, potted plants, and so on.
Lack of accessibility for Indonesians with disabilities limits their connection to important services and rights, including education, health and employment. In 2011, there were an estimated 11 million people with disabilities in Indonesia, of whom 3.6 million were visually impaired.
The lack of accurate data regarding people with disabilities also means that central, regional and local governments are unable to make policies to ensure that people with disabilities can lead lives that are as independent and rewarding as non-disabled citizens.
Before the pandemic, Tune Map was able to organise two accessibility mapping events in Bandung, called Map My Day. These connected three of Tune Map's stakeholders: sighted volunteers, visually impaired volunteers from Ikatan Tuna Netra Muslim Indonesia (ITMI/Indonesian Muslim Blind Association) and local officials.
Map My Day was also an occasion for sighted volunteers and government officials to learn from their visually impaired counterparts: how it feels to walk when one cannot see; how guiding blocks work; how to guide a visually impaired person to cross the street; how to show them to a seat. Hearings with relevant officials from the city's Public Works Agency, Open Data Bandung and Bappenas (the Ministry of National Development Planning) were conducted after the events to share the data collected so that city and regional governments could plan repair works, as well as make appropriate plans and policies.
As Tune Map's Team Leader, Gita participated in Australia Awards' Start Up Ecosystem Short Course at Flinders University in Adelaide in 2018.
"It was a very good short course!" Gita recalled. "We were shown how the (start-up) ecosystem in Australia works - how the government, the private sector and private citizens within the start-up ecosystem are supportive of the start-ups but also are connected to each other. This makes it easier to create a start-up.
"I learned the importance of the ecosystem for the sustainability of a start-up. For Tune Map, if its volunteer ecosystem or the government ecosystem aren't strong, we will encounter problems. Right now, Indonesia's start-up ecosystem has not yet matured. Companies and institutions do things on their own instead of working together.
"We also learned about start-ups and creating sustainability through investors and choosing the right revenue stream or business model, which is what we're also focusing on. It would be a pity if Tune Map were to be just a one-off project instead of a sustainable app and social enterprise."
In Adelaide, Gita was also able to meet visually impaired students who gave her invaluable insight into how they navigate independently within the university and city, and the steps that the university has taken in terms of accessibility and inclusivity to help students with disabilities accomplish their degrees and goals.
Today, Tune Map has 780 non-disabled and 50 visually impaired users. The pandemic has put a temporary halt to testing the app for the visually impaired as well as planned Map My Day events. However, the start-up has moved events online through Tune Map Sharing events on Instagram Live, outreach efforts on YouTube livestream and sharing videos and posts through their Instagram and YouTube channels. These posts and events promote awareness of the importance of having accessible facilities, disability issues and how to use Tune Map.
Once the pandemic has abated, the Tune Map team plans to continue group testing the app for the visually impaired, organising more Map My Day events, fostering an even closer collaboration with city officials and gradually introducing the Tune Map app to volunteers and local governments in other cities.
Share this article on:
Related Article

Back to Top