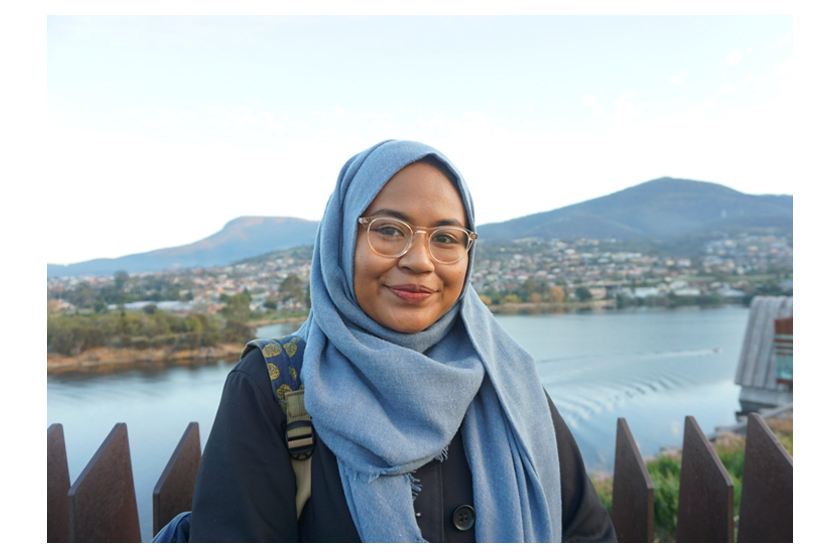 29 Jan 2022
Sarah Rizky Sails into the Future of Maritime Affairs
"As it was my first time living abroad, all I felt was excitement and the urge to learn new things, meet new people and acquire new experiences," said Sarah Rizky. An Australia Awards alumna, Sarah enrolled in the Master's of Maritime Policy program at the University of Wollongong in 2018.
A graduate of English Literature from the Jakarta State University (UNJ) in 2013, Sarah agreed with her parents' suggestion to become a civil servant. "The Indonesian Maritime Security Agency (Bakamla) was looking for a cooperation analyst for their International Cooperation department. One of the requirements was a Bachelor of English."
When opportunity knocked for her to study in Australia, Sarah was a Bilateral and Regional Cooperation Analyst at Bakamla. She chose to study Maritime Policy to boost the number of personnel experienced in maritime security in the agency. Established in 2014 as a non-ministerial government institution that reports directly to the President, Bakamla was relatively new.
"My interest grew when I saw that the program was under the Australian National Centre for Ocean Resources and Security (ANCORS). I had become familiar with the agency as they provided lecturers and facilitators for ministries who dealt with maritime affairs," Sarah said.
When school started, though, she had some apprehensions. "I had to 'awaken' knowledge I hadn't kept in touch within years. But thanks to the pleasant learning environment and the surroundings, the study felt enjoyable and stress-free," she said.
In the program, she learned about conventions on the law of the sea and related issues such as people smuggling, information exchange, and contemporary studies on the development of global maritime security. "The topics exceeded my expectations, especially on contemporary issues that kept me informed and up-to-date," Sarah said.
Meeting new and impressive people was also a highlight of her study. "I met people who held similar jobs like mine, but they were far more experienced and knowledgeable," Sarah shared.
One of them was Maria, a former classmate from Fiji who became Sarah's biggest inspiration at the time. "As a woman with three children, she was instrumental in her role as a lawyer to advance fisheries sustainability in her country," she said. "She made me realise that women in maritime law enforcement were no longer just a suggestion; it was happening now."
Coming back to Indonesia after one year in the program, Sarah was promoted as the Assistant Deputy Director of Multilateral and International Organisation Cooperation at Bakamla. During this period, she was involved in numerous multilateral forums, including the Heads of Asian Coast Guard Agencies Meeting (HACGAM) Capacity Building Program, "Law of the Sea and Maritime Enforcement Training," which was attended by 22 Asia-Pacific countries.
Founded in 2004, HACGAM deals with issues that include search and rescue, environmental protection, preventing and controlling unlawful acts at sea and capacity building. It is the biggest maritime agencies meeting in the Asia-Pacific region.
Sarah also became the right hand to the Deputy Director in conducting research on the need for minilateral cooperation with ASEAN countries, Australia, Papua New Guinea and Timor Leste.
After this, she became the Assistant Deputy Director of Maritime Operation Logistic Assistance at Bakamla, where she was tasked to assist operational personnel in understanding the law of the sea and related international conventions.
At the 15th High-Level Meeting of Heads of Asian Coast Guard Agencies in Colombo in 2019, Sarah led the Indonesian working group. Under her direction, ANCORS was incorporated as facilitators in high-level forums and nearly all activities conducted by Bakamla. "Previously, ANCORS was only involved in the Maritime Security Desktop Exercise held by Bakamla, the Australian Border Force (ABF) and the Maritime Border Command (MBC)," she explained.
Sarah acknowledged gratefully that studying in Australia had impacted her career in remarkable ways. "One of the most striking examples for me was to be able to learn countries' points of view on certain issues," she said. "The knowledge has helped me immensely, such as in negotiations upon forming a new collaboration or when I attend multilateral forums and dealing with multiple countries."
Sarah also pointed out the benefit of having Australian associates, especially academics, and former classmates who can lend a helping hand in her line of work. "I shared classes with navy personnel and coast guards from Australia as well as ASEAN and Pacific countries. I was also involved with the Indonesian Student Association (PPI) in Australia, which led me to have acquaintances in the Indonesian Embassy and ministries," she shared. "Having this network has been an enormous help whenever I am in need of data and intelligence information."
Having personally experienced the advantages of the Australia Awards Scholarships, Sarah has encouraged her colleagues at Bakamla to study in Australia. "I was able to meet so many outstanding people, and networking is the greatest outcome from the program, alongside all the new knowledge I've gained. There is this sense of togetherness shared by the alumni, which in turn has made my job so much easier," she said.
For the future, Sarah said she is excited to embrace the constantly evolving field of the sea and maritime affairs: "I also strive to practice all the knowledge I've gained and to share what I've learned to others as well."
Share this article on:
Related Article

Back to Top