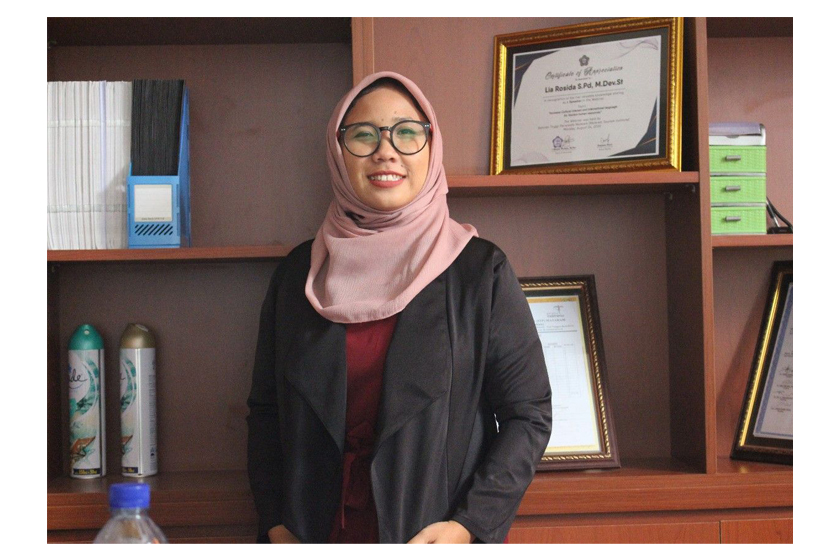 13 Apr 2022
Lia Rosida Promotes Sustainable Tourism through Bamboo Conservation
When Australian Awards alumna Lia Rosida worked at a five-star hotel in Lombok in 2012, she observed a significant economic divide between the island's thriving tourism industry and the surrounding population.
While the resort island in West Nusa Tenggara Province is one of Indonesia's top tourist magnets, locals living around tourist areas were often marginalised. Even if they did work in hotels, most of their jobs were menial, such as gardeners. It was not unusual for upper to middle management positions at hotels to be filled by employees from outside the province.
"The hotels, with all of their opulence, stood in stark contrast to the locals. So, I kept believing that a development program was needed to close the gap," said Lia, the founder of Andakara Tourism Organization, a non-government organisation for sustainable tourism.
Lia's supervisor, the hotel's general manager, had the same idea. He began a series of initiatives to strengthen the community surrounding the hotel, such as teaching people how to cultivate organic lemongrass. They provided the hotel with the aromatic herb, used to make a welcome drink for the guests.
In addition, the hotel also trained locals about trash reduction, reuse, recycling, and the hospitality sector. The hotel's community programs kindled Lia's interest in sustainable tourism, promoting local community involvement and environmental preservation.
"Mass tourism where massive number tourists flock to a tourism site seems to be the main type of tourism in developing countries including Indonesia, causing environmental damage. Sustainable tourism provides alternative forms of tourism for environmental conservation and at the same time gives greater economic benefit to locals," said Lia, who earned a Master's degree in Development Studies from The University of Melbourne through an Australian Awards Scholarship in 2015.
Bamboo ecotourism
In 2020, with funding from the Alumni Grant Scheme, Lia pioneered a bamboo conservation ecotourism site in Lombok, called Aur Sembalun.
Located in Sembalun Lawang village, Aur Sembalun is the first ecotourism attraction in Indonesia that is dedicated to bamboo conservation. Aur in the local Sasak language means "bamboo".
Sembalun, on the hillside of Mount Rinjani, Indonesia's second-tallest volcano, is home to unique bamboo woods. The versatile plant is highly treasured by residents of Sembalun, and not only that, but it is sacred in their culture. Tourists can see covered bamboo clusters that resemble bamboo wearing sarongs, or "bambu bersarung", with a fascinating history behind them.
Sembalun's unique geological, cultural and natural attractions make the village well-placed for ecotourism development. However, Sembalun village -- about a three-hour drive from Mataram, the province's capital city -- has limited human resource development and a high poverty rate. According to a 2017 study by Sekolah Tinggi Pariwisata Trisakti, over 50 percent of the population earned less than the regional minimum wage.
"Even though the bamboo forests had great potential, the villagers did not know how to manage them. Before we started the project, the villagers used the forest to dump their household waste," said Lia, who studied English Literature for her Bachelor's degree at Mataram IKIP (IKIP Mataram).
In 2018, only 46,180 of the estimated 1 million tourists who holidayed on the island were visiting Sembalun. Ecotourism development is expected to increase visitor numbers and strengthen the domestic economy whilst providing a viable economic pathway to protect natural resources.
The project, which ran from end of 2020 until mid-2021, began with research on the potential and the history of Sembalun's bamboo forest by involving the village's elders. Results from the study were then compiled into a guidebook, which was developed with the local people for 30 villagers who participated in the project's training.
After the research was completed, participants began a one-week training course on bamboo ecotourism. They learned how to advertise the tourism site through the website and social media.
"Most of the participants already had experience as mountain hiking guides. They now needed product knowledge about bamboo ecotourism, how to market it and design the destination," said Lia.
As part of the forest conservation, participants also built a greenhouse for bamboo seedlings.
The Aur Sembalun ecotourism site was launched in April 2021. It is now managed by the Sembalun Community Development Centre with support from academics from the local tourism higher education institution, Sekolah Tinggi Pariwisata Mataram, and CERES Global, an Australia-based non-government environmental education centre.
International visitors have yet to visit Aur Sembalun due to travel restrictions associated with COVID-19. However, it anticipates attracting overseas visitors this year as the government gradually relaxes travel restrictions.
Greater women's role in tourism
The Aur Sembalun project also aims to encourage more women to work in the tourism business in Lombok. Few women in the tourism industry on Lombok hold decision-making positions, such as those on the management board. The majority work as secretaries, cooks or wait staff in restaurants.
This reality is mirrored in Sembalun village, where male workers dominate the tourism jobs.
"Despite the fact that women can work in any part of the tourism sector, there is still a stereotype that women can only work in administration jobs, such as receptionists, or cook. However, they are capable of much more. They can be a manager or do whatever they want," said Lia.
As part of the women's empowerment program, half of the 30 participants joining Aur Sembalun's training program in 2020 were women. It is expected that these women could have a pivotal role in the tourism management of Sembalun destinations overall.
"We want to empower women to do more in tourism activities. They can gain new knowledge, become a tourism operator or marketer. I want to see these strong women manage the tourism industry and be involved in decision-making," she said.
Preserving nature, educating visitors
Aur Sembalun has also put greater emphasis on educating visitors about environmental conservation and the bamboo plant itself.
"Visitors come to see the bamboo and learn about the different kinds of bamboo, how to cultivate it, and what it is used for. For instance, we make various toys and musical instruments out of bamboo so that visitors can see the various uses of bamboo," Lia explained.
Lia's interest in developing ecotourism also came from her experience living in Melbourne for nearly two years for her Master's study.
"There are many botanical gardens in Melbourne. They are not just for viewing plants, but the botanical gardens also provide plenty of information about their collections to educate visitors. That has inspired me because Indonesia also has countless unique plants," she said.
On the other hand, Lia acknowledged the difficulty in attracting Indonesians to visit ecotourism sites like Aur Sembalun, owing partly to the fact that ecotourism has yet to gain popularity in Indonesia. Furthermore, like in other Asian countries, bamboo is a common plant here.
"I believe it is critical to raise awareness that we should visit not only popular places but also alternative destinations that provide us with knowledge," she said.
Photo courtesy of Lia Rosida.
Share this article on:
Related Article

Back to Top