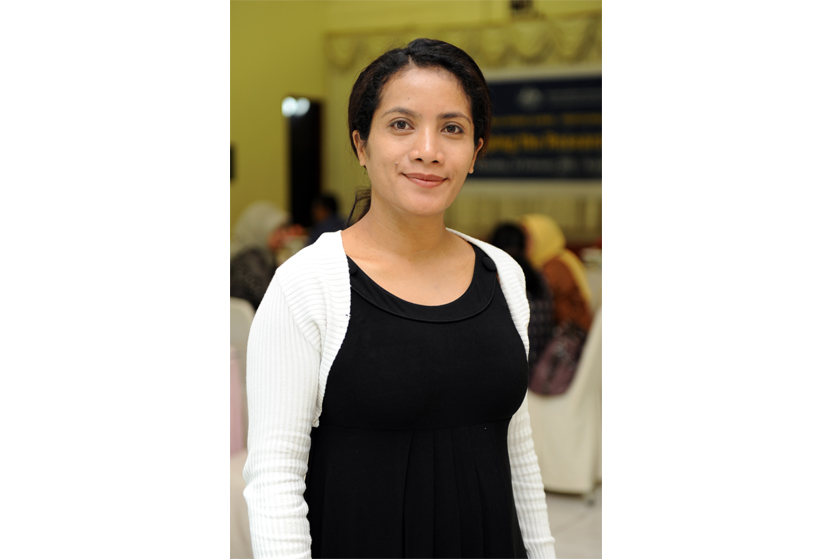 24 Apr 2016
Paving way for gender equality in East Nusa Tenggara
Maria Dominika MeoMaghi, 2007 Australia Awards Scholarships awardee with supplementary Leadership Prize, is among the champions of women's rights. The current Vice Coordinator of Program Otonomi in Flores has been actively engaged in human rights issues, in particular gender equality and peacebuilding since 1995.
Previously, she worked as the Jakarta-based Gender Advisor for Plan International Indonesia to ensure gender mainstreaming in the Plan's country programs implementation throughout the year 2015. During 2013 through 2014, she was a Team Leader for the East Flores District Gender Profile development, working with three other gender consultants in conducting qualitative and quantitative research with government institutions and local communities (rural and urban) in East Flores to develop gender profile containing data on various gender issues in the areas of health, education and infrastructure. The project was conducted as part of the Australia Indonesia Partnership for Decentralization (AIPD) effort to promote gender equality in East Nusa Tenggara.
Prior to that, in 2011–2012, she worked as Gender Coordinator for the Australia Indonesia Partnership for Maternal and Neonatal Health (AIPMNH)­­­—at the time under AusAID. As Gender Coordinator at AIPMNH, she facilitated gender mainstreaming into the implementation of the project. In particular, Maria worked closely with the local government to develop gender mainstreaming policy. She also facilitated trainings for government officials to help them integrate gender into the planning and budgeting processes. Maria also worked as research team member for an Oxfam funded research on Gender and Mining in Kefa, North Central Timor.
Between 2002–2007, with the Flores-based, Nusa Tenggara Timur Primary Education Partnership (NTTPEP), Maria served beyond her capacity as translator-coordinator. "Due to my work experience, from time to time I was also asked to facilitate or co-facilitate workshops in the area of gender, conflict management and HIV/AIDS prevention; this was for stakeholders in primary education including principals and teachers, supervisors and NTTPEP staff members."
In 2000, Maria's scope of experience prompted her and others to become founding members of the Motherland Appeal for Justice Foundation (YAPRITA), established to promote gender equality and conflict resolution in East Nusa Tenggara.
"Gender issues are often neglected in the context of conflict because people tend to draw attention to greater issues such as social, economic and political aspects that trigger the conflict," Maria explained. Her interest is in the root cause of conflict which she describes as often arising from gender-power imbalance seen through the interactions between men and women in a society.
"While we often feel hopeless regarding conflict in Indonesia, at least we can start to build equal and peaceful relations in our own community which will hopefully influence larger groups in the community," Maria continued.
Maria has just joined Program Otonomi in Flores which works on various community development programs such as organic farming, waste management, water projects for remote areas, and ecotourism. The program uses participatory approahes which engage local community, including women groups to be part of development and future changes.
Maria certainly walks the talk. She has worked in areas of conflictsuch as Flores, West Timor and West Papua—often putting the welfare of others above her own. Maria also entered perilous areas in Aceh during her post-tsunami work with Peace Brigades International in 2005, developing peace building activities that included a major workshop focusing on women as peace builders.
Maria also provides support for other East Nusa Tenggara women organizations such as the Women Partnership Network, Communication Forum for Women's Rights, and Flores Women Solidarity. Maria is careful to ascertain sustainable solutions. "When working with women groups on the local level, it is very important to encourage and motivate them to develop their own potential," Maria explains.
To further equip herself for the cause of gender equality and women's rights, Maria applied for an Australia Awards Scholarship with supplementary Leadership Prize and later graduated from Flinders University with a Master in Women's Studies, Contemporary Issues in Gender and Development in 2009. The network and knowledge Maria gained has proven invaluable to her cause.
"When I applied for the Australia Awards Leadership Prize back in 2007, I expressed hope that in 10 years' time, I will be contributing to a wider community understanding of gender in assisting the empowerment of women groups. The hope is that by working with both men and women in my community we will encourage enough advocates of women's rights to be able to work at the local national and/or international level."
Halfway through her decade-long plan, Maria Dominika MeoMaghi is certainly well on her way to achieving above and beyond her goal.
Share this article on:
Related Article

Back to Top