KSIxChange #30: The Role of Disabled People's Organisations in Post COVID-19 Development
KSIxChange #30: The Role of Disabled People's Organisations in Post COVID-19 Development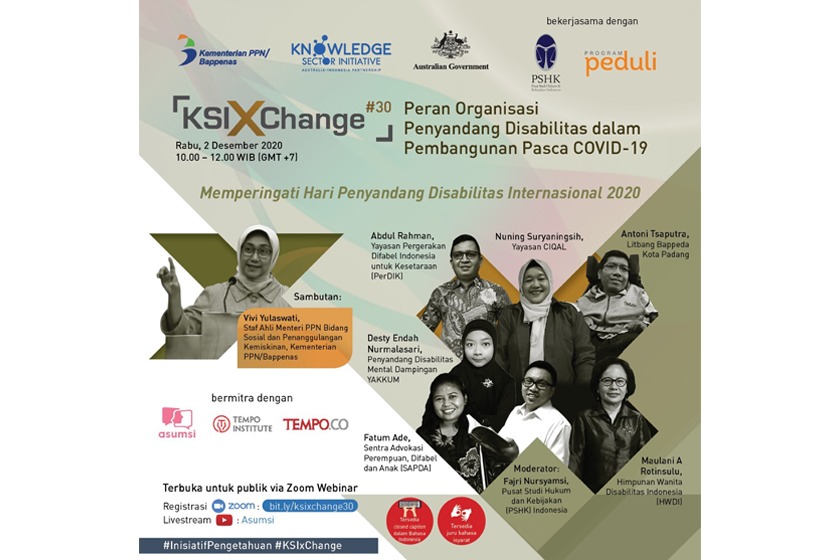 Join "The Role of Disabled People's Organisations in Post COVID-19 Development" webinar by KSI (Knowledge Sector Initiatives) on Wednesday, 2 December 2020 at 10:00 – 12:00 WIB.
The COVID-19 pandemic is a momentum to evaluate the quality and capacity of the output of social security and protection policies, especially policies for people with disabilities. The government has taken positive steps to increase the inclusion of people with disabilities in the formulation of inclusive policies, such as through the design of the National Disability Commission (KND).
However, the shock of the socio-economic impact on the welfare of people with disabilities during the pandemic has prompted a revitalisation of the role of DPOs as grassroots organisations that have a crucial role and potential. The possibility that there is a gap between people with disabilities and the basic and special needs services, also policy makers can actually be bridged by DPOs. So that they are able to guarantee their representation in the policy formulation process that is more inclusive and on target for the empowerment of people with disabilities.
The webinar will be moderated by Fajri Nursyamsi, Director of Advocacy and the Indonesian PSHK Network, and there will be a message from Vivi Yulaswati, Expert Staff of the Minister for Social Affairs and Poverty Alleviation, Ministry of National Development Planning / Bappenas.
Speakers of the Talkshow:
Abdul Rahman, Executive Director of the PerDIK Foundation
Antoni Tsaputra, Research and Development Analyst Bappeda Padang
Desty Endah Nurmalasari, Person with Mental Disability Assisted by the YAKKUM Rehabilitation Center
Fatum Ade, Deputy Director of SAPDA
Maulani A Rotinsulu, Chairman of HWDI
Nuning Suryaningsih, Chairman of the CIQAL Foundation
This event can also be watched through a live broadcast on the Asumsi's YouTube channel.
Register here.