Digital Economy as the Engine for Economic Recovery: Perspectives from Indonesia-Australia
Digital Economy as the Engine for Economic Recovery: Perspectives from Indonesia-Australia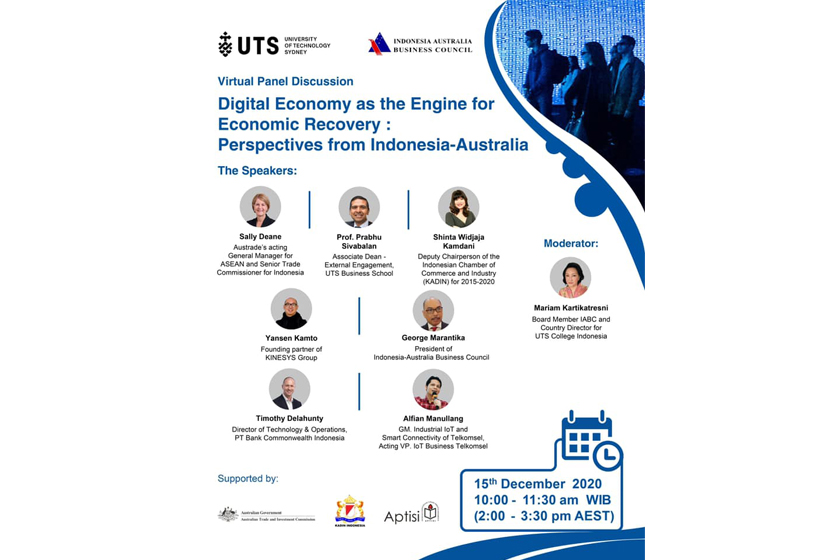 Jointly organised by University of Technology Sydney (UTS) and Indonesia Australia Business Council (IABC), this virtual panel discussion will feature speakers including UTS alumni and academics, and prominent Indonesian-Australian business leaders, including:
Sally Deane (Austrade's Acting General Manager for ASEAN and Senior Trade Commissioner for Indonesia),
Timothy Delahunty (CFO and Acting GM Technology & Operations, Commonwealth Bank Indonesia),
Alfian Manullang (GM.Industrial IoT and General Manager IoT Smart Connectivity of Telkomsel, Acting VP IoT Business Telkomsel),
George Marantika (President of Indonesia-Australia Business Council),
Yansen Kamto (UTS alumnus, founding partner of KINESYS Group or Indonesian VC,
Prof Prabhu Sivabalan (Associate Dean – External Engagement, UTS Business School), and
Mariam Kartikatresni (Board Member IABC and Country Director for UTS Insearch Indonesia).
This virtual event will be held on Tuesday, 15 December 2020, at 10:00 AM – 11:30 AM WIB or 2:00 PM – 3:30 PM (GMT +10:00 Canberra, Melbourne, Sydney).
Register here.