Gen-Z & Millennial Communities in Waste Management and Environmental Care to Face Climate Change Webinar
Gen-Z & Millennial Communities in Waste Management and Environmental Care to Face Climate Change Webinar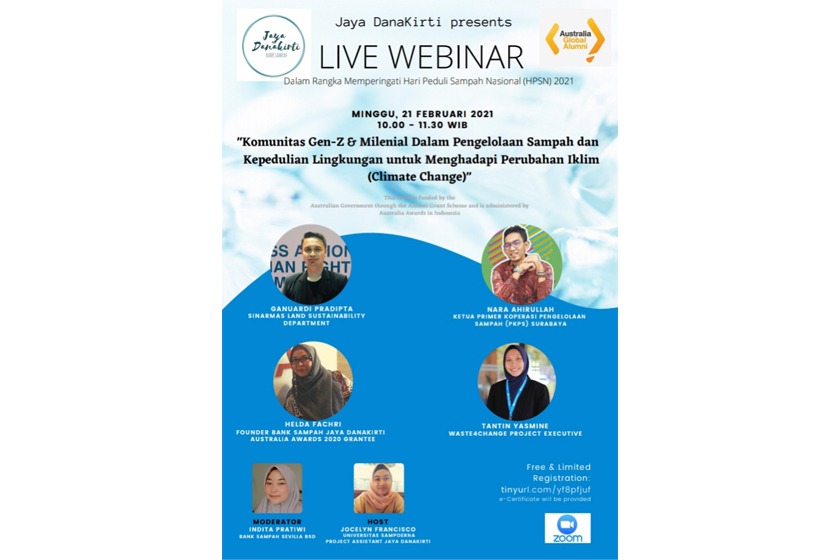 Join this Gen-Z & Millennial Communities in Waste Management and Environmental Care of Bank Sampah Jaya DanaKirti Webinar on Sunday, 21 February 2021 at 10.00 AM – 11.30 AM WIB.
This event is a series of activities from Project Hello (Healthy Environment for Life and Livelihood Opportunity through Solid & Plastic Waste) supported by the Australian Government through the Alumni Grant Scheme (AGS) which is administered by Australia Awards Indonesia.
Population, climate change, mismanaged waste, environmental crisis, and ecological system will become burdens for human life in the future. The global world has a growing population load, and current extinctions are most likely due to human activity, particularly during the last century.
Through this webinar, Jaya DanaKirti invites Gen-Z and Indonesian Millennials to reconsider their future existence. Although the time provided in this discussion may not be sufficient to find the right solution, it aims to at least open many people's eyes, that our earth is dying, and we must protect the next generation.
Register here.