PATHWAYS: Sharing Leadership Experience during the COVID-19 Pandemic
PATHWAYS: Sharing Leadership Experience during the COVID-19 Pandemic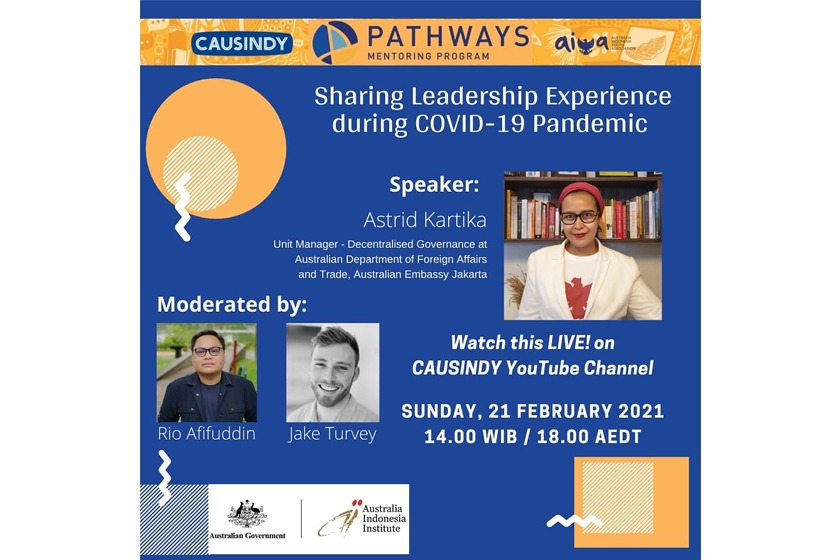 Join the 'Sharing Leadership Experience during the COVID-19 Pandemic' talk show featuring Astrid Kartika, a CAUSINDY 2014 alumna who currently works as a Unit Manager – Decentralised Governance at DFAT, Australian Embassy Jakarta. The event will be streamed live on Sunday, 21 February 2021 at 2.00 PM WIB / 6.00 PM AEDT, and is part of PATHWAYS – a collaborative mentoring program between CAUSINDY and AIYA that aims to help young professionals develop the skills needed to build a career in the Aus-Indo bilateral space.
Astrid will explain the skills and competencies required to undertake leadership tasks, and advise on how to adapt to the challenges of working remotely and dealing with the unknown.
Moderated by Rio Afifuddin and Jake Turvey, a PATHWAYS mentor and mentee respectively, this virtual event is open to the public and can be watched live on CAUSINDY's YouTube channel – but for mentors and mentees, please use the Zoom link sent to your email.
Click here for more info and to watch the event on CAUSINDY's YouTube channel this Sunday.