Queensland Hour: Supporting Indonesian Student's Employability Skills
Queensland Hour: Supporting Indonesian Student's Employability Skills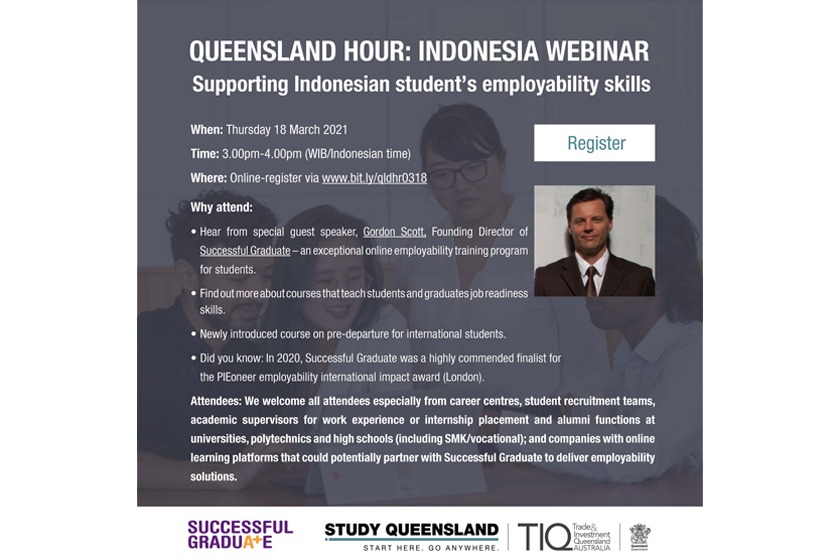 Join this Queensland Hour: Indonesia webinar series on "Supporting Indonesian student's employability skills" held by Queensland Government Representative Office in Indonesia, with guest speaker Mr Gordon Scott, Founding Director of Successful Graduate – who will share his wealth of knowledge, experience and insights into Successful Graduate's exceptional online employability training programs for students.
The webinar will be held on Thursday, 18 March 2021 at 03.00 PM – 04.00 PM WIB, and welcoming attendees from career centres, student recruitment teams, academic supervisors for work experience or internship placement and alumni functions at universities, polytechnics and high schools (including SMK/vocational); and companies with online learning platforms that could potentially partner with Successful Graduate to deliver employability solutions.
It will be a casual panel discussion conducted in English with Indonesian commentary from facilitator: Irma Irsyad, Principal Business Development Manager at Trade and Investment Queensland.
If you have any questions, please send an email to jakarta@tiq.qld.gov.au.
Register here.