Recorded Webinar: The Role of Women in Driving Inclusive Economic Growth – A Webinar by the Australia-Indonesia Centre and Global Victoria
Recorded Webinar: The Role of Women in Driving Inclusive Economic Growth – A Webinar by the Australia-Indonesia Centre and Global Victoria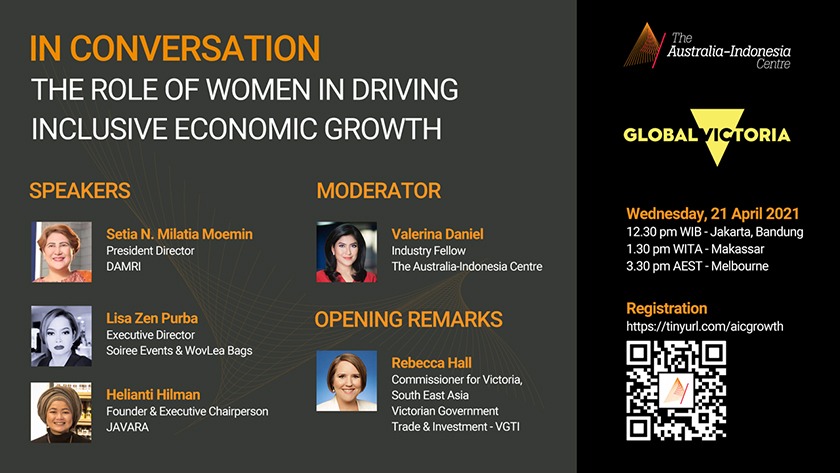 After enduring a difficult year dominated by the multi-dimensional impact of COVID-19, we are now beginning to witness the green shoots of economic recovery.
Securing this recovery will require the active and effective participation of all. While women comprise half the population, they do not yet play a commensurate role in the economy or positions of leadership. A full and robust recovery therefore calls for ensuring the active participation of women at all levels.
The experiences of successful women business leaders can offer lessons and inspiration on charting a path to inclusive economic growth. In celebration of Kartini Day, this webinar will explore the challenges, including institutional, that affect the potential for women and the businesses they lead.
Watch or listen to this recorded webinar, held by Australia-Indonesia Centre in partnership with the Victorian Government Trade & Investment.
Panelists:
Setia N Mulatia Moemin - President Director, DAMRI
Lisa Zen Purba - Executive Director, Soiree Events & WovLea Bags
Helianti Hilman - Founder & Executive Chairperson, JAVARA
Moderator:
Valerina Daniel - Industry Fellow, The Australia-Indonesia Centre
Watch or listen here.