Export Expert Talk #08: MYPAJALE – Village's Agricultural Commodities Monitoring Application using Australian Technology
Export Expert Talk #08: MYPAJALE – Village's Agricultural Commodities Monitoring Application using Australian Technology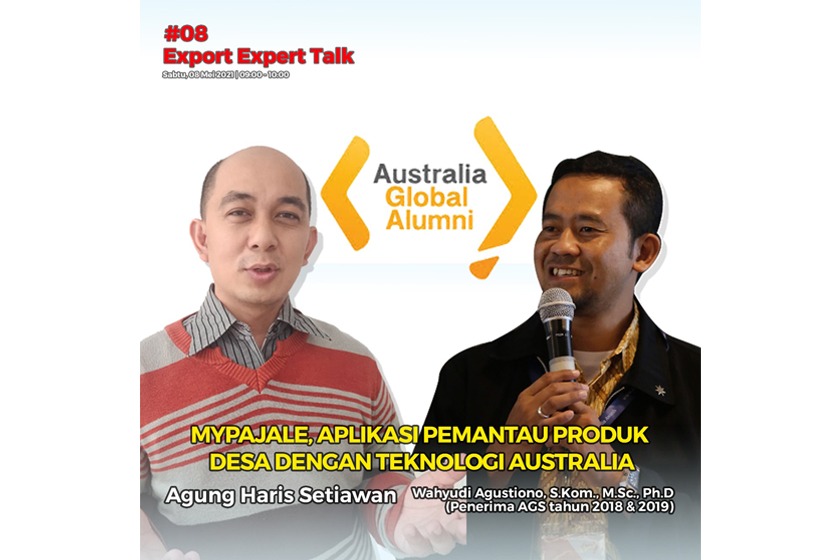 Join this virtual discussion on MYPAJALE – village's agricultural commodities monitoring application using Australian technology on Saturday, 8 May 2021 at 09.00 AM WIB / 12.00 PM AEST.
MyPaJaLe (My Padi Jagung Kedele) is an android-based application system designed and built by a group of researchers from Trunojoyo Madura University (UTM) led by OzAlum Wahyudi Agustiono, a PhD alumnus from Deakin University. It serves as a collaborative platform that strives to combine technology and human efforts and offers two-way communication between field officers and farmers to perform multiple crops management problems treatments in more streamlined, easier, rapid, and cheaper, yet measurable and accurate. It can be downloaded and distributed free of charge by anyone, especially corn, rice, and soybean farmers, and organism and plant pests control officers.
MyPaJaLe project is funded by the Australian Government through the Australian Alumni Grant Scheme, and this expert talk is supported by the Australia Global Alumni.
Watch this event live on YouTube.