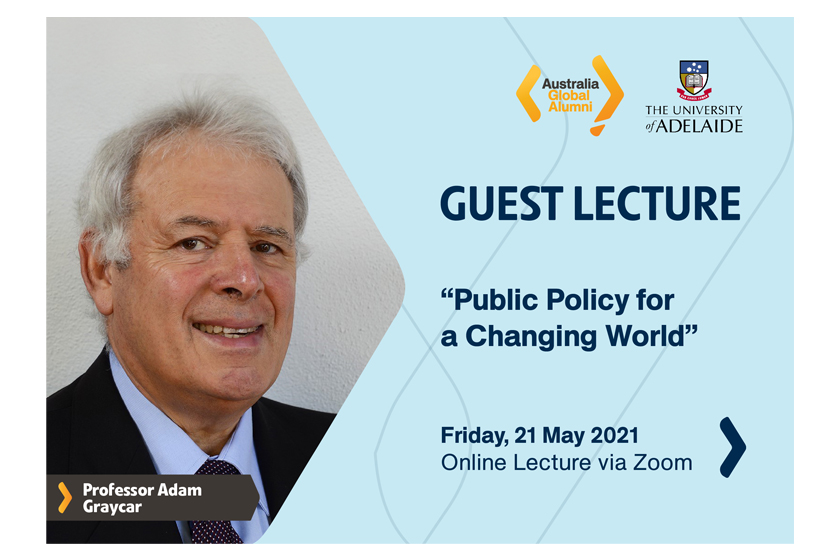 07 May 2021
Join us in the Guest Lecture on Public Policy for a Changing World
Join us in the online lecture on "Public Policy for a Changing World" featuring Professor Adam Graycar from the University of Adelaide on 21 May 2021 at 2.00 pm Jakarta time.
The biggest and most complex issues in our lives and societies are resolved through public policy. The current pandemic poses policy challenges, but so too do our everyday activities and choices. How do we ensure that our education system provides the most appropriate education for our children; how do we make sure there is clean water for everybody; how do we help our diverse populations strive for high standards of living while preserving our environment for the future; how do we stop people dying in motor accidents?
Questions like these and many more test public policy practitioners and analysts. In this lecture, Professor Adam Graycar will explore some of the considerations that help us resolve some of these issues. The lecture will explore how to use many types of knowledge for our public policy practice –statistical, scientific, ethical, legal and community knowledge, public opinion, and knowledge of what policies are effective.
If you are interested in attending this event, please register yourself by 19 May to this link. Click here to get more information about the lecture and Professor Adam Graycar.
Share this article on:
---
Related News

Back to Top