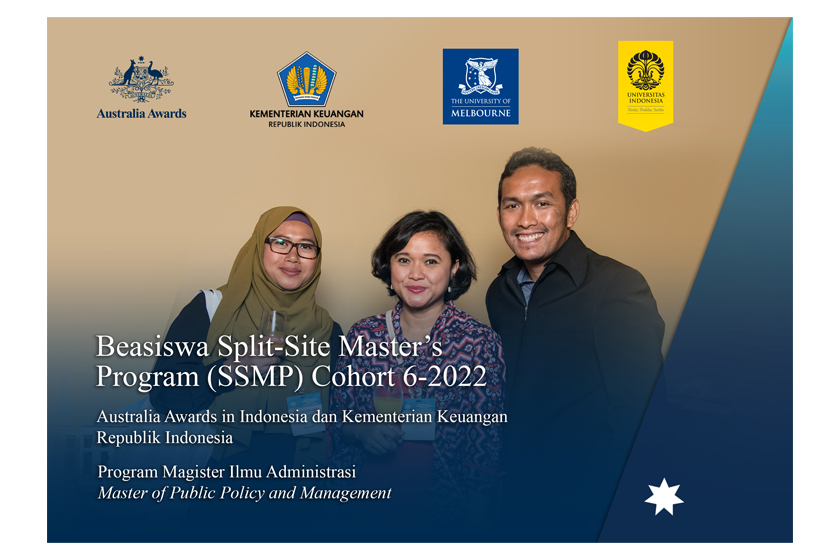 13 Oct 2021
Applications Open for the Split-Site Master's Scholarship Program for Civil Servants Working at the Ministry of Finance
If you are an Indonesian civil servant working at the Ministry of Finance; having interests in learning public policy and management, and administrative science; and keen on pursuing higher education in both Indonesia and Australia; then this scholarship program is for you!
Apply now for the Split-Site Master's Scholarship Program, delivered to you by The Ministry of Finance in collaboration with Australia Awards in Indonesia, University of Indonesia, and The University of Melbourne for the academic year of 2022-2024.
This scholarship program consists of one year of study at University of Indonesia, Indonesia, and one year of study at The University of Melbourne, Australia. At the end of study, you will get two degrees: Magister Ilmu Administrasi and Master of Public Policy and Management.
More information on the scholarship's procedures and requirements is available here. Read here to get general information about the Split-Site Master's Scholarship Program.
Please contact and get in touch with the scholarship committee at pengelolaan.beasiswa@kemenkeu.go.id with an email subject: [Ask] SSMP Program when applying for this scholarship.
Share this article on:
---
Related News

Back to Top