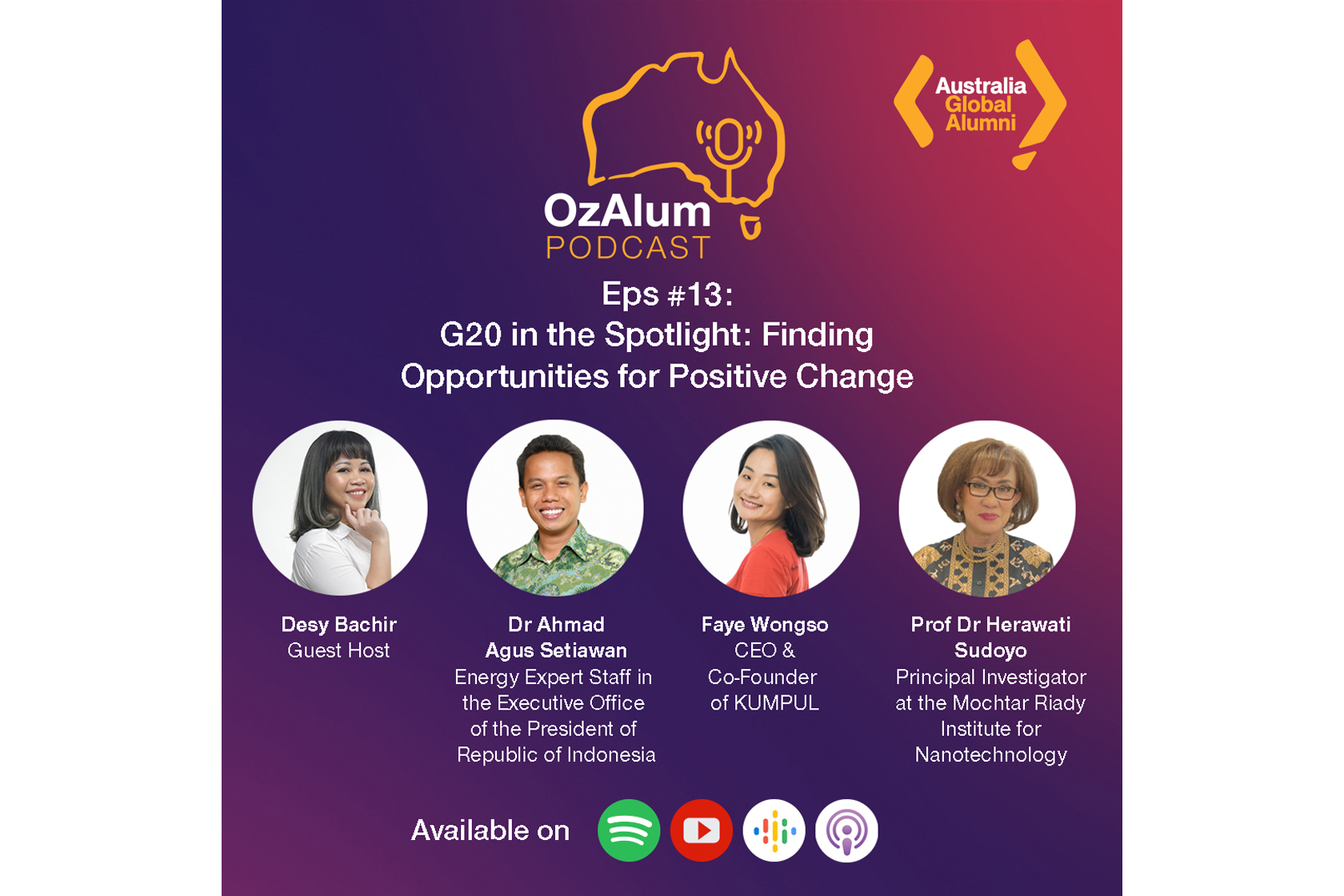 27 Jul 2022
OzAlum Podcast Eps #13: G20 in the Spotlight: Finding Opportunities for Positive Change
The COVID-19 pandemic is an opportunity for the whole world to work together to overcome crises and create and maintain solid, sustainable and inclusive global growth. The Group of Twenty (G20), which includes Indonesia and Australia, has the potential to play a central role in alleviating this crisis through collective action and inclusive collaboration among major developed countries and emerging economies around the world.
In this thirteenth episode, OzAlum Prof Dr Herawati Sudoyo, Principal Investigator at the Mochtar Riady Institute for Nanotechnology, Dr Ahmad Agus Setiawan, Energy Expert Staff in the Executive Office of the President of the Republic of Indonesia, and Faye Wongso, Co-Founder and CEO of Kumpul, share their views on lessons everyone can learn from the pandemic that can help us prepare for future shocks and crisis. From global health architecture, sustainable energy transition and digital transformation, together Australian alumni have an opportunity to support decision makers to move away from the status quo and make positive changes in our communities and country.
Listen to our OzAlum Podcast on Spotify, Apple Podcasts, Google Podcasts, YouTube, and the OzAlum website. Don't forget to leave a rating and review!
And if you want to make a difference and become the next generation of global leaders, apply now for a G20 "Recover Together, Recover Stronger" Scholarship. The Scholarships will be awarded specifically for Masters and PhD programs that fit under Indonesia's G20 priority areas, namely global health architecture, digital transformation and sustainable energy transition. The applications close on 12 August. More info: https://oz.link/g20scholarships.
Share this article on:
---
Related News

Back to Top