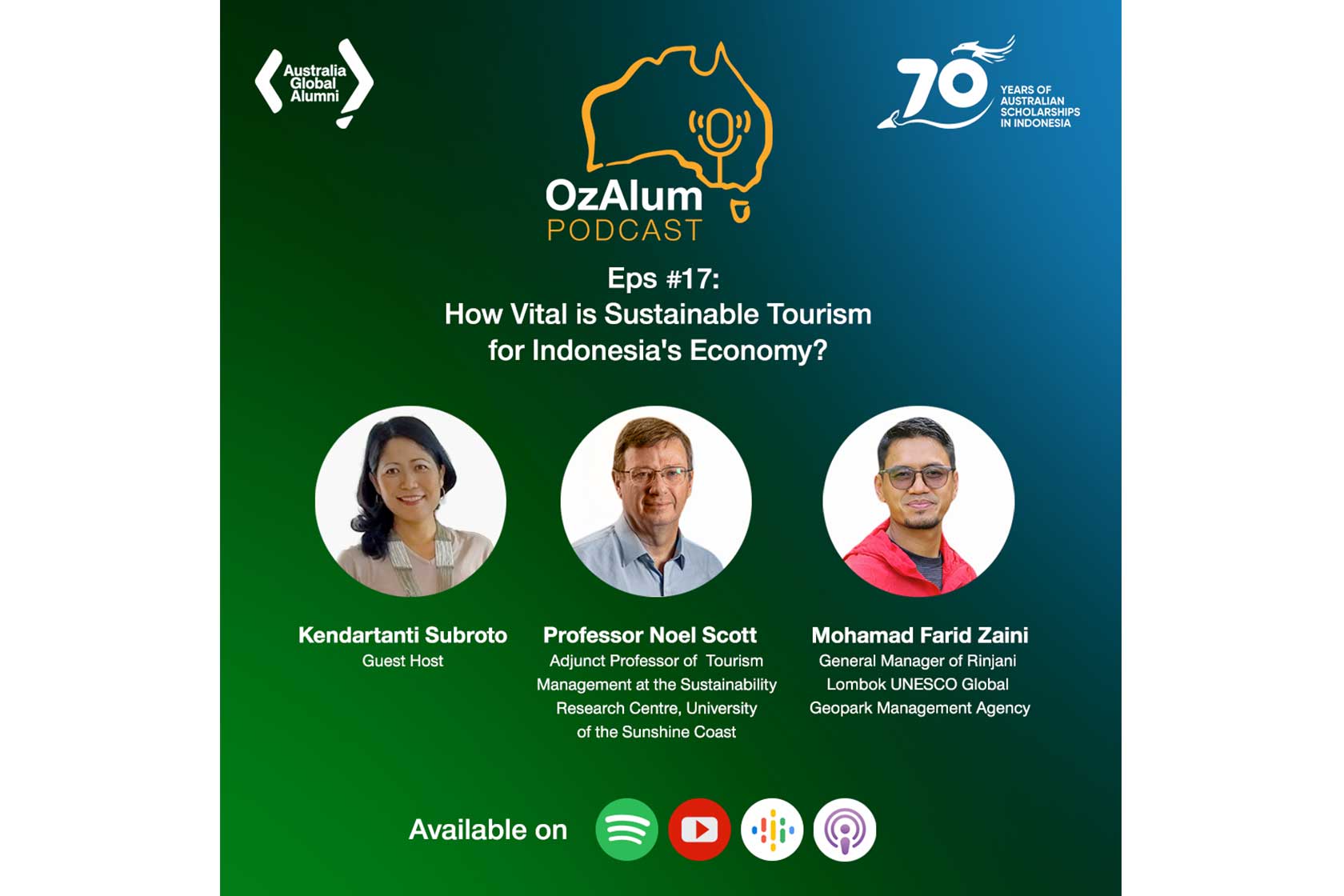 28 Apr 2023
OzAlum Podcast Eps #17: How Vital Is Sustainable Tourism for Indonesia's Economy?
Tourism is one of the most critical sectors for obtaining foreign exchange, which is vital to Indonesia's economy. With the revival of the tourism sector after COVID-19, tourism is recognised by the government as a critical tool for socio-economic development. However, along with its positive impact on economic growth, the expansion of the tourism industry also significantly contributes to rising carbon dioxide emissions and energy consumption. Indonesia is now reinventing and prioritising high-quality and sustainable tourism goals through implementing community-based, sustainable, inclusive tourism, which will translate to job creation impacts and boost the overall economy.
In this seventeenth episode, our Guest Host Kendartanti Subroto, chats with Professor Noel Scott, Adjunct Professor of Tourism Management at the Sustainability Research Centre, University of the Sunshine Coast and OzAlum Mohamad Farid Zaini, General Manager of Rinjani Lombok UNESCO Global Geopark Management Agency. They discuss the most challenging issues the tourism stakeholders face in implementing sustainable tourism and boosting economic growth. And what are the examples of Indonesia's best sustainable tourism destination that has met the Global Sustainable Tourism Council (GSTC) standard?
Listen to our OzAlum Podcast on Spotify, Apple Podcasts, Google Podcasts, YouTube, and the OzAlum website. Don't forget to leave a rating and review!
Share this article on:
---
Related News

Back to Top