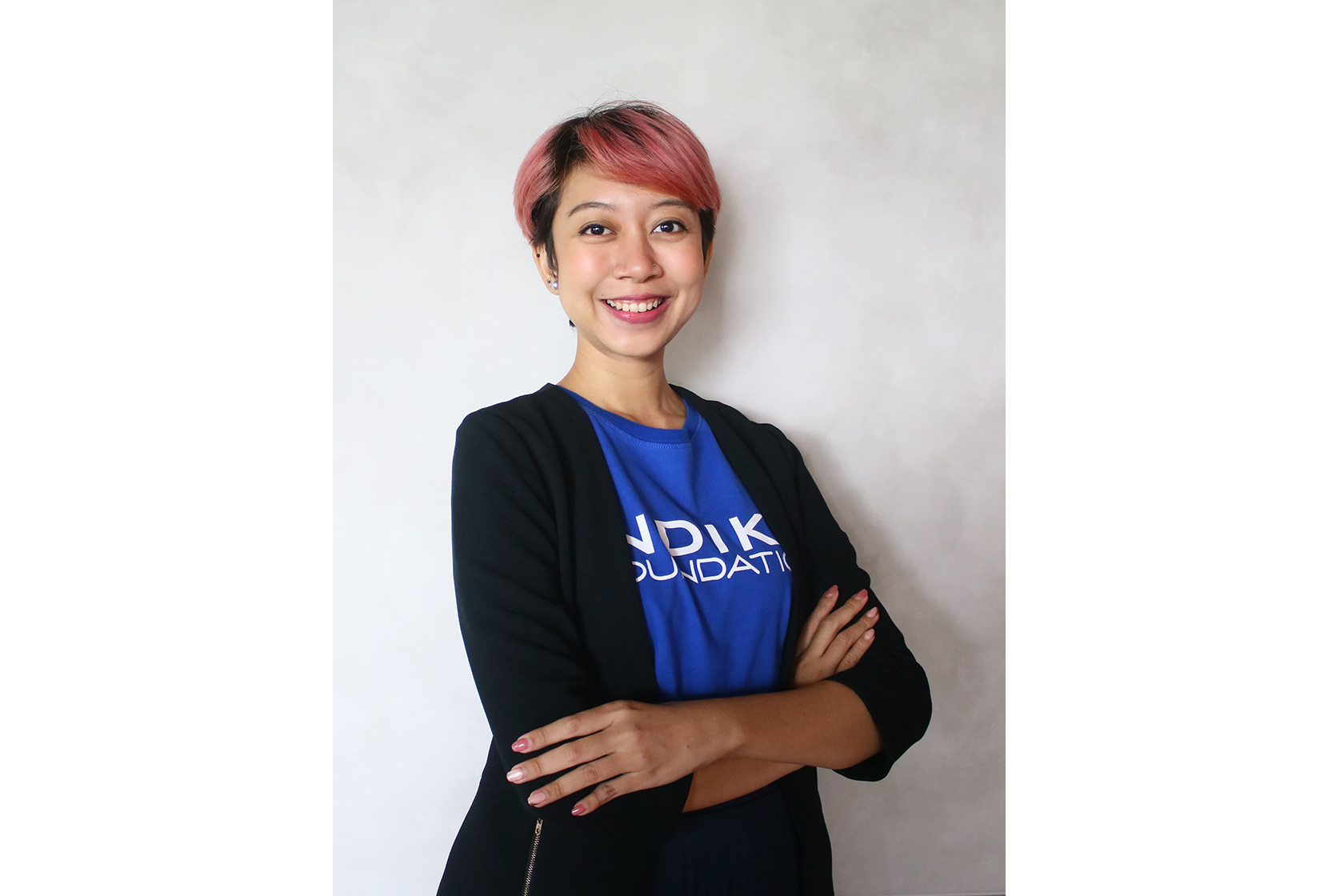 15 Nov 2023
Breaking Barriers: A Minority Voice for Tolerance in Indonesia's Diverse Landscape
Jakarta-born Scholastica Gerintya, affectionately known as Tya, has experienced two pivotal moments that ignited her passion for advocacy of tolerance.
The first transformative moment occurred in 2012, during her first semester as a Communication and Media Studies student at the University of Indonesia, where the vibrant and multicultural environment challenged her sheltered worldview.
The Indika Foundation's Education and Communication Manager shared that her upbringing in a Catholic community within a Muslim-majority country was the first time she had been exposed to people from diverse religious backgrounds.
Recalling the incident, Tya explained, "One day, I encountered a Muslim friend from Aceh who was about to pray. He had just completed the wudhu (ablution) ritual when I approached him with a back slap as a greeting, but he avoided me! I was shocked. Afterwards, he explained that he should not be touched by the opposite sex after performing wudhu. I initially thought he was joking."
The encounter marked Tya's awakening to the world beyond what she had been familiar with. "I had only attended Catholic schools. The experience made me realise I had been living in a bubble!" she said.
In 2016, her commitment to championing tolerance deepened when several churches in Indonesia received disturbing bomb threats.
"The church bomb threats instilled a fear in me whenever I stepped into a church," she said, sharing her second transformative moment. "During major religious events such as Easter or Christmas, many churches were guarded by police officers. The entrance gates were kept partially open to allow easier security checks by the police and security teams."
Tya shared that the church bomb threats confronted her with the reality of being a person from a minority group in Indonesia. "I experienced the vulnerability faced by marginalised groups amid Indonesia's growing intolerance. This realisation ignited my desire for a society where individuals can understand and respect one another, fostering a protective embrace of diversity."
Nurturing a Culture of Acceptance in a Diverse Nation
Now a seasoned advocate, Tya has dedicated her efforts to raising awareness of diversity and tolerance in Indonesia.
After graduating from university, she joined the news website Tirto.id as a researcher and fact-checker for social issues, particularly youth, gender, education and human rights.
In 2019, she began working for the Indika Foundation, which aims to become a catalyst for change by empowering, collaborating and influencing the establishment of an impactful ecosystem of peace and character education. The organisation offers 15 to 30 grants each year. Tya served as a collaboration officer responsible for managing the grantees. This involved disseminating the foundation's grant programs to support peace initiatives, selecting organisations or communities that apply for grants, ensuring that selected grantees understand their rights and responsibilities, monitoring the grantees' progress and program quality, and mentoring them.
She became the education and communication manager in March 2023. Under her watchful eyes, the education division is responsible for educating youth with the skills and mindset needed for peacebuilding, while the communication division is responsible for promoting the Indika Foundation's programs and impact.
Tya admitted that it was a challenge to invite the younger generation to actively participate in peacebuilding efforts in Indonesia. "This issue is often perceived as difficult and, regrettably, not deemed important for young people. Consequently, they tend to be passive in preventing potential conflicts that could lead to division," she shared. "That being said, there are various factors that could contribute to young people feeling that way, such as having grown up in an environment that fostered violent views and teachings or lacking the necessary skills to manage conflict peacefully due to lack of exposure to such knowledge throughout their lives."
Tya humanises the tolerance issue with the Indika Foundation by presenting it simpler.
"The Indika Foundation focuses on the youth. Our strategy involves making the issue of tolerance more relatable to their daily lives by adopting an entertaining approach," she said. She added that one of the analogies used to establish relevance was comparing the choice between stirred or unstirred porridge (bubur diaduk atau tidak diaduk), a common argument among Indonesians on enjoying chicken porridge properly.
"This simple analogy will raise a different question: 'Do you want to befriend those who have different habits?'" she said.
Additionally, they incorporate games into their curriculum to make learning about tolerance easier and more enjoyable.
With her various responsibilities, Tya was grateful to obtain the opportunity to participate in the Australia Awards Short Course Scholarship on Leadership for Youth Interfaith Women Leaders, which allowed her to study in Melbourne.
"Melbourne's diversity captivated me. For the first time, I immersed myself in a public space where various languages were spoken – far more than what I was accustomed to in Jakarta. Melbourne's residents exuded a sense of safety and comfort in embracing their identities, freely speaking their native tongues in public spaces," she observed.
During her two-week course, Tya delved into the initiatives undertaken by various groups to transform Melbourne into an inclusive city that champions tolerance and diversity.
She also honed her empathy and leadership skills, shedding her ingrained perception of leaders as authoritarian figures devoid of vulnerability.
"Growing up in a patriarchal society, I had internalised the notion that a leader must be strong, invulnerable and always right. I strived to conform to this archetype. Throughout the course, I actively challenged this perspective. I encountered numerous female leaders during my career, and the Leadership for Youth Interfaith Women Leaders Short Course further deepened my understanding of empathetic and kind leadership models. This course was truly the highlight of my career," she said.
In addition to changing her perception and maturing her leadership skills, Tya also seeks to integrate the knowledge gained during the course into the Indika Foundation curriculum. "I want to incorporate techniques such as the Australia Awards in Indonesia team's module formulation approach, leadership modules from a female perspective and strategies for navigating challenging conversations."
The knowledge she gained will become handy for Tya in advocating for tolerance in Indonesia. "I believe in three things: change, the capacity of people to change and human values," she said. "These three things provide ample motivation for me to continue working on the issues of tolerance and peace."
Share this article on:
---
Related News

Back to Top