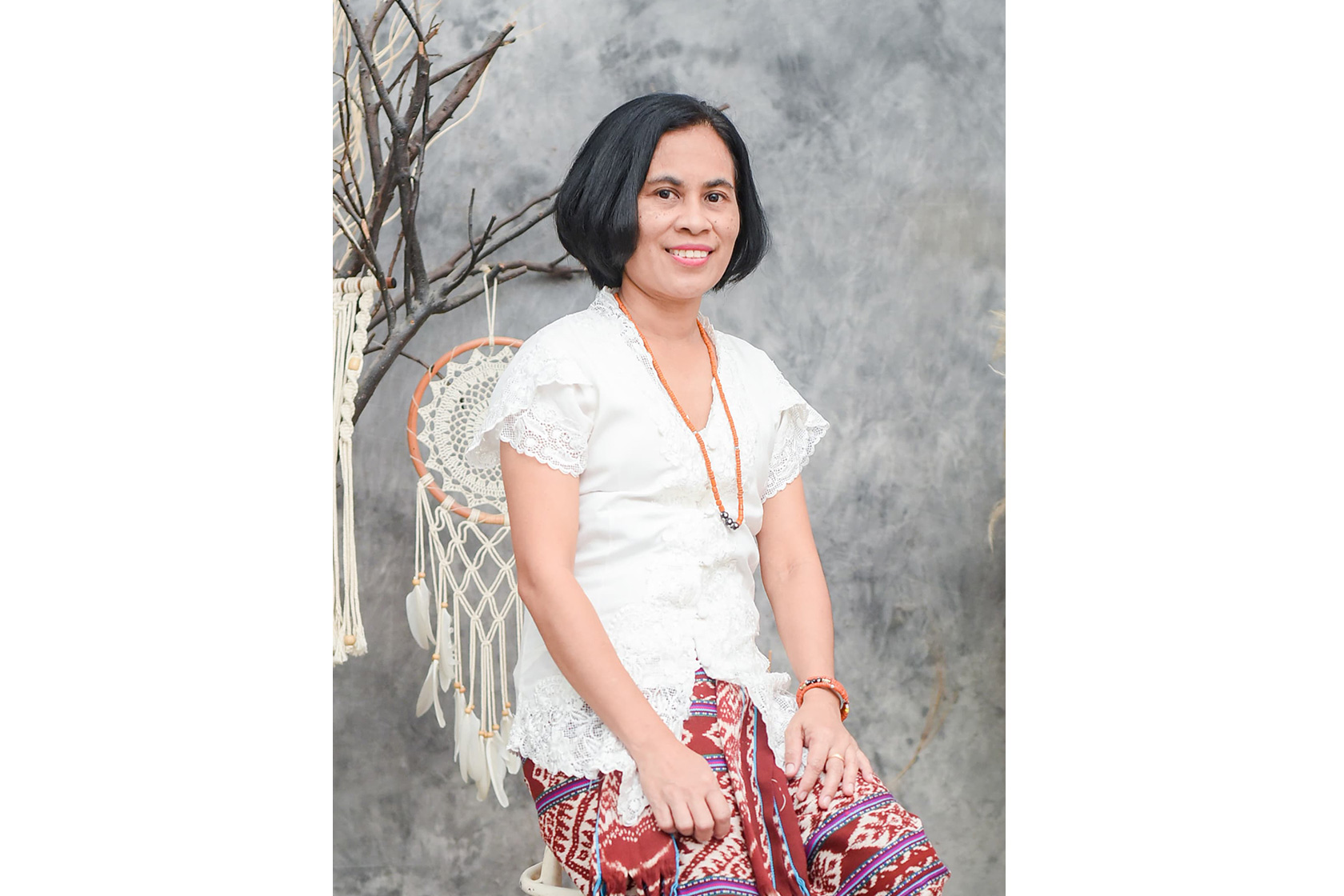 20 Nov 2023
Martinse Constantina Nabu Bois Empowers Stakeholders to Support the Fulfilment of Children's Rights
Having worked on various children's rights programs, Martinse Constantina Nabu Bois has seen systems and institutions, notably health care and education, which can't meet their goals of putting children's rights into action.
Ine, as she is affectionately called, said that this is because people in the institutions or the systems may not have the knowledge and capabilities needed to carry out their responsibilities.
For example, she said, community health workers at Posyandu (community-based integrated health care posts) may be unable to prevent stunting in children, which is currently a national health priority, if they lack relevant health and nutrition knowledge.
In the education sector, Ine said that students may be denied their rights to quality and safe education if the schools and teachers do not have the skills to develop a holistic learning program.
"As a result, children do not receive comprehensive services. This implies that the parties who should be involved in carrying out their tasks may not be yet at their best," said Ine, who is the senior program manager for the Better Investment for Stunting Alleviation (BISA) Program at the non-government organisation Save The Children Indonesia.
"The systems need to be reinforced. People in the systems need to be adequately empowered to carry out their responsibilities. And this will eventually benefit children."
Strengthening Stakeholders' Capacity
According to Ine, programs that focus on strengthening institutional capacity could assist in narrowing, if not closing, the gaps to ensure that children's rights to education, health care, and safety are met.
BISA, a five-year social behaviour change program to alleviate stunting in four districts in East Nusa Tenggara and West Java, is an example of such a strategy, said Ine.
BISA aims to improve health and nutrition before pregnancy and during the first 1,000 days of a child's life. It focuses on developing local capacity to deliver quality health and nutrition services by increasing the knowledge and skills of community health workers, school teachers, and relevant stakeholders, including decision-makers, at the district and provincial levels.
The program trains facilitators at the district level who then train school teachers and community health workers to deliver key health and nutrition messages.
"We hope that those who receive the training will ultimately be able to put into practice the knowledge and skills in the systems, resulting in behavioural changes in our target populations of young girls, expecting and breastfeeding mothers, and caregivers of children under five. Long-term behavioural changes can potentially reduce stunting prevalence," said Ine.
BISA is one of Save the Children Indonesia's programs grouped into five main goals: Healthy Start in Life, Safe Back to School and Learning, Life Free from Violence, Safety Nets and Resilient Families, and Child Rights Governance and Gender Equality. According to the organisation's 2022 Annual Report, Save the Children's programs in 19 provinces in Indonesia directly reached 749,418 people, of which 60% were children.
Before managing the BISA Program, Ine assisted the Ministry of Education, Culture, Research and Technology with the Sekolah Penggerak (School Movement) program, using a similar approach to train stakeholders.
Sekolah Penggerak aims to develop schools that can become training centres for other schools to develop innovative, active, and unique learning strategies. Ine contributed to developing the training modules and training the program facilitators and school supervisors.
"The main mission of Sekolah Penggerak is to make sure that all school stakeholders – the teachers, the school principals and the school supervisors – are on the same page about quality education for children," she explained.
Studying Leadership and Management in Education
Ine did not start working at non-government organisations until four years after she graduated with a bachelor's degree in Education, English Language Teaching from Nusa Cendana University in her hometown, Kupang, East Nusa Tenggara. After graduating, Ine taught English to high school and university students.
Her first role focused on children's rights was in 2004-2005 when she worked for Church World Service (CWS) Indonesia's emergency response programs. The programs aimed to mitigate the effects of drought in Timur Tengah Selatan District in East Nusa Tenggara, where a long dry season occurs every year. One of the program's activities was health and nutrition intervention to ensure children had adequate nutrition from locally grown food.
"After I worked at CWS, I gradually became interested in working in programs that specialise in the fulfilment of children's rights," she said.
In 2007, while working on the Nusa Tenggara Timur Primary Education Partnership, a partnership between the governments of Indonesia and Australia, Ine decided to apply for an Australia Awards Scholarship. She was accepted at the University of Newcastle to pursue a masters degree in leadership and management in education.
"I studied the concepts of leading and managing individuals or teams in the educational sector. These principles are applicable in educational work and help me in my current work," said Ine.
By applying what she learned, Ine can more effectively supervise and mentor individuals and teams and lead program implementation, monitoring, evaluation, and reporting.
During her first few weeks in Australia, Ine had to adjust to a different learning approach. Students were required to be more active and independent.
"We had a list of articles to read so that when we went to the class, we were ready with our presentations and to contribute to discussions," said Ine, who graduated in 2009. "It taught us to think critically and independently. We also learned how to give presentations and voice our opinions."
Giving Back to the Community
Ine plans to go on working with Save the Children Indonesia because the organisation's mission aligns with her values. She is, nevertheless, eager to support initiatives that expand children's access to health care and education beyond her work with the NGO.
"If there is a need in the community to fulfil children's rights, for example, to set up a school or to develop school and teacher capacity, I would love to contribute," she said.
Ine also envisions her continued contribution towards child development programs that integrate different sectors, such as health and nutrition, education, child protection, child poverty, and child rights governance.
"Programs for child development should be implemented in an integrated approach, engaging key stakeholders from different sectors to improve the capacity at the local level to provide quality services for children," Ine went on to say, adding that she hopes to contribute more for the programs in East Nusa Tenggara, her home province.
Ine understands that efforts to ensure all children have rights to education, health care, good nutrition, and safety may seem unattainable. There are always children struggling due to poverty, incurable diseases, disasters, and other factors.
However, Ine embraces a quote by Save the Children's founder, Eglantyne Jebb, that there has always been and will always be child suffering, but nothing can be done if no one tries.
"The fight for children's rights has never stopped and will continue in the future," said Ine.
Share this article on:
---
Related News

Back to Top