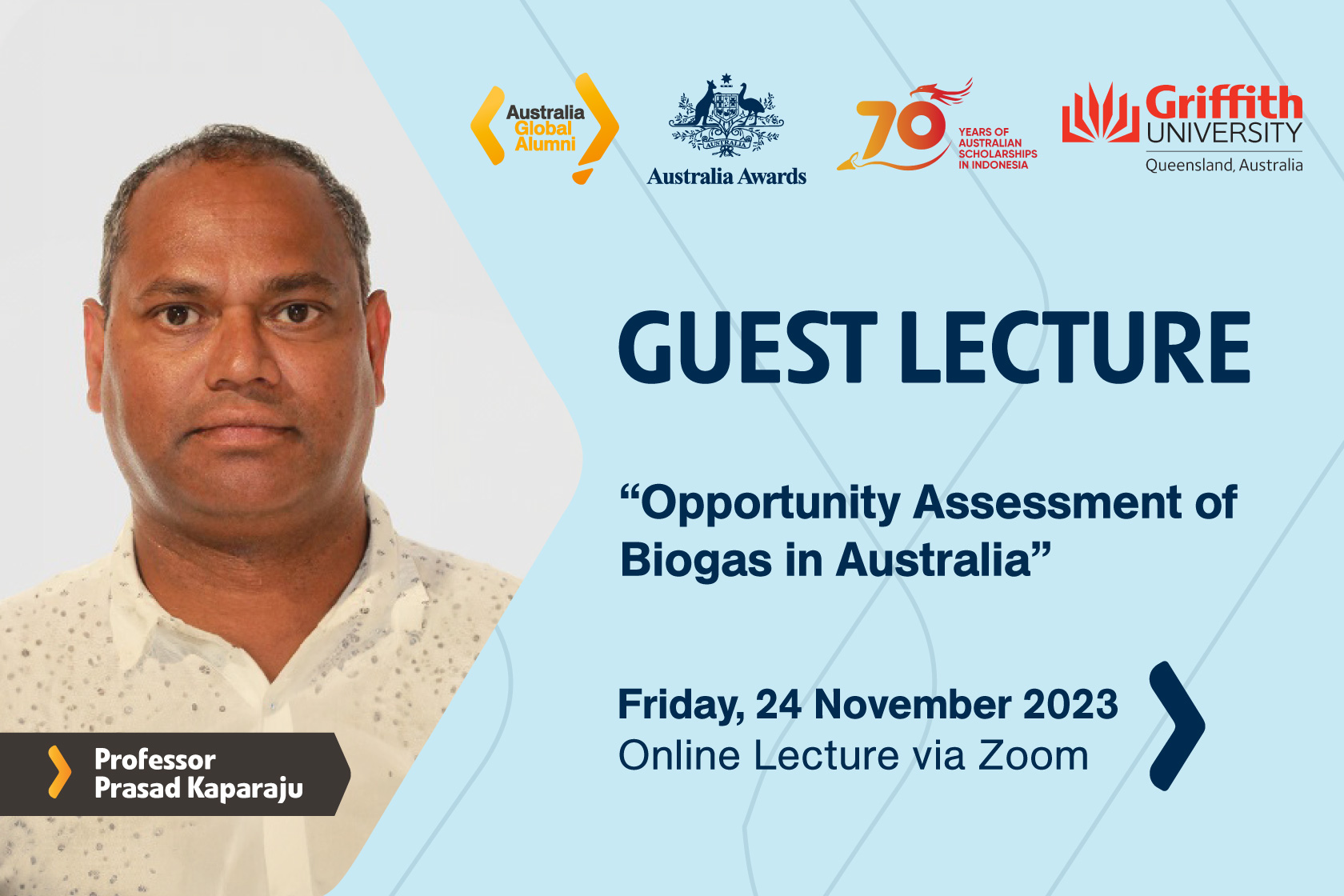 20 Nov 2023
Join Our Lecture on "Opportunity Assessment of Biogas in Australia"
Have you ever wondered about the untapped potential of biomass in Australia and its role in shaping the future of sustainable energy? Join us on Friday, 24 November 2023, between 2:00 pm and 4:00 pm Jakarta time for an illuminating online lecture on "Opportunity Assessment of Biogas in Australia" with Prof Prasad Kaparaju from Griffith University.
During this engaging session, Prof Kaparaju will lead us on a journey unravelling the vast biomass potential in Australia. Delve into the prospect of biogas replacing natural gas by 2050 and discover the roadmap he envisions. Gain insights into current policies, market potential, and the challenges we must overcome to realise this incredible potential.
But there's more to explore – the presentation goes beyond, examining the promising landscape of the biogas market in the electricity, transport, and gas sectors. Learn about exciting opportunities in biogas upgrading, grid injection, and innovative applications for the beneficial use of digestate. And yes, we'll even touch on Australia's fascinating world of utilising biogenic carbon dioxide (BioCO2).
Attention to all graduates and scholars of Australian tertiary institutions from Indonesia! Join us in this transformative endeavour to collectively enhance our understanding of biomass potential. Secure your spot now by registering before Wednesday, 22 November, through this link. As a token of appreciation, a participation e-certificate will be provided.
Curious to know more? Click here for additional information about the lecture and our distinguished speaker. Please note that a minimum of 25 people is required to ensure the discussion is interactive and effective. If the RSVP does not meet these requirements, the Guest Lecture may be rescheduled.
We eagerly await your meaningful engagement in this event. Let's embark on this knowledge journey together!
Share this article on:
---
Related News

Back to Top