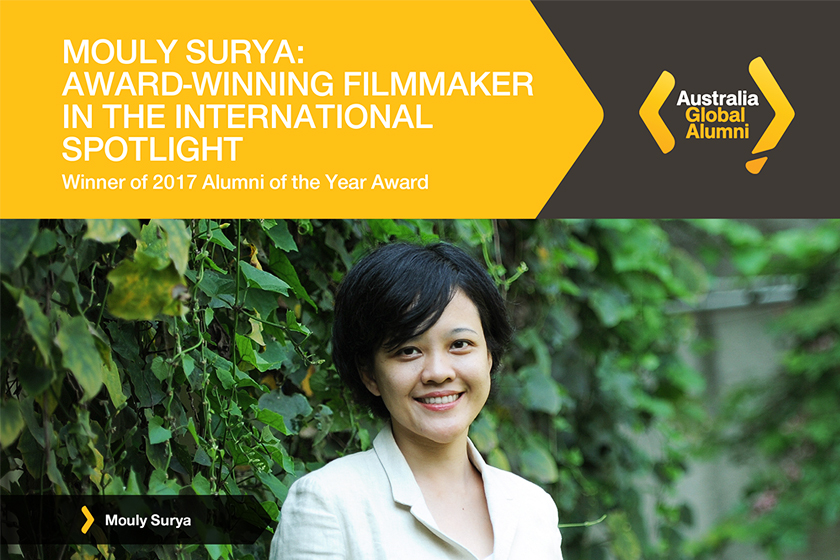 20 Mar 2017
Mouly Surya: Winner of 2017 Alumni of the Year Award
Award-winning Filmmaker in the International Spotlight
As a teenager and aspiring writer, Mouly Surya went to Australia to study media and literature as an undergraduate student.
But midway, she discovered filmmaking, and it proved to be a turning point in her life.
"When I was in Australia, my friends invited me to make an amateur film together, and it turned out to be a lot of fun," said Mouly, winner of the Alumni of the Year award.
"I was at a crossroad as an aspiring writer and suddenly I found a new passion."
After completing her undergraduate study in media and literature at Swinburne University, Melbourne, the gregarious 36-year-old pursued a master's degree in film and television at Bond University, Queensland, graduating in 2005.
Upon returning to Indonesia, she co-founded a film production company, Cinesurya, and launched her filmmaking career by becoming an assistant director.
Her first film as a full-fledged director, Fiksi (Fiction), won the best picture at the 2008 Citra Awards, the Indonesian equivalent of the Oscars.
Her second feature, What They Don't Talk About When They Talk About Love, was screened at more than 50 film festivals worldwide and received the NETPAC Award from the 2013 International Film Festival Rotterdam in Netherlands.
It was also the first Indonesian film to be shown at the prestigious Sundance Film Festival in the United States.
"For my family, my biggest achievement was when I won the Citra Awards for my first film," Mouly said. "As for me, I'm proud that after 10 years in the industry I still get to make films that suit my passion."
What They Don't Talk About When They Talk About Love also saw Mouly win Best New Director at the 2014 Las Palmas Film Festival in Spain. In Indonesia, the film won Best Director, Best Cinematography and Best Actress in a Supporting Role at the 2013 Maya Awards, and three awards from Akademi Film Indonesia (the Indonesian Film Academy) in 2014 for Best Director, Best Screenplay and Best Film.
The central feature of her films is a woman as the main character, Mouly said.
Her third and upcoming film, Marlina: The Murderer in Four Acts, tells the story of a widow who beheads a robber and holds the head hostage. The film received funding from the French cultural ministry.
Mouly said her time in Australia proved to be formative.
"It was tough living alone in Australia as a teenage girl. In Indonesia young women are not treated as adults until they are married, but in Australia I had to be responsible for myself and be an adult," she said.
"Studying in Australia, I learned to find myself, to forge critical thinking skills and to be able to express what's on my mind freely."
"In classes, students don't hesitate to argue with their lecturers. It's not about who is right or who is wrong, but about backing up your arguments."
Mouly said she did not expect to win the Alumni of the Year award.
"In school I wasn't one of the best students nor a straight-A student," she said.
"So to receive the award makes me sort of surprised and happy."
Mouly is open minded about what is in store for her.
"I want to continue to make films that tell stories that relate to my character and to be able to express myself," she said.
Share this article on:
---
Related News

Back to Top