Past Alumni Awards Winners
Past Alumni Awards Winners
Mouly Surya
2017 Alumni of the Year
Mouly graduated with a Bachelor's Degree in Media and Literature at Swinburne University of Technology in 2003 and she earned her Masters degree in Film and Television from Bond University in 2005. She is an award-winning writer and film director. Mouly won the Alumni of the Year in recognition of her exceptional efforts, flair and dedication in promoting Indonesian cinematography. Her film contributions to date have received much attention, both in Indonesia and on the international stage.
Mouly co-founded Cinesurya, a film production company and directed her debut film, Fiksi (Fiction), which internationally premiered at Busan International Film Festival 2008. The film won the Citra Award at the Indonesia Film Festival as Best Feature Film, Best Director, Best Music and Best Original Screenplay. Fiksi also won her a Best Director award at the Jakarta International Film Festival (JIFFEST) in 2008.
Her second film What They Don't Talk About When They Talk About Love was the first Indonesian film to ever compete in the World Cinema Drama Competition at Sundance Film Festival in 2013. In Indonesia, the film won three out of four awards given by Akademi Film Indonesia in 2014 for Best Director, Best Screenplay and Best Film. The film was a festival favourite and screened in more than 50 film festivals all over the world, including in the Embassy-hosted Film Festival in Indonesia in early February 2017.
---
Fendi Liem
2017 Innovation and Entrepreneurship Alumni Award
Fendi graduated with a Bachelor's Degree in Computer Science at the University of New South Wales in 1999. He established a start-up company in 2009 called PT Selaras Daya Utama (SEDAYU), one of Indonesia's leading Engineering Procurement Construction companies with more than 100 Solar Power Plants across Indonesia. Serving as the Managing Director at SEDAYU, Fendi won the Innovation and Entrepreneurship Alumni Award, for his leadership in developing cost-effective, renewable solar energy for the benefit of the Indonesian community.
Fendi has a passion for Clean and Renewable Energy that started at UNSW. Learning about the technology and its application in rural Australia, he wanted to be able to provide electricity, using clean and renewable energy, to those less fortunate in remote Indonesia. After completing his studies, he spent more than 10 years working for some of the world's largest consulting firms in Australia and the US to prepare the financial means to pursue his passion.
Since 2009, SEDAYU's projects have reached some of Indonesia's most remote locations, including Pegunungan Bintang in Papua and the small island of Tahuna. The electricity generated by SEDAYU's Solar Power Plants has helped improve the lives of many living in Indonesia's most isolated areas. SEDAYU has also secured high-profile projects across Indonesia including the rooftop Solar Power system at Bank Indonesia Headquarters in Jakarta, Pertamina buildings in Balikpapan and Cilacap, and private houses in Jakarta, Bandung and Surabaya.
In 2016 he completed a short course in Transformational Business Leadership - A Course for Outstanding Alumni of Australian Universities under an Australia Awards scholarship.
Fendi regularly shares his knowledge as guest lecturer with students at the Bandung Institute of Technology School of Business and Management, Atmajaya University and Surya University.
---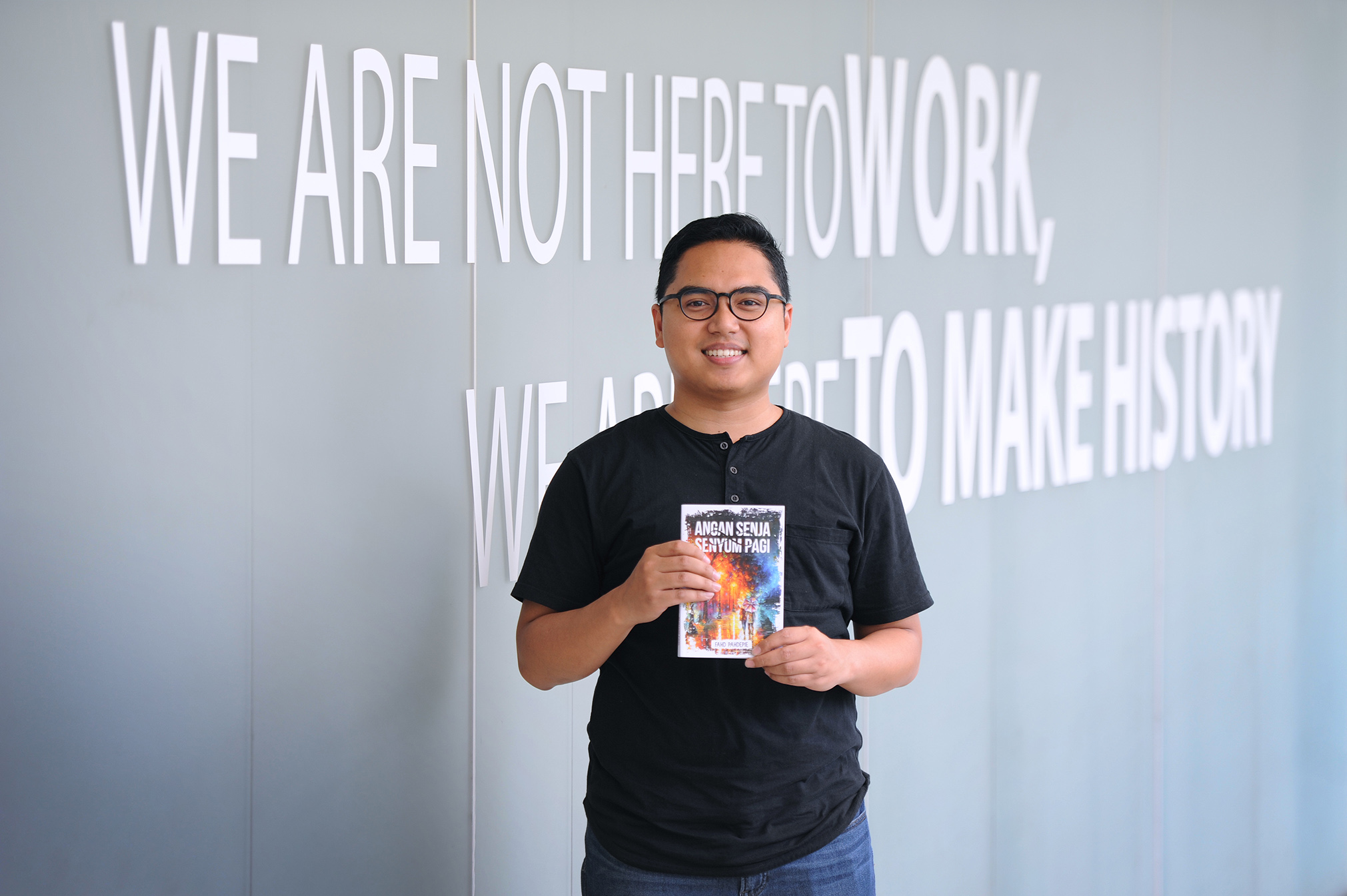 Fahd Pahdepie
2017 Outstanding Young Alumni Award
Fahd graduated with a Master's degree in International Relations from Monash University in 2015 on an Australia Awards scholarship. Fahd is an accomplished writer who has published 18 books – including five best-selling novels – and entrepreneur with several businesses, including a digital communication consultancy, an internet start-up, a café and a barbershop. Outstanding Young Alumni Award went to Fahd Pahdepie for his inspiring contribution and impact at a young age as an accomplished writer and a player in the creative and digital media industry.
Pursuing his entrepreneurial passion, Fahd set up a communications consulting firm that runs a website named www.inspirasi.co in 2013 to accommodate the work of writers, designers, photographers, videographers and other workers in the creative industry which now has more than 46,000 members and over 74,000 distinguish uploaded works, and is partnering with Indonesia's largest production house to establish Creative Academy, a talent scouting agency.
Two years later, Fahd also founded Digitroops.id, an agency that provides strategic social media services for government institutions, politicians, political parties and companies.
Fahd also participated in the Young Muslim Leaders Exchange Program at Melbourne University in 2011 where he met religious leaders and communities and experienced Australia's multicultural diversity, and four years ago he represented Indonesia at the Australia-ASEAN Emerging Leaders Program (A2ELP).