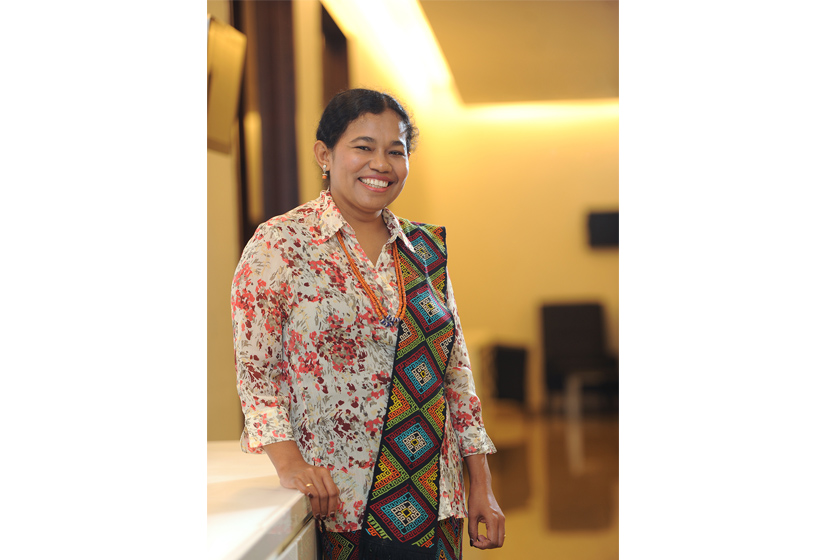 15 Sep 2017
Traditional Weaving Entrepreneurship for Rural Women in Nansean Village, East Nusa Tenggara
Project Leader: Selfina Naibobe
University: The University of Melbourne
Collaborating Organisations: Nansean Weavers Group
Project Location: Timor Tengah Utara, Nusa Tenggara Timur
Activity Type : Capacity building, mentoring or coaching
Sector : Small and medium enterprise development
Project Objective :
To support Nansen Weavers Group to produce weaving and introduce the production of handicrafts amd increase householde income; and
To preserve cultural heritage by raising public awareness of the sustainability of traditional weaving.
Project Description:
This project provides capacity building and workshops to rural women by introducing weaving entrepreneurship. To support the continuation of weaving in future generations, the group is responsible for introducing the pattern, the elements used, and the technique to produce handicrafts to younger generations at schools and universities surrounding the village and TTU (Timor Tengah Utara) regency. Consequently, knowledge transfer and information about traditional weaving will benefit the members and young learners by protecting their cultural heritage for the future and giving them the opportunity to improve household income.
Project activities:
Delivering Focus Group Discussion 1 (2 days) for the weaving group (25 women) and elderly (10 persons) to provide and share their knowledge about traditional weaving, pattern and elements used;
Supporting the group to produce weaving and woven handicrafts with weaving and sewing kits;
Workshops on Weaving Entrepreneurship and basic handicrafts (1 day) for the weavers group (25 persons);
Establishing Nansean weaver cooperation as the medium to support weaving financing;
Workshops (1 day) to share knowledge of weaving group skills with young learners in schools/universities and the younger generation; and
Facilitating the group to participate in the Development Exhibition at TTU Regency Level.
Project Beneficiaries:
The members of the weaving group (25 women), an elderly group (10 persons) and young learners.
Priority Development Area:
Economic institutions and infrastructure
Links with Australia:
Empowering Indonesian Women for Poverty Reduction (MAMPU), and Towards a Strong and Prosperous Indonesian Society (MAHKOTA Indonesia)
Relevant Facts:
As reported on International Workshop on Ikat Weaving as Heritage for Sustainable Development in East Nusa Tenggara (NTT), the weaving activities in NTT face many obstacles in reviving the ikat as cultural preservation and sustainability of the livelihood such as the limited of raw materials; limited market for natural dye products; limited supply of yarns; lack of good quality of products and techniques; inadequate solid waste management; lack of clean water and environmental degradation.
Share this article on:
Related Article

Back to Top