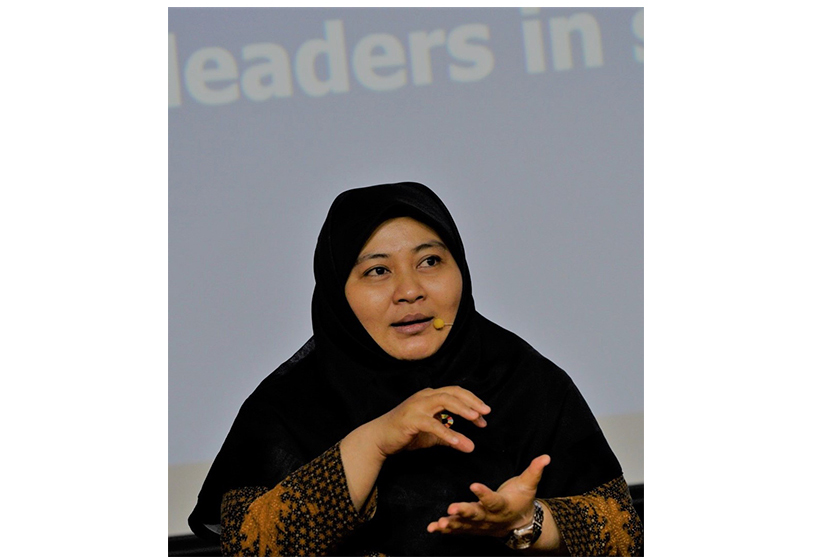 31 Oct 2018
With the art of learning, Dr Dwinanti becomes a rare expert in Indonesia
If you are searching for a specialist in a highly unusual field, look no further than Australian alumna and civil engineer Dr Dwinanti Rika Marhanty. Her area of expertise is hard to come by: computational fluid dynamics.
According to the Live Science website, computational fluid dynamics is "one of two branches of fluid mechanics, which is the study of fluids and how forces affect them". Dr Dwinanti, who goes by her nickname Anti, has gone further in her specialisation by adding a mathematical component.
"It's a very specialised way of conducting calculation," said Anti, describing the essence computational fluid dynamics. "It's still not commonly practiced."
Inspired by her mother, who is also an engineer, she followed in her footsteps and found she was a rare case in her chosen career from the start.
When she completed her undergraduate degree in engineering, she was the only one in the faculty to specialise in hydrodynamic engineering in her thesis.
"I have always been interested in civil engineering. And I did see a lot of opportunities in this field (hydrodynamics) because not many engineers – male or female – in Indonesia were doing this," said Anti, who lectures at her former alma mater, University of Indonesia.
"I remember saying to myself, if there are no Indonesian engineers doing this, then who will do it? If we don't enter this field, this technology will be dominated by foreign players in Indonesia."
Learning and researching have been Anti's life-long passions. Following her Master's Degree in civil engineering, she delved deeper into hydrodynamic engineering to complete her Doctorate with a thesis titled 'Developing Smoothed Particle Hydrodynamics Method to Model Basic Characteristics of Meandering Dynamics' at The Lille 1 University of Science and Technology in France.
Last August, Anti won a prestigious Australia-APEC Women in Research Fellowship, to study urban water management at Monash University, where she met fellow civil engineers and key industrial players.
Her two-month study trip to Melbourne opened up more channels in the industry. She was surprised to find that gender disparity in the field of civil engineering persists in Australia.
"Even in Australia there aren't many female hydro engineers," said Anti. "In my interaction with so many stakeholders in Australia, out of 20 hydro engineers, there is only one hydro engineer."
She praised Australia's commitment to champion water management to create sustainable cities and communities.
"There is a very strong linkage between Monash University and other institutions with industrial players and government stakeholders. As a result, communities in Australia can quickly absorb the latest technology (in water management)," said Anti.
But for Anti, whose fellowship project was about making the city of Bogor a "water sensitive city," creating sustainable cities doesn't necessarily require the use of latest technology.
"What needs to happen is a change of approach. For example, right now we have a local regulation requiring companies to devote 40 percent of their land for green spaces. But, if applied strategically, we can have a win-win solution where the allocation of green space at 20 percent is enough," she added.
As part of her academic work, Anti is active in various collaborations and public service at the Australia Indonesia Center with research on urban clusters, where she works with multi-disciplined researchers. She has also contributed to international scientific publications, for example as a reviewer for the journal Environmental Fluid Mechanics, and for the bi-annual International Conference Quality in Research, hosted by the University of Indonesia's Engineering Faculty.
At a recent TED-inspired presentation, "Cracking the Code of Women in STEM: Where are tomorrow's women leaders in science," at the Australian Embassy in Jakarta on 18 October 2018, Anti emphasized that being an expert would open many doors and it is important for more women to enter STEM fields.
She said she was pleased to see more women entering the field of hydrodynamics in Indonesia, adding that currntly, two of her best students were females who completed their theses based on Anti's doctoral works.
"I hope that the younger generation can develop even further, so the role of women in STEM can be even more diverse."
Share this article on:
Related Article

Back to Top