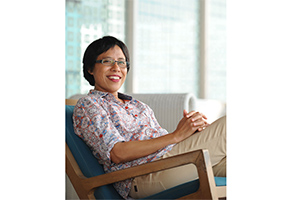 16 May 2018
Dare to Hope: Building English skills for the visually impaired in Bali
In March 2018, visually impaired students from various backgrounds practiced their conversational English skills as part of new language program, Dare to Hope. The brainchild of Australia Awards Scholarship alumni Agung Sudiani—or Ani—and Nurull Vadjar Naisin, the pilot program was planned as an effort to build basic English speaking skills for the blind in Bali.
Ani, who manages the Dare to Hope program and is an Indonesia Australia Language Foundation (IALF) staff, recalled how it began. "Back in 2016, I was approached by the head of PERTUNI—the Indonesian Blind Union. He was wondering if there's class that could accommodate the specific needs of their members, many of which are encountering an increased number of foreign tourists in their line of work, mostly as massage therapists."
Ani and Nurull were ecstatic. They had been investigating ways to become members of Mitra Bakti PERTUNI, or Friends of PERTUNI, ever since they participated in an IALF disability awareness program. "I roleplayed as a blind. I truly experienced just how different the world could be," Nurull said. "It then crossed our minds, what about those at the grass roots level, the ones without access to education? How would they study and learn? We know that education is closely related to one's potential income. People with disabilities wish to be self sufficient," she elaborated.
The enactment of Law No. 8/2016 on Persons with Disabilities further pushed Ani and Nurull's resolve to collaborate with PERTUNI. "It made us think of what we could do to realise the law, in particular the right to education and training for a better life," Nurull said.
Ani and Nurull's studies at Flinders University played a tremendous role in shaping Dare to Hope. "Nurull holds a Master in Teaching English as a Second Language, and understood how to prepare materials and what adjustments are needed to fit the students' needs, whereas I hold a Master of Education in Leadership and Management, and so was focused more on the project management aspect," Ani said. "Nurull and I were a perfect fit."
Nurull also had experience teaching English Language Training Assistance classes adapted for those with disabilities funded by Australia Awards, and so Ani and Nurull began working on a syllabus and curriculum to suit the needs of PERTUNI members.
Using funding from the Alumni Grant Scheme (AGS) and IALF facilities, Dare to Hope prepared materials that cater to the various levels of visual impairment, from procuring Braille prints of the custom syllabus and lessons to acquiring two laptops equipped with a screen reader software.
Of the 31 PERTUNI members who applied, 12 were selected to participate in Dare to Hope. The participants, with ages ranging from 21–54 years old, were divided into two classes of Pre-Elementary and Elementary levels and—over the two months of the program—were able to increase their verbal English language skills through exercises using realia, tactile (touch) and kinesthetic (movement) to facilitate learning.
"For lessons on prepositions, we first set six boxes and gave the participants time to familiarise themselves with the boxes. We then introduced several balls, positioning it over, under, and beside each box," Nurull elaborated. For lessons on anatomy, Dare to Hope incorporated a song and dance routine. "This also proved to help with the participants' memory retention," Nurull added.
Dare to Hope held lessons on culturally sensitive topics such as asking one's age and marital status, something that is common amongst Indonesians, but might be considered rude in Western cultures.
Despite their varied occupations such as massage therapist, musician, university student, and disabilities/special needs teacher, the participants bonded and provided feedback for each other, bolstering their confidence in practicing their verbal English skills.
Gusti Ayu Kadek Arini, a massage therapist, enthusiastically commented on how her new language skills have helped increase her livelihood. "By the end of the program, I was confident enough to converse with my clients in English, and received more tips," she said.
Meanwhile, Sumayatim took great pride when her regular Australian customer complimented her English. "'Your English is excellent now!' the client had said," Sumayatim beamed.
For entertainers who perform music from café to café like Nyoman Bawa, Dare to Hope also proved helpful. Bawa now feels much more confident conversing with guests.
Ani says more companies and organisations have already showed interest in supporting Dare to Hope. "The Annika Linden Centre, an incubator for impact and a regional hub for social entrepreneurship and philantrophy, has said they would help introduce the massage therapists to various hotels and spas in Bali. Other companies have also mentioned interest in helping spread information on Dare to Hope, in the event that we're able to hold another class," Ani elaborated.
To ensure the participants and other visually impaired people could continue practicing their newly acquired English language skills, Dare to Hope has set aside easily accessible materials for them. Ani and Nurull have also designed the program to be easily replicated and adapted for other organisations.
It is Ani and Nurull's hope that the visually impaired of lower economic background in Bali could increase their livelihood by acquiring English language skills. As Nurull stated, "They do not want to be pitied. They want to be empowered and be given access."
Are you an Australian alumnus who is keen to create your own impact and apply your studies to the real world? Send your proposals for the Alumni Grant Scheme Round 2 2018 before 28 June 2018.
For more information and application form: https://www.australiaawardsindonesia.org/content/169/15/alumni-grant-scheme?sub=true
Visually impaired students and participants attend the opening ceremony of Dare to Hope program in Bali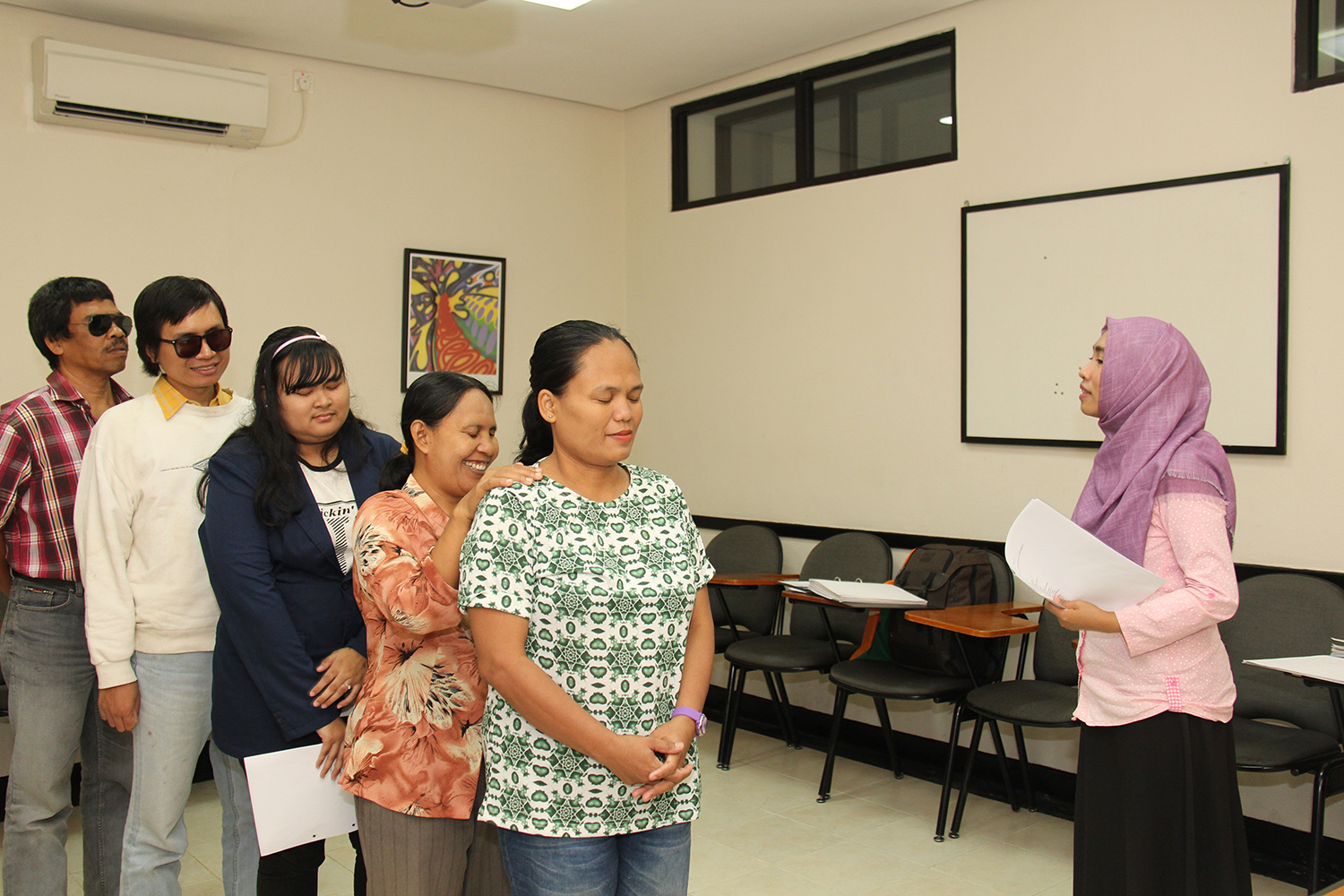 Students learn the logic of ordinal numbers by standing in a row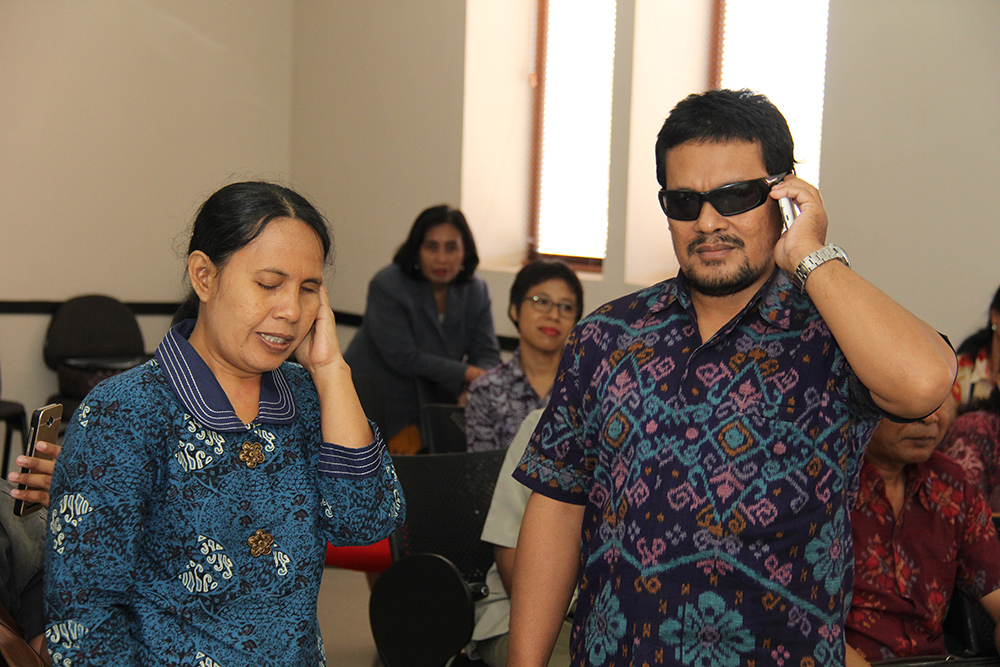 Students demonstrate their speaking skills during a training
Share this article on:
Related Article

Back to Top