09 May 2019
Palm sugar: instilling pride in farmers on the quality of their product
Thanks to a program spearheaded by Australian alumnus Jufrizal, around 30 farmers are learning how to produce raw palm sugar that meets international food quality and safety standards. Jufrizal buys the raw sugar for the NGO he founded, the Economic Implementation and Empowerment for Village Communities Research Institute (LP5MP), which produces and distributes organic palm sugar using sustainable agricultural practices for domestic sale, and more recently, international export.
The area from which LP5MP chooses to source its raw sugar from reflects LP5MP's commitment to sustainable practices. The village is situated within the Mount Halimun Salak National Park and in May 2013, LP5MP and the Mount Halimun Salak National Park Office signed a memorandum of understanding with LP5MP pledging to support forest and water conservation by producing non-timber forest products to improve the livelihood of the villagers. This in turn prevents deforestation due to poverty.
In order to increase the capacity of farmers in Cihangsa village near the National Park in producing raw sugar that meets international standards, Jufrizal established the training program in 2018, utilising funds from the Australian Government through the Alumni Grant Scheme. "The training is tailored to meet the requirement of an organic product and to ensure that water content does not surpass 10%," Jufrizal elaborated. The program also focuses on sustainable agriculture.
The farmers were enthusiastic about training and word of mouth spread. The program originally planned for 15 participants but ended up benefiting 30 farmers. "Before this program, we had to reject quite a large number of raw materials. At one point, we had to decline 30% of the raw material produced as it didn't meet the standard," Jufrizal recalled. "That percentage has now gone down to only 5%."
Earlier that year, LP5MP partnered with Eastern Cross Trading to export palm sugar blocks to Australia, shipping its first trial shipment of one ton of palm sugar to Indonesian resident markets in Sydney.
The increase in raw material quality meant that LP5MP could potentially reach its 2019 goal of increasing production capacity by 50 per cent to 45 tons per month and increasing employment among small-farm suppliers by 40 per cent to 75 farmers.
Jufrizal had set that target after participating in the "Standards and regulations familiarisation (Indonesia–Australia Comprehensive Economic Partnership Agreement early outcome) – food, drugs and herbal well-being goods" short course at the University of Adelaide in 2017, funded by the Australian Government through the Australia Awards.
During his course, Jufrizal learned the requirements and procedures for export shipments to Australia, as set by the Food Standards Australia New Zealand (FSANZ). "The detailed explanation by the Australian stakeholders on their product labelling system made it easier to understand," Jufrizal said.
Upon returning to Indonesia, LP5MP invested in new food processing equipment, improved hygiene standards in the product, and improved product packaging and labelling. LP5MP also improved hygiene standards in the process of preparing to export.
Aside from partnering with Eastern Cross Trading, LP5MP is also partnering with fellow short course alumni, under a local firm PT PrimaAgitech Nusantara, in producing and exporting a ginger palm sugar drink mix to Malaysia and potentially Australia. LP5MP is also set to export organic palm sugar to Sweden and China.
Domestically, LP5MP has negotiated distribution arrangements with firms in Jakarta and East Java, supplying palm sugar as one of their ingredients. LP5MP products are now also available in grocery store chains in several cities.
He hopes the potential growth of palm sugar industry may change the mindset of villagers in the area about their current preferences to live in the big cities for better livelihoods. "Most of the farmers' children prefer to work in the city as labourers and other informal professions, contending that there isn't sufficient livelihood to be made out of palm sugar," Jufrizal said. He wishes that the farmers and their children would be proud and change their mindset once they realise how consumers—both domestic and foreign—appreciate the quality of the palm sugar they help produce.
Are you an Australian alumnus who is keen to create your own impact and apply your studies to the real world? Send your proposals for the Alumni Grant Scheme 2019 Round 2 before 24 June 2019.
For more information and application form: https://www.australiaawardsindonesia.org/content/169/15/alumni-grant-scheme?sub=true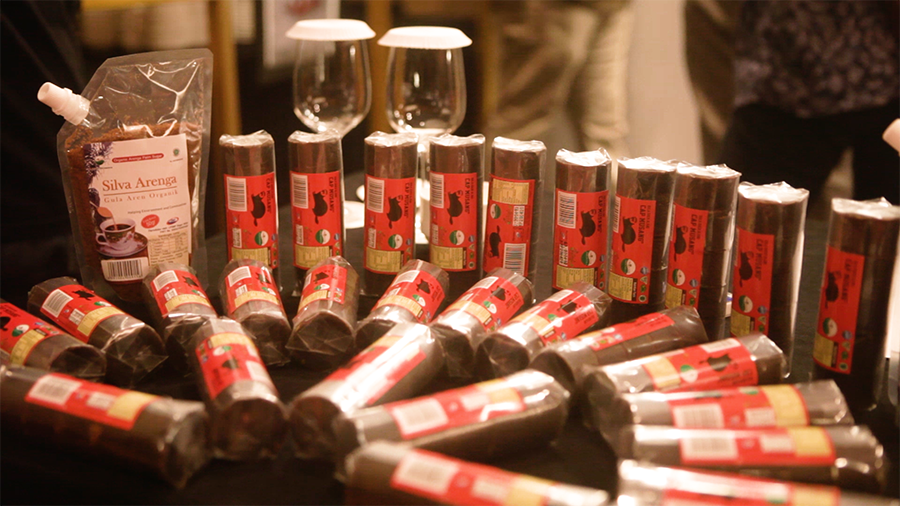 Share this article on:
Related Article

Back to Top