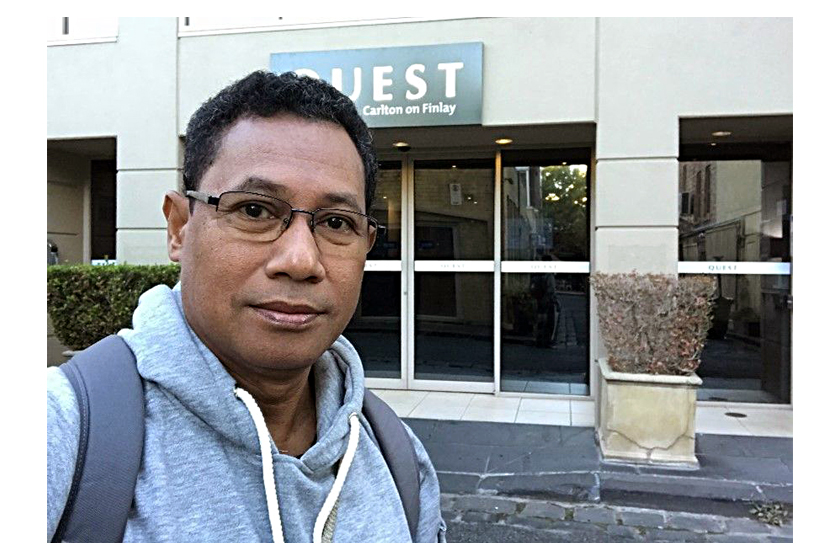 13 Apr 2022
Beeri Wopari: A Fight to Eliminate Malaria, A Fight for Papua's Future Generations
In a bid to achieve the Indonesian Ministry of Health's goal to eliminate malaria in Papua by 2028, a group of Australian Government scholarship alumni have developed a home assistance program for malaria control.
Called Damarlima, the program now serves as the field studies component of the mandatory AIDS, Tuberculosis and Malaria Research curriculum at the Faculty of Public Health at Cendrawasih University, Jayapura, Papua.

"During the field studies, semester VI students majoring in Health Promotions are given the opportunity to observe the various aspects of malaria prevention and treatment amongst the community hands-on, in addition to the theory they learn in class," said Dr Beeri Wopari, Head of Division for AIDS, Tuberculosis and Malaria Prevention and Control, Papua Province Health Office, and an alumnus of the Australia Awards scholarship.
Damarlima, the program's name, is a nod to the number of houses each student are assigned to monitor: five, or lima in Indonesian. At the end of the field studies, the students work together with community figures to design a malaria prevention and control work program specific to that area, applying both the theoretical and practical knowledge they have gained.
"Processing guidelines for a specific area requires a specific skill, and the students can learn that by establishing open communication with public health workers and the community. The valuable field experience of public health centre cadres and supervisors is a treasure trove of knowledge for the students," Beeri added.
Beeri and his colleagues—Yane Tambing, Antonius Oktavian, Ika Hariyani and Siti Alfiah—developed Damarlima in 2018 as a project for the Australia Awards Short Course on Malaria Prevention and Treatment for Infants, Children and Pregnant Women at the Nossal Institute for Global Health, the University of Melbourne, funded by the Australian Government.
"The short course not only gave us the encouragement to keep working hard in the fight to eliminate malaria, but it also taught us the skills to view and understand an issue in a comprehensive and organised manner," Beeri said with gratitude.
Beeri pointed out that malaria is not just a disease that affects adults, but more crucially, it affects mothers and children. Years prior, as a medical doctor practicing in a remote area, Beeri had seen first-hand the harsh effect malaria had on a two-year-old who contracted it.
The devastating impact of malaria on a baby's health starts even before it is conceived. If a mother-to-be is unhealthy, her foetus will have difficulty developing optimally, and that can have long-term effects on a child's development after birth.
"Malaria is a critical issue for Papua. It is not just about treating the disease, it is about ensuring a healthy future generation of Papuans who can compete globally," Beeri noted passionately.
What concerns Beeri is that the malaria endemic has become such a part of everyday life in Papua, that most view it as a common disease and do not take it seriously.
"To eliminate malaria, we need people to understand just how dangerous the disease is," Beeri emphasised.
Fortunately, through the hard work and combined effort of colleagues, community, friends, government officials and many others, slowly but surely people are starting to comprehend the severity of malaria. This has created a need for information on malaria, case reporting, screening, treatment and preventive measures, and the students can help provide this through the Damarlima program.
It was fortuitous timing that the Faculty of Public Health at Cendrawasih University was in the process of developing the curriculum when Beeri and his fellow alumni returned to Indonesia. They approached the Dean and Head of Program of the Faculty of Public Health, and advocated for a malaria prevention and control program to be included as part of the accredited new curriculum.
Beeri noted that malaria prevention, treatment and control in Papua covers a complex and wide scope, requiring strong commitment and collaboration across sectors. "With both a theoretical and practical component, the course was designed to be integrated, comprehensive, and sustainable," said Beeri.
"These students will not only become agents of change for the community they are assigned to during the Damarlima field studies, but also in far-reaching areas of Papua, wherever they feel called to serve after they graduate."
Share this article on:
Related Article

Back to Top