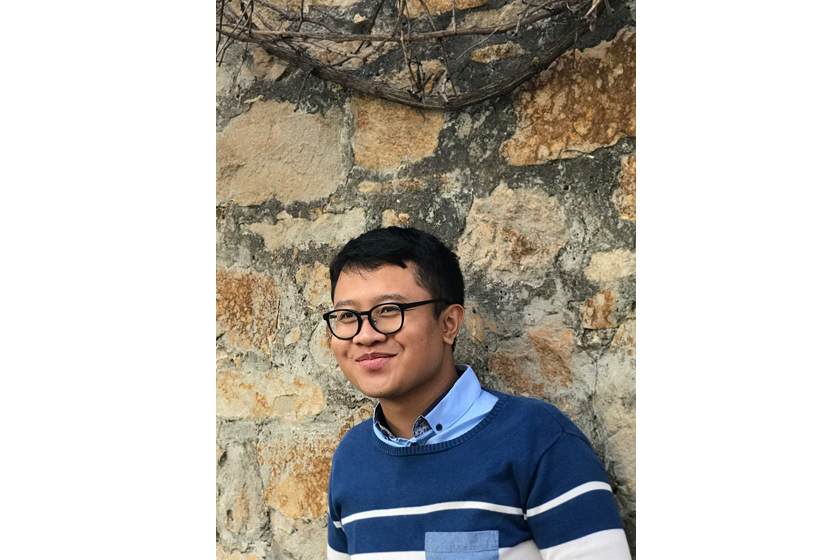 08 May 2022
Luthfi Juharta Matchmakes Startups with VCs through Australia-Indonesia Online Speed Dating
Luthfi Juharta graduated with a degree in Civil Engineering, but when he discovered the flourishing startup environment in Indonesia at his first job, he also found his calling: organising events that introduce Indonesian startups to venture capital (VC) firms.
In 2018, Indonesia was home to 992 technology-enabled startups. By October 2021, the number had doubled to 2,100, according to the Financial Services Authority (OJK). This number includes seven unicorns (privately-owned companies with valuations of at least $1 billion) and one decacorn (privately-owned companies with valuations of at least $10 billion). GoTo, the company formed by the merger of decacorns Gojek and Tokopedia launched its IPO on 11 April 2022, whilst Bukalapak went public in August 2021. Indonesia's digital economy is forecasted to grow to US$330 billion by 2030.
Luthfi participated in the Australia Awards Short Course in 2018, barely a year into his first job at Amvesindo, the Indonesian Venture Capital Association for Start-Ups. The short course, "International Business Readiness, a course for technology-enabled startups in Agriculture, Health, Financial, Education and Business Services", was held at the Queensland University of Technology.
Through the course, Luthfi met VCs, senior staff from Austrade and fellow participants who became good friends and later, attended his events. But the benefits extended beyond the networking.
"We learned so much and got to see the startup ecosystem in Australia. It was very exciting to meet and speak with all these people and then come back to consider what could be applied here," he said.
"However, for me personally, two things stood out: the first was that the course gave me a lot of self-confidence, especially with soft skills such as effective communications, public speaking, and meeting management. Before going on the course, I was a bit shy, and these skills have been very useful in my professional career."
In 2019, Luthfi came up with the idea to introduce Indonesian startups to Australian VCs and he intended to apply for the Australian Alumni Grant Scheme (AGS). The plan was to fly the VCs to Indonesia. However, he had to put the project on hold due to budgetary constraints. He also felt that despite the bourgeoning startup environment, at that time, not many VCs were interested in Indonesian startups.
Then came COVID-19 and endless Zoom meetings. As the pandemic progressed, Luthfi realised that people had become comfortable with online meetings. That sparked the idea to adapt his project from an in-person pitch to an online "speed dating" event.
"As I was no longer in contact with the VCs I had met during the course, I turned to the Australian Trade and Investment Commission or Austrade. I told them about the project and explained that I had previously organised similar events. In 2020, for example, I was the Project Director for HighPitch, a startup competition at a national level organised by the Ministry of Tourism and Creative Economy. We brought in 50 VCs from Indonesia, Singapore, the United States and China to meet with the finalists for a speed dating event."
"I proposed that Austrade would look for the Australian VCs. I would organise the event in Indonesia. When they agreed to this collaboration, I applied to the Alumni Grant Scheme to fund 360 Light Speed: Australia-Indonesia Online Startup Speed Dating."
Luthfi named the project 360 Light Speed for two reasons. The "360" part came from the event's aim to cater to all the needs of the startups prior to meeting with the VCs. The "Light Speed" part because the startups were only given 15 minutes, including the Q&As, to pitch their company.
"Usually, VCs give startups two to three hours to present their ideas, plans, and strengths. We only gave them 15 minutes so that the VCs could meet as many startups as possible," he said.
"I worked with many community partners so that they could spread the word out to the startups. In the end, 80 startups registered for the event."
The 360 Light Speed Australia-Indonesia Startup Virtual Speed Dating event took place in two stages: preliminary meetings with startup consultants and the speed dating event.
In the preliminary meetings, startup consultants who had previously worked for VCs were hired to help select the startups ready to take the next step. Fifty startups were chosen to give a 20-minute mock presentation on 18-20 August 2021, receiving feedback from the consultants on making their pitch deck more attractive to VCs.
"A VC can receive 5,000 pitch decks each year, and we wanted to teach the startups only to include what is important," Luthfi said.
Next, on 23-27 August 2021, the startups pitched their companies to the five Australian and two Indonesian VCs. In the end, the VCs were interested in further discussions with five of the startups.
"I certainly hope that this is the first of many events to come that will introduce the Indonesia and Australia ecosystems to each other," Luthfi said. "It could be as simple as a seminar, but I'd like to work on a collaboration to introduce Indonesian VCs to Australian startups!"
He encouraged all Australian alumni who have an idea and are thinking of applying to the Alumni Grant Scheme to go for it.
"Don't be afraid of the paperwork. If you receive the grant, it will be worth it," he said.
"For me, the positive factors are many. My company and my bosses were pleased to have been a part of a collaboration between Australia and Indonesia and the promotion it has brought the company. This is something that I can put in my portfolio of achievements and will further my career and eventual plans to organise more events on a national scale. The most important thing is that the event also benefitted startup participants. I feel that I have helped others, even in a small way."
Photo courtesy of Luthfi Juharta
Share this article on:
Related Article

Back to Top