G20 "Recover Together, Recover Stronger" Scholarships
G20 "Recover Together, Recover Stronger" Scholarships
G20 "Recover Together, Recover Stronger" Scholarships are prestigious international awards offered by the Australian Government to the next generation of global leaders from Indonesia. Through study and research, recipients develop the skills and knowledge to drive change and help build enduring people-to-people links with Australia.
The G20 "Recover Together, Recover Stronger" Scholarships were announced by the Australian Prime Minister on his recent visit to Indonesia. Ten scholarships in total will be offered for Indonesians to undertake Masters or PhDs in Australia. The Scholarships will be awarded specifically for courses that fit under Indonesia's G20 priority areas.
The Scholarships will include an enhanced in-Australia experience that may include visits to Parliament and meetings with high-level government and industry leaders.
Applicants are assessed on their professional and personal qualities, academic competence and, most importantly, their potential to impact development challenges in Indonesia.
Applications are strongly encouraged from women, people with disability, people from the geographic focus areas and other marginalised groups.
Eligible fields of study
Areas of study relate directly to Indonesia's G20 priority, namely:
Global Health Architecture
Sustainable Energy Transition
Digital Transformation
For more detailed areas of study, read here.
Level of study
G20 "Recover Together, Recover Stronger" Scholarships provide citizens of Indonesia with the opportunity to obtain a Masters or PhD from an Australian tertiary institution.
Scholarship entitlement
G20 "Recover Together, Recover Stronger" Scholarships are offered for the minimum period necessary for the individual to complete the academic program specified by the Australian education institution, including any preparatory training. Read here to get more information about the scholarship entitlement.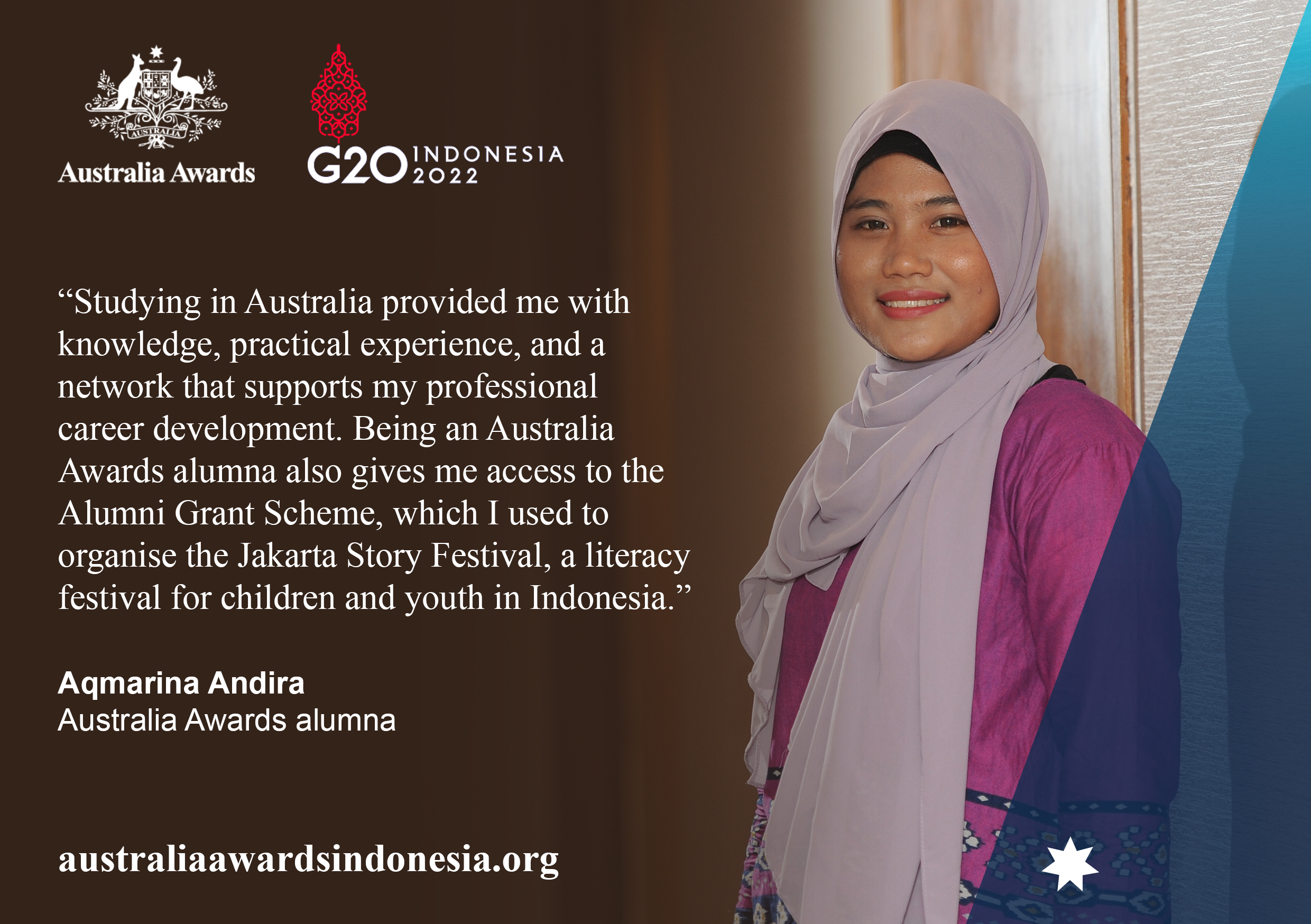 Eligibility criteria
Applicants of the G20 "Recover Together, Recover Stronger" Scholarships must meet all eligibility requirements detailed in the Australia Awards Scholarships Policy Handbook. In addition to the eligibility requirements, candidates must also meet the Indonesia-specific conditions. Read here for more information.
Application dates
For study commencing in Australia in 2023:
Opening Date: 12 July 2022
Closing Date: 12 August 2022 (8:59 pm WIB)
Applications and/or supporting documents received after the closing date will not be considered.
The application process­
Apply online at this link.
When applying online, applicants must upload all relevant supporting documents in the Scholarships Policy Handbook. Applicants must also provide the documents to meet the specific requirements for Indonesia. Read here for more information on the relevant documents that the applicants must prepare.
We advise applicants submitting online to do so well before the closing date. The online application facility experiences peak usage in the days leading up to the closing date and applicants may experience delays.
If you have questions regarding the application, please text us on WhatsApp at +62 812-8980-4911. You could also contact us at longtermawards@australiaawardsindonesia.org.
The selection process­
Applications will be shortlisted after eligibility checking.
Only shortlisted candidates will be contacted.
The selection process includes an interview. Applicants will be assessed against the following criteria:

academic competence
potential outcome, specifically the contribution to development outcomes in Indonesia
professional and personal leadership attributes including relevant work experience.

Successful candidates will be notified no later than the end of October 2022.
Scholar travel will be subject to meeting the requirements imposed by the Australian Government, as determined by the Department of Education, Skills and Employment, and must meet the requirements imposed by State and Territory governments.
Preparatory training
Successful applicants will be required to attend:
full-time (Monday to Friday, 8:00 am – 4:00 pm) pre-departure training in Indonesia prior to studying in Australia
course counselling
pre-departure briefing
university's Introductory Academic Program other required preparatory study on arrival in Australia