Hearing and Communication Webinar to Commemorate the 30th Anniversary of Sister State East Java-Western Australia
Hearing and Communication Webinar to Commemorate the 30th Anniversary of Sister State East Java-Western Australia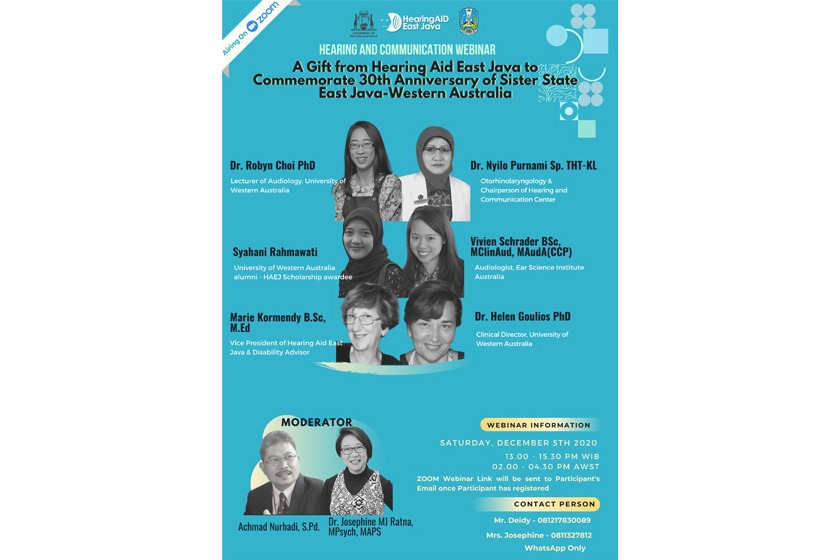 Join this Hearing and Communication Webinar – a collaboration between the Provincial Government of East Java and HearingAid East Java to commemorate the 30th anniversary of Sister State East Java-Western Australia, on 5 December 2020 at 01.00 PM WIB / 02.00 PM AWST.
This is a good learning opportunity for those who are involved in services for deaf people, or parents who have children with hearing problems – as audiology experts and researchers from Perth, Western Australia will share experiences and knowledge about how hearing loss impacts on children's development and how early intervention can be done.
This collaboration has been going on for a long time and has produced the first audiologist in East Java, Ms Syahani Rahmawati – a graduate of the Faculty of Psychology, Universitas Airlangga who will also attend this webinar after receiving a scholarship and a Masters in Audiology in Western Australia.
The webinar will be moderated by OzAlum Dr Josephine MJ Ratna and Mr Achmad Nurhadi – and the material will be delivered in English but there will be a translation.
Register now by sending a message stating your name, email address, phone number, city of origin, and institution to Dr Josephine MJ Ratna (WhatsApp +62811327812) or Mr Deidy (WhatsApp +6281217830089).
Space is limited. Please distribute it to those in need.