Virtual Tour Experience to Geopark Ciletuh – Palabuhanratu
Virtual Tour Experience to Geopark Ciletuh – Palabuhanratu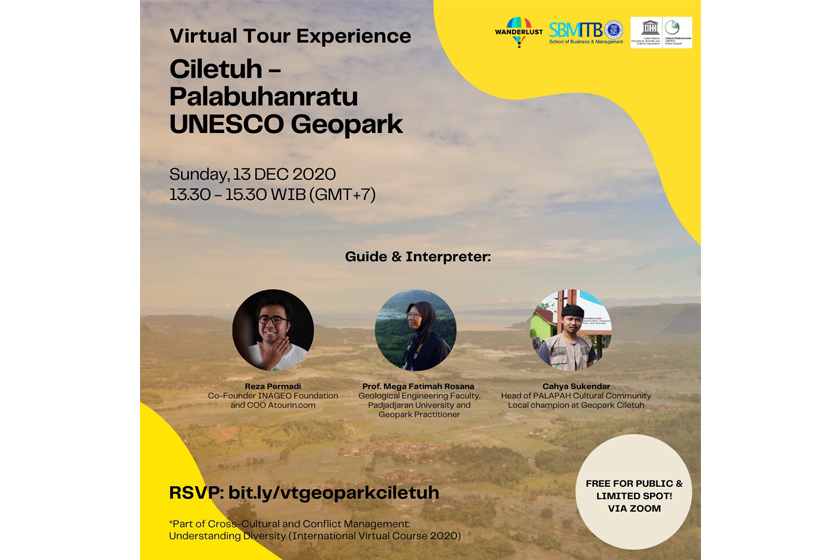 Join this exciting Virtual Tour Experience to Geopark Ciletuh – Palabuhanratu as a part of the "Cross-Cultural and Conflict Management: Understanding Diversity (International Virtual Course 2020)", SBM-ITB in collaboration with Wanderlust Indonesia! You will discover the three pillars of this UNESCO Global Geopark, including:
Biodiversity: Orchid, Hanjeli, Black Rice
Geography: Panenjoan Hill, Sodong Waterfall, Aher Hill, Palangpang Beach, Palabuhanratu Beach, Cisolok Geysers
Culture: Palapah community, Kasepuhan Sinar Resmi, Martial Arts, discover the local crafts in the village (you can buy local souvenirs online too).
Below are the details:
Day/Date: Sunday, 13 December 2020
Time: 01.30 PM – 03.30 PM WIB (GMT+7)
Platform: Zoom (Link will be sent to your email address at least one day before the trip).
These are the Tour Guides & Interpreters:
Prof Mega Fatimah Rosana (Head of Research Center for Geopark and Geological Disaster, Padjajaran University)
Reza Permadi (Co-Founder INAGEO Foundation, COO Atourin.com)
Cahya Sukendar (Head of PALAPAH Cultural Community in Geopark Ciletuh – Palabuhanratu)
This Virtual Tour will be conducted in English, and it is free and open for public but has a limited spot. Make sure you reserve your spot at this link.
For more information, please contact Wanderlust Indonesia through emailtowanderlust@gmail.com, Instagram: @IDWanderlust, or 0813-8161-5478 / 0878-8218-9095.