Recorded CAUSINDY Gender Panel: "Equality, Empowerment and Intersectionality" on YouTube and Spotify
Recorded CAUSINDY Gender Panel: "Equality, Empowerment and Intersectionality" on YouTube and Spotify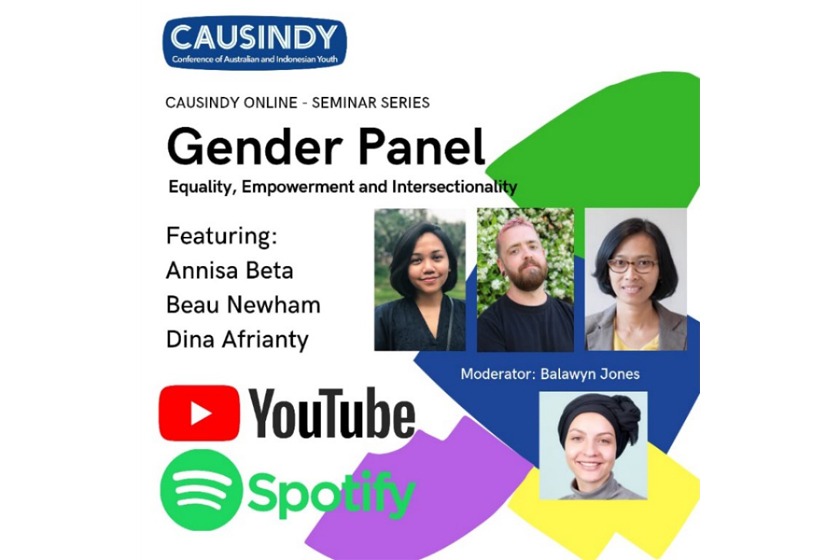 Watch and listen in to the recorded video and audio of CAUSINDY's webinar, the Gender Panel on the topic of "Equality, Empowerment and Intersectionality" – featuring Dr Annisa Beta, Dr Dina Afrianty, and Beau Newham – moderated by CAUSINDY's CEO, Balawyn Jones.
Dr Annisa is a Lecturer in Cultural Studies at the School of Culture and Communication, the University of Melbourne. Her research is broadly concerned with youth, new media, and political subjectivity in Southeast Asia.
Beau Newham is the co-founder of Queer Indonesia Archive, a community focused and volunteer run digital archiving project committed to the collection, preservation and celebration of material reflecting the lives and experiences of queer in Indonesia.
Dr Dina is a researcher in the field of women's rights and disability rights in Muslim societies, and currently a Research Fellow, Law School Operations at La Trobe University. She is the founder and current President of Australia-Indonesia Disability Research and Advocacy Network (AIDRAN).
Balawyn was previously one of the delegates during CAUSINDY 2017 in Melbourne. She is currently a PhD candidate and Research Fellow at Melbourne Law School. She has an interest in the protection of women's rights in Indonesia and Australia and her doctoral thesis examines community and state justice responses to domestic violence in Aceh.
Dive deeper into gender advocacy, with a focus on equality and empowerment from a range of intersectional perspectives, including disability and queer advocacy, from this recorded webinar.
Watch the video on YouTube here, and listen in to the audio on Spotify here.