Surabaya-Sydney Language Festival, A Way to Strengthen Indonesian-Australian People Relations
Surabaya-Sydney Language Festival, A Way to Strengthen Indonesian-Australian People Relations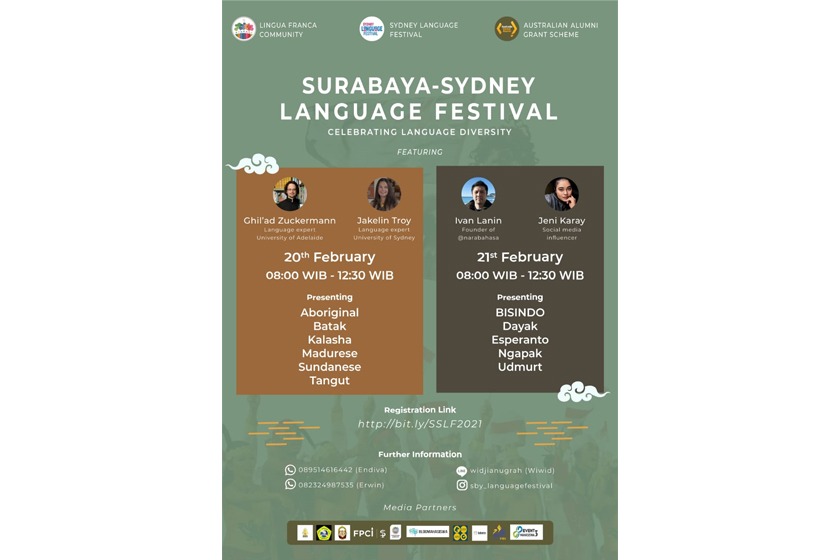 Surabaya-Sydney Language Festival will be held in 2021 as part of the Surabaya Language Festival (SLF) 2020 celebration. Lingua Franca Community, as the organiser of SLF, has been consistent in presenting a language festival every year since it was held for the first time in 2018. This event was preceded by a Call for Essay on a national scale as the opening of the series of events, while the Surabaya-Sydney Language Festival (SSLF) is the closing event for the 2020 SLF series of events.
Surabaya-Sydney Language Festival is a language seminar which introduces various kinds of mother tongue in Indonesia and Australia. Collaborating with many language observers and language activists, this webinar seeks to foster appreciation for mother tongue of Indonesia and Australia. It ​​is one of the programs funded by the Australian Government through the Australian Alumni Grant Scheme (AGS) which is administered by Australia Awards in Indonesia. This program has a mission to strengthen relations between the people of Indonesia and Australia, especially considering that the two countries have in common as a country that is rich in diversity.
SSLF ​​will be held online via Zoom video conference and YouTube Live Streaming on Saturday and Sunday, 20-21 February 2021. The main speakers of this event will be Jaky Troy (Linguis University of Sydney), Ghilad Zuckermann (Linguis University of Adelaide), Ivan Lanin (Director of Narabahasa), and Jeni Karay (Founder of the Sehati Sebangsa Foundation).