CUACI & QUIC Learning Session: Navigating Uncertainties through Innovation and Digital Transformations
CUACI & QUIC Learning Session: Navigating Uncertainties through Innovation and Digital Transformations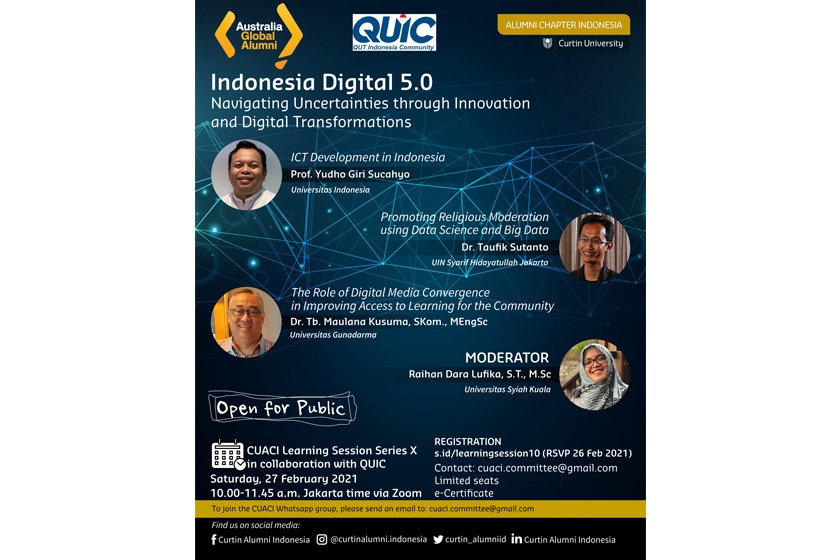 The Curtin University Alumni Chapter Indonesia (CUACI) in collaboration with Queensland University of Technology Indonesia Community (QUIC) will be holding a webinar titled "Navigating Uncertainties through Innovation and Digital Transformations" on Saturday, 27 February 2021 at 10.00 AM – 11.45 AM WIB via Zoom.
Below is the list of speakers and their topics:
Prof Yudho Giri Sucahyo (Universitas Indonesia) – ICT Development in Indonesia
Dr Taufik Sutanto (UIN Syarif Hidayatullah Jakarta) – Promoting Religious Moderation using Data Science and Big Data
Dr Tb. Maulana Kusuma, SKom., MEngSc (Universitas Gunadarma) – The Role of Digital Media Convergence in Improving Access to Learning for the Community
The webinar will be moderated by Raihan Dara Lufika from Universitas Syiah Kuala – and there will be e-Certificates for paricipants.
Register here by 25 February 2021.
For more information, please contact cuaci.committee@gmail.com.