Recorded Talk Show: Sharing Leadership Experience in the COVID-19 Pandemic by CAUSINDY & AIYA
Recorded Talk Show: Sharing Leadership Experience in the COVID-19 Pandemic by CAUSINDY & AIYA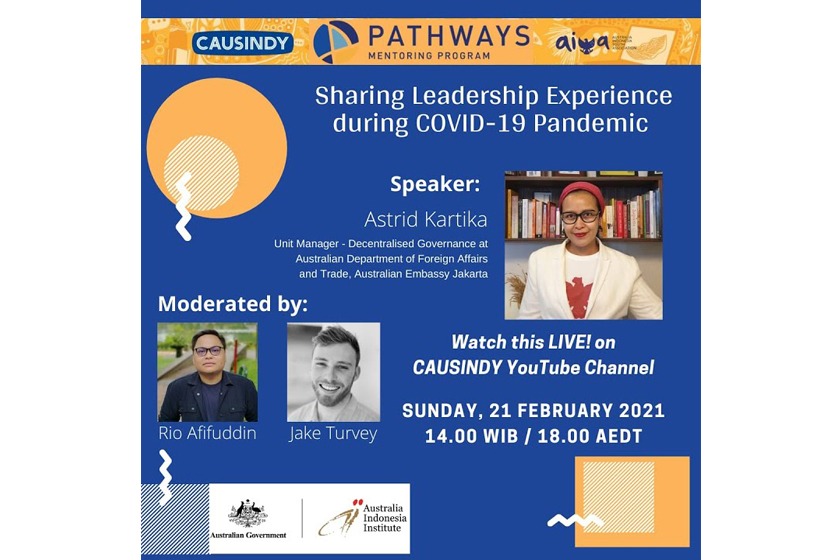 Ing ngarso sung tulodo; Ing madyo mangun karsa; Tut wuri handayani. These are three famous mottos in Javanese from one of Indonesia's national heroes, Ki Hajar Dewantara, that according to Astrid Kartika are important for effective leadership.
Have you ever heard of these mottos? Do you know their meaning? Watch this recorded talk show on 'Sharing Leadership Experience during the COVID-19 Pandemic', featuring Astrid Kartika, a CAUSINDY 2014 alumna who currently works as a Unit Manager – Decentralised Governance at DFAT, Australian Embassy Jakarta – to increase your understanding of leadership, improve your professional development skills during the COVID-19 pandemic, and understand why the meaning of those mottos provides a foundation for effective leadership.
This event was part of PATHWAYS, a collaborative mentoring program between CAUSINDY and AIYA that aims to help young professionals develop the skills needed to build a career in the Aus-Indo bilateral space.
Watch the recorded talk show on YouTube, or listen to it on Spotify at this link.