"Preparation for Future Indonesian Higher Degree by Research Candidates Workshop" Webinar by Curtin University
"Preparation for Future Indonesian Higher Degree by Research Candidates Workshop" Webinar by Curtin University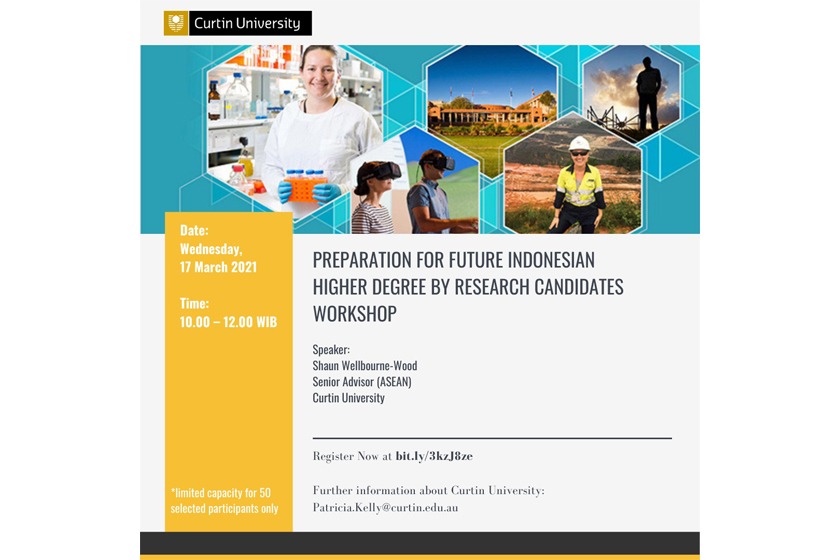 Join this two-hour virtual workshop by Curtin University designed to provide ready Higher Degree by Research candidates (PhD or MPhil) with a practical guide to the process of researching, preparing, and communicating with prospective supervisors – on Wednesday, 17 March 2021 at 10.00 AM – 12.00 PM WIB.
Ranked in the top one percent of universities worldwide in the research-weighted ARWU 2020, Curtin's international reputation for research has grown rapidly. As a university with an established reputation for innovation, Curtin excels in a diverse range of research areas that aim to change the minds and lives of people all over the world.
Intended outcomes of the event are as follows:
Participants will explore and use tools and strategies for investigating research excellence and university research capabilities.
Candidates will more clearly identify and refine the scope of their proposed research with consideration of university and supervision factors.
Participants will draft a 'best practice' email introduction to prospective supervisors that will get noticed.
Register here.
*Due to limited capacity, only selected participants will receive information on how to join the workshop.
For more information, please contact: patricia.kelly@curtin.edu.au