KOMPAS TALKS with Knowledge Sector Initiative (KSI)
KOMPAS TALKS with Knowledge Sector Initiative (KSI)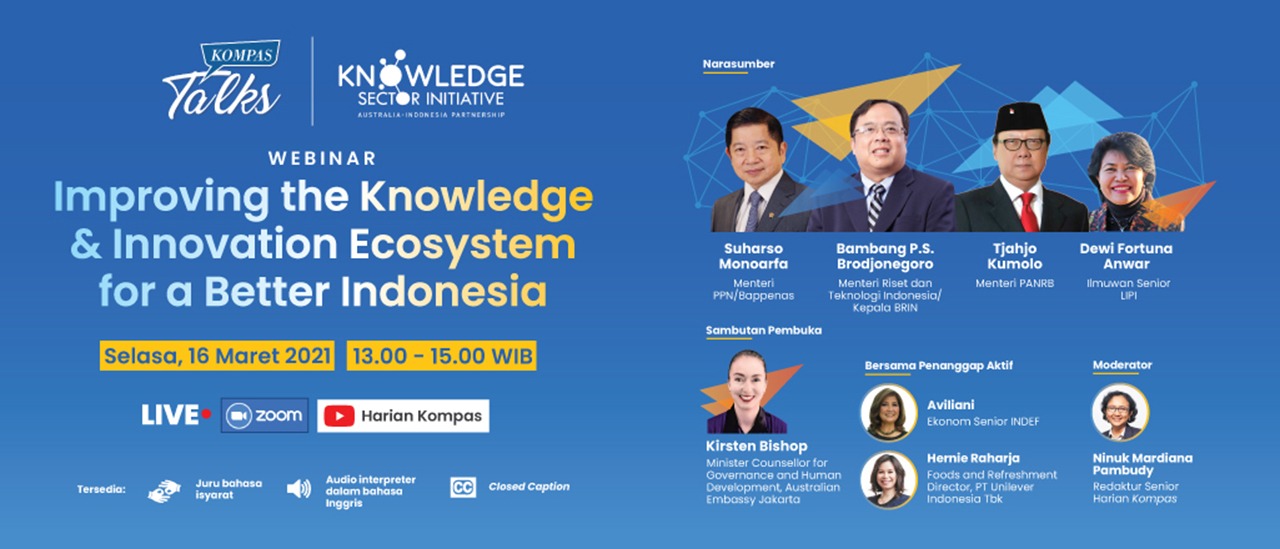 Join this webinar on "Improving the Knowledge & Innovation Ecosystem for A Better Indonesia" held by KOMPAS in collaboration with KSI (Knowledge Sector Initiatives) on Tuesday, 16 March 2021 at 1:00 PM – 3:00 PM WIB!
Development towards a knowledge and innovation-based economy can address the development challenges faced by Indonesia in the coming decades. This requires an ecosystem that can generate knowledge and boost innovation. In creating the knowledge and innovation ecosystem, it requires a national vision and strategy as well as collaboration between ministries, institutions and non-government actors, including the private sector and industry.
In this KOMPAS Talks, the speakers will discuss how to create an ecosystem of knowledge and innovation and how synergy of various actors needs to be done to make Indonesia more advanced, handle the post-COVID-19 period with innovation, and create a knowledge-economy in 2045.
This webinar will be live on Zoom, and opened by Kirsten Bishop, Minister Counsellor for Governance and Human Development at Australian Embassy in Indonesia.
Register here by Monday, 15 March 2021 at 5.00 PM WIB.
If the registration quota is full, you can watch the live streaming on KOMPAS YouTube channel.