Jakarta Youth Roundtable Discussion 2021 – Indonesian Youth Fighting the Pandemic: Rebuilding the Country
Jakarta Youth Roundtable Discussion 2021 – Indonesian Youth Fighting the Pandemic: Rebuilding the Country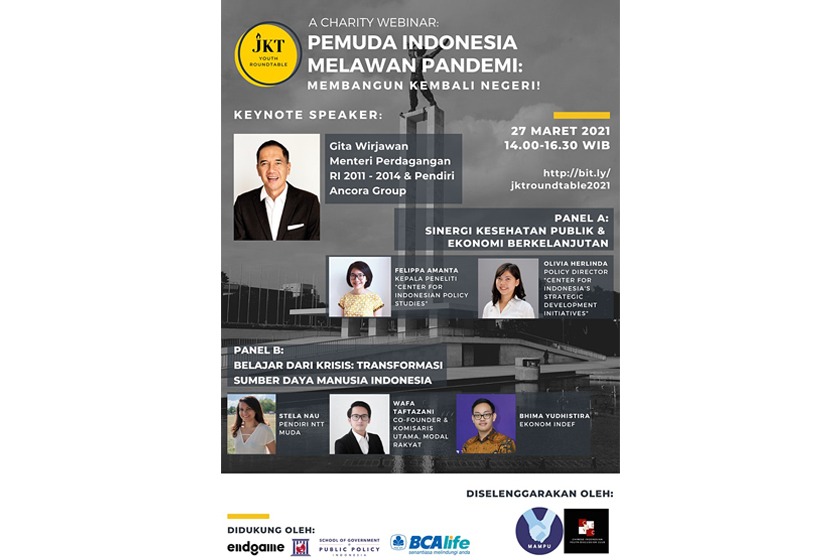 Join the Jakarta Youth Roundtable for their webinar on 'Indonesian Youth Fighting the Pandemic: Rebuilding the Country' that discusses issues related to the COVID-19 pandemic, including public health, economy, and human resources. This forum presents young professionals in various fields as speakers and discussion participants – and aims to present youth opinions on various issues that are oriented towards finding solutions to the problems being discussed.
With a keynote speech from Gita Wirjawan – Indonesia's Minister of Trade 2011-2014 & Founder of Ancora Group, this event will be held on Saturday, 27 March 2021, at 02.00 PM – 04.30 PM WIB.
There will be two panels, including:
Panel A: "Public Health & Sustainable Economic Synergy" that will feature OzAlum Felippa Amanta, Olivia Herlinda, and Dewi Sukma A.
Panel B: "Learning from the Crisis: Transforming Indonesia's Human Resources" that will feature Stela Nau, Wafa Taftazani, and Bhima Yudhistira Adhinegara.
Register here.