Recorded Webinar – Indonesian Social Science Seminar Series: The Political Language of Islamic Populism
Recorded Webinar – Indonesian Social Science Seminar Series: The Political Language of Islamic Populism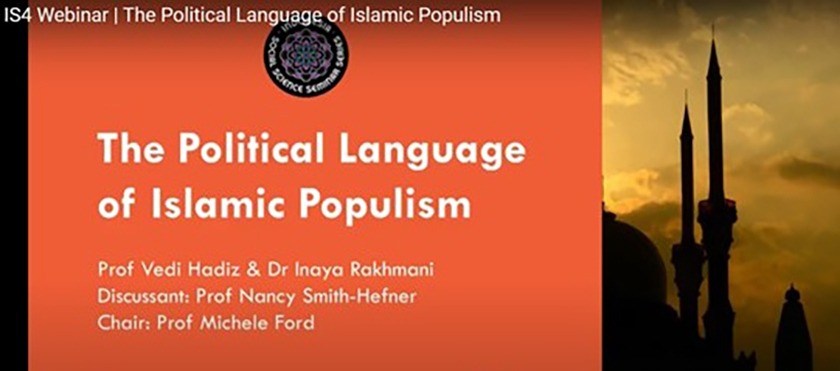 The growing literature on populism has tried to explain and address the rise of right-wing politics in established democracies in the West. Some analysts examine the phenomenon as a reaction to the adverse effects of neoliberal globalisation, albeit in fragmented and specific ways. In this talk, we will discover the political language of populism as a way to understand how otherwise diverse sets of social interests are bound together under a common faith.
By combining political economy analysis with cultural political economy, this talk showed how the political language of Islamic populism is shaped, mediated, and mobilised in intra-elite competition in Indonesia. On the surface, the deployment of religious symbols (by clerics and mass organisations) may indicate ideological contestations that signal a thriving democracy. However, we show how an Islamic politic lexicon has been absorbed in competition over power and concrete resources by established social alliances.
For this first talk of Indonesian Social Science Seminar Series (IS4), Professor Vedi Hadiz from University of Melbourne, Dr Inaya Rakhmani from Universitas Indonesia, and Professor Nancy Smith-Hefner from Boston University – moderated by the Sydney Southeast Asia Centre's Professor Michele Ford, gave insights and explored the political language of Islamic populism in Indonesia, as they unpacked the complex structure of the populism.
Sponsored by the Sydney Southeast Asia Centre (SSEAC), the Cornell Southeast Asia Program (SEAP) and the Royal Netherlands Institute of Southeast Asian and Caribbean Studies (KITLV), this virtual seminar series brings together social science experts from across the globe to discuss pressing issues facing Indonesia. In addition to providing in-depth scholarly analysis of social issues in Indonesia, this series will foster new opportunities for networking between those working in Indonesia and around the world.
Watch the recorded video here.