CUACI Learning Session Series #14 – Free Learning Implementation Strategy: Improving the Quality of Education in Indonesia's Frontier, Outermost, and Least Developed Areas
CUACI Learning Session Series #14 – Free Learning Implementation Strategy: Improving the Quality of Education in Indonesia's Frontier, Outermost, and Least Developed Areas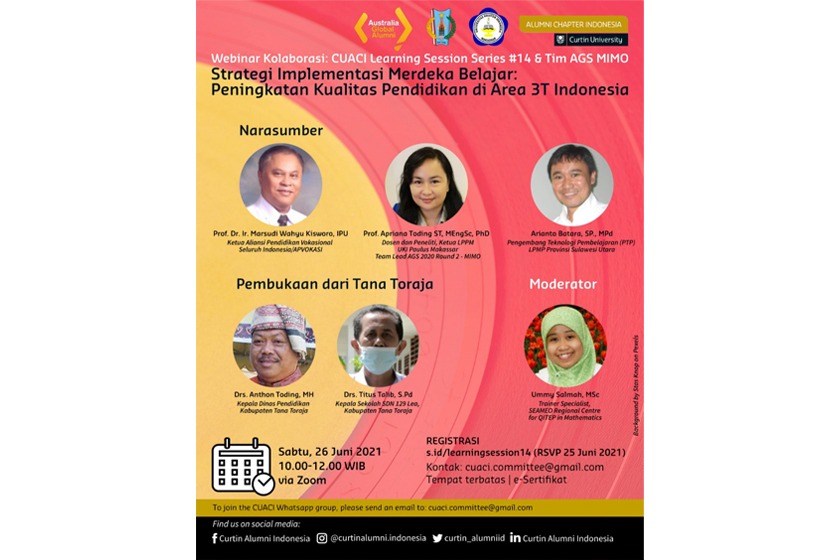 The Curtin University Alumni Chapter Indonesia (CUACI), supported by the Australia Global Alumni in Indonesia, is inviting you to join the Learning Session Series #14 "Improving the Quality of Education in 3T (frontier, outermost and least developed) regions in Indonesia" on Saturday, 26 June 2021 at 10.00 AM – 12.00 PM WIB WIB via Zoom.
Speakers:
Prof Dr Ir Marsudi Wahyu Kisworo, IPU (Chairman of "Aliansi Pendidikan Vokasional Seluruh Indonesia" (APVOKASI)
Prof Apriana Toding ST, MEngSc, PhD (Lecturer, UKI Paulus Makassar)
Arianto Batara, SP, MPd (Instructional Technology Developer, LPMP Sulawesi Utara)
The event is open for public and E-certificates are available.
RSVP by today, 25 June 2021 here.
Zoom links to join the webinar will be shared via email.
If you have any questions, please contact: cuaci.committee@gmail.com