Recorded Webinar of KSIxChange#34: Knowledge Collaboration Between Litbangjirap and Think Tanks in Social Science and Humanities
Recorded Webinar of KSIxChange#34: Knowledge Collaboration Between Litbangjirap and Think Tanks in Social Science and Humanities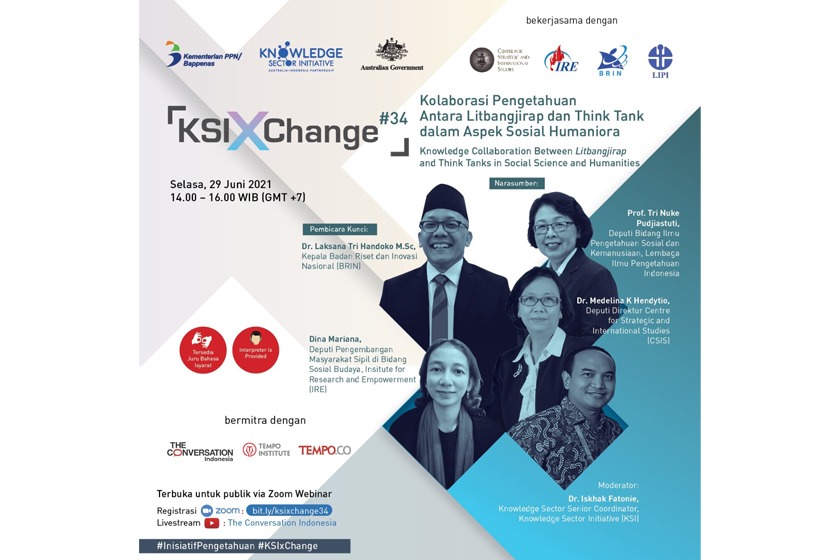 If you missed this webinar on "Knowledge Collaboration Between Litbangjirap and Think Tanks in Social Science and Humanities" by KSI (Knowledge Sector Initiatives) that was held last Tuesday, or if you want to watch it again, the recorded version is now available on YouTube!
This discussion examined the importance of encouraging more collaboration between government and non-government policy research institutions to promote evidence-based policy formulation and the development of strategic innovations.
Moderated by Dr Iskhak Fatonie, Knowledge Sector Senior Coordinator at Knowledge Sector Initiative (KSI), with a keynote message delivered by Dr Laksana Tri Handoko, Head of the BRIN, this webinar featured several speakers including:
Prof Tri Nuke Pudjiastuti, Deputy for Social Sciences and Humanities at Indonesian Institute of Sciences (LIPI)
Dr Medelina K Hendytio, Deputy Director of the Center for Strategic and International Studies (CSIS)
Dina Mariana, Deputy of Civil Society Development in Socio-Cultural Sector at Institute for Research and Empowerment (IRE)
Watch here.