First Aid Training for Accidents in Early Childhood
First Aid Training for Accidents in Early Childhood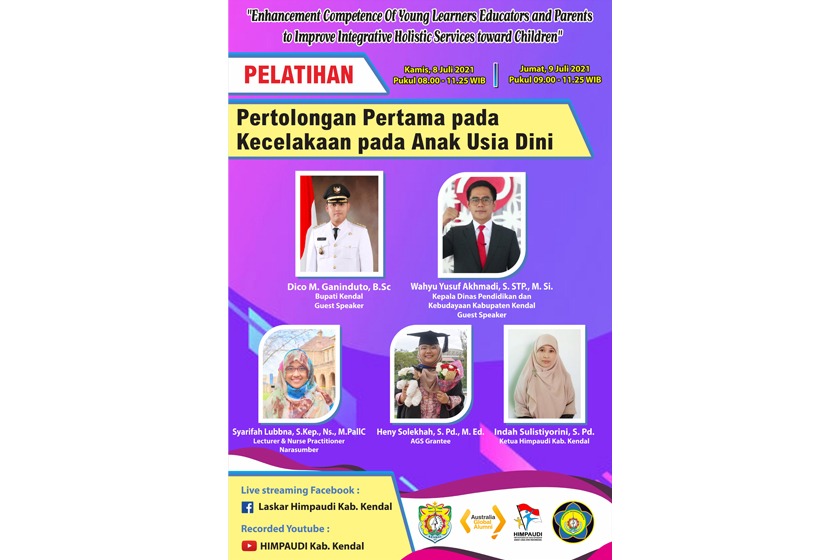 Join the Laskar HIMPAUDI of Kendal Regency for their virtual event on "First Aid Training for Accidents in Early Childhood" as part of their big topic on "Competence Enhancement of Young Learners Educators and Parents to Improve Integrative Holistic Services toward Children" – on 8 July at 08.00 AM WIB & 9 July at 08.50 AM WIB.
This event will feature several experts including:
Syarifah Lubbna, S. Kes., Ns., M. PallC (Lecturer and Practitioner)
Dico M. Ganinduto, B.Sc. (Regent of Kendal)
Wahyu Yusuf Akhmadi, S.STP., M.Sc. (Head of Education and Culture, Office of Kendal Regency)
Heny Solekhah (Alumni Grant Scheme Recipient)
Indah Sulistiyorini, S.Pd (Chair of HIMPAUDI)
This program is supported by the Australian Government through the Alumni Grant Scheme, which is administered by Australia Awards in Indonesia.
Watch this event live on Laskar HIMPAUDI of Kendal Regency's Facebook channel, or you can watch the recorded version later on their YouTube channel here.