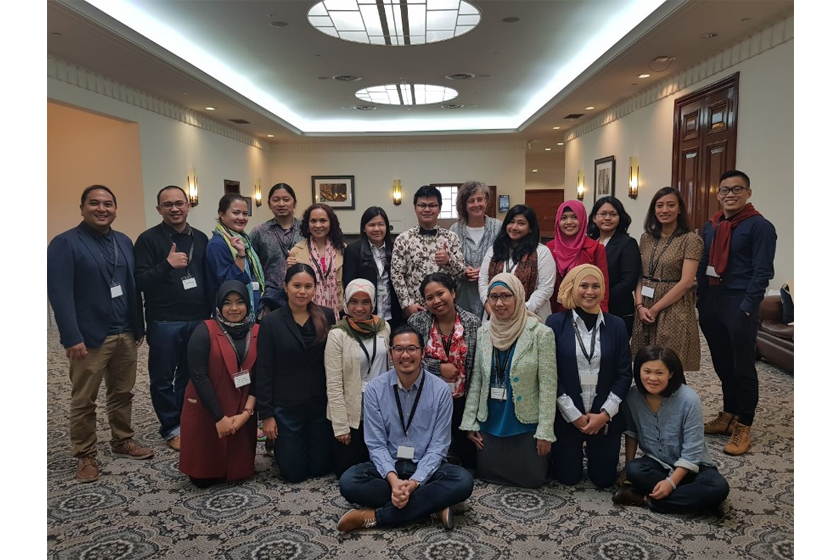 18 Dec 2017
Unifying NGOs, a lesson-learned from Australia
By Randi Miranda and Linda Savitri
Postgraduate students at the University of Melbourne and recipients of Australia Awards Scholarship
Non-government organisations are critical actors in catalysing Indonesian development, filling the gap the state cannot fully cover.
The latest Australian Conference on International Development conference highlighted the crucial role of the Australian Council for International Development (ACFID) as a unifying force in ensuring accountability, efficacy and transparency of Australian NGOs work, especially in the Asia Pacific.
Furthermore, it invoked questions of whether a similar body could be replicated in Indonesia.
Certainly, the argument for having a peak body to foster coalition among NGOs in order to achieve shared goals and identify linkages between complex socio-ecological issues; to leverage collective power for policy advocacy; and provide a shared code of conduct to increase NGOs' accountability is compelling.
Amidst huge inequalities and a rapidly declining ecosystem we should speed up efforts to create more meaningful and sustainable impacts through partnerships among development actors.
Development NGOs should acknowledge and support each other's work. And with the support and power afforded by a unified network, NGOs also can improve collaboration with governments and private sectors in areas of funding and project implementation.
A fundamental shift from the zero-sum game mentality that underpins the competition for resources and space among NGOs and with the private sector and government is paramount in increasing such collaboration. We should be humble enough to admit our weaknesses where we sometimes have been forgetting each other's existence, rarely working in partnership. Worst, some of us compete against each other simply to prove we are better at our work than others.
How much longer do we want to work this way? Don't we all share the same goals; to ensure people's welfare especially disadvantaged groups in our society? Isn't it the right time for us to walk and grow together?
Having such a uniting body could bring about better collaboration and more effective strategies. However, creating a new organisation will require new human and financial capital that might take a long time to generate especially for a huge developing country like Indonesia.
Therefore, an alternative might be improving some existing domestic and international organisations with adequate resources and capacity to establish a new platform for NGOs across the country.
An example on the domestic scale is the work done by the Eastern Indonesia Researcher Network (JiKTI) particularly through its Eastern Indonesia Knowledge Exchange (BaKTI); an organisation focusing on knowledge management of development programs in eastern Indonesia, covering 12 provinces in Sulawesi, Maluku, Papua, and Nusa Tenggara. BaKTI has received funding from the Australia-Indonesia Partnership for Decentralisation and the Canadian International Development Agency, both under the respective foreign affairs ministries of Australia and Canada.
BaKTI's focus includes managing multi-stakeholder forums and media communications and managing knowledge exchange forums. However, their scope of work is limited to the eastern parts of Indonesia and their roles are primarily providing knowledge transfer, rather than acting as a unifying body which helps formulate collective visions and missions, principles and code of conducts to embrace everyone in the game for better and faster outcomes.
In the absence of local capacity and resources, some international organisations with hands-on experience like ACFID, or the United States Agency for International Development and other donor organisations might be a great help. This would not only benefit Indonesians as their counterparts but also their own work, as such a platform could improve the capacity of local NGOs who often become their partners. This will also help international donors to align values, interests and priorities with local NGOs.
However, merely adopting an institution model without conducting in-depth analysis on the history and nature of NGOs in Indonesia could lead to disastrous results.
There are over 3,000 NGOs across Indonesia with varying size, philosophy, and management style, according to Smeru Research Institute in 2016. So would such a unifying body become an effective tool to bring NGOs together and give voice to smaller NGOs? Or would it become dominated by the larger national NGOs more capable of adapting to and translating the international development agenda into their programs and operations? We therefore need to be cautious that such a body would not perpetuate unequal power relations between the diverse national and international NGOs.
Thus efforts to foster coalition and increase collaboration among NGOs must be accompanied with a deeper reflection on the necessity of a peak body in the Indonesian context. If such a unifying body is proven necessary, the next step would be to identify potential organisations to lead the process and mobilise resources.
***
Randi Julian Miranda has an extensive experience working in forest conservation, community empowerment and sustainable development with some NGOs including Heart of Borneo Project (HoBP), International Labour Organisation (ILO), The Forest Trust and grassroots NGOs in Indonesia. His research focuses on forest governance and indigenous people as well as gender equality. He can be reached via email: rmiranda@student.unimelb.edu.au
Dewa Ayu Linda Savitri is a member of the Global Shaper Community, a Davis United World College Scholar, and an Australia Awards Scholarship Awardee. With experiences working in non-profits, she is passionate about researching and advocating for human rights and women empowerment. Her current research interests include women migrant workers, social policy development in Indonesia, and social impact assessment for community advocacy. You can reach her via email: lindasavitri1991@gmail.com
This opinion piece was first appeared on the daily English newspaper in Indonesia The Jakarta Post
Disclaimer: The opinions expressed in this article are those of the author and do not reflect the official stance of Australia Awards in Indonesia.
Share this article on:
---
Related News

Back to Top